NRA gears for ballot issue fight with opening of Las Vegas campaign office
August 9, 2016 - 10:18 pm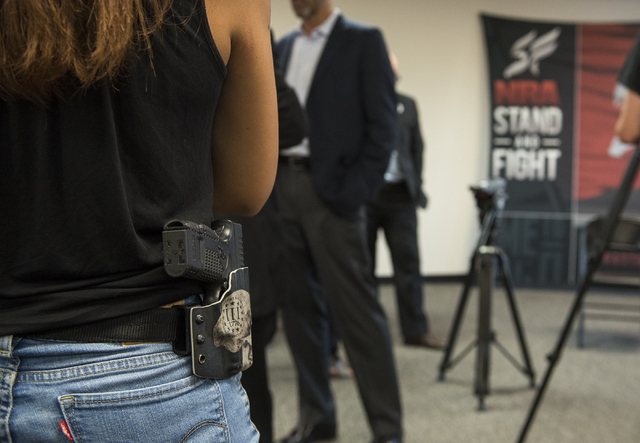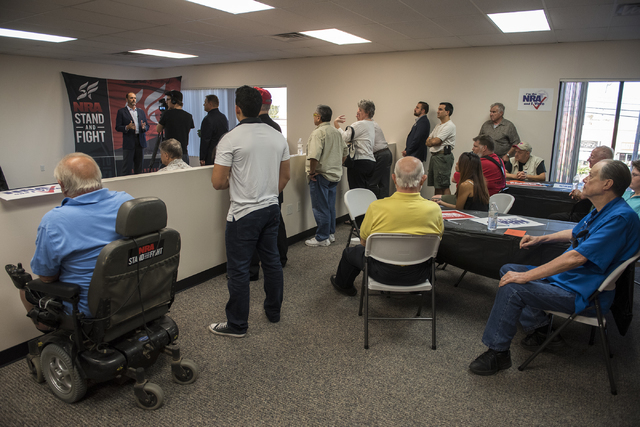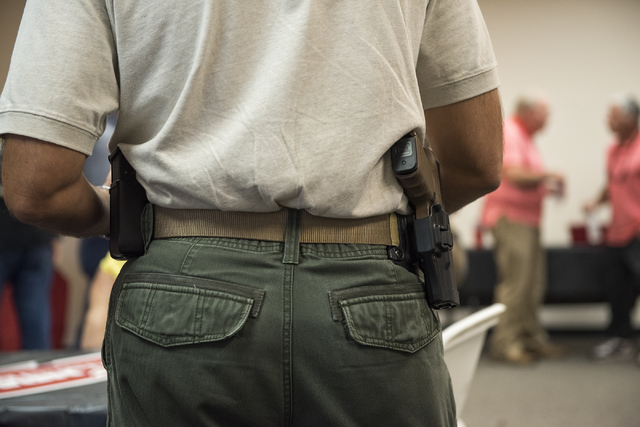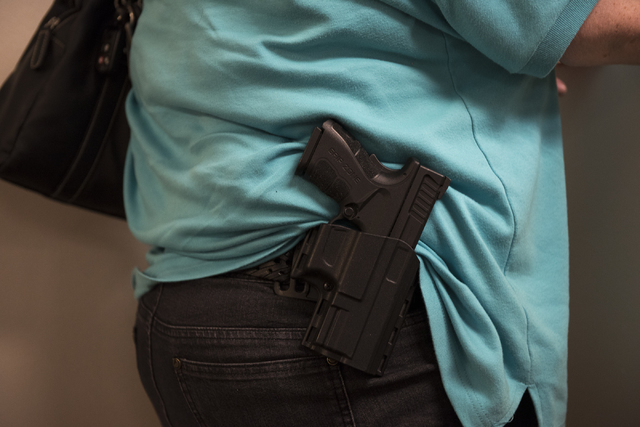 The National Rifle Association opened its Nevadans for Freedom campaign office in Las Vegas on Tuesday night, a sure sign the gun rights advocates' fight against Question 1 is heating up.
Question 1 on the November ballot proposes to expand firearm background checks to private-party sales and transfers.
Roughly three dozen NRA supporters, volunteers and field organizers gathered at the campaign office at 6375 S. Pecos Road, near East Sunset Road, for the launch. Republican candidates for Congress Danny Tarkanian and Mary Perry also attended to voice their support for the group's efforts.
"I'm against any erosion of our constitutional rights," Perry said.
Nevadans for Freedom campaign manager Robert Uithoven told the attendees that the group has a lot of support across the state, but grass-roots volunteers are needed to help overcome a huge hurdle: ex-New York City Mayor Michael Bloomberg, who has poured millions into the campaigns to pass Question 1.
Uithoven, who opened an office Monday in Reno, said the gun rights position has plenty of support in the state's rural counties and emphasized that the sheriffs of 13 rural Nevada counties are against Question 1.
But he said there is no way the group can outspend its main opponents, Nevadans for Background Checks and Everytown for Gun Safety.
"This is a grass-roots campaign. That's how we win this, one vote at a time," he said. "This is a difficult battle here in Clark County."
Don Turner, president of the Nevada Firearms Coalition, said his group is going to focus on grass-roots efforts and social media. The group's Super PAC, Nevadans for State Gun Rights, will also be working with the NRA, holding voter registration drives and doing outreach to gun owners.
Gun rights advocates maintain that the ballot initiative is only the first step to a federal gun registry and that criminals will never follow the law, defeating its purpose entirely.
Nevadans for Background Checks, on the other hand, has said that states with universal background checks for firearms have seen significant reductions in instances of guns used in domestic violence and attacks on police officers with guns.
Las Vegan Neal Savage, 55, said he felt he had to volunteer to make calls or go door-to-door to defeat the measure.
"They seem to want to rip the Second Amendment out of the Constitution," he said.
"That will just make things more dangerous."
Contact Wesley Juhl at wjuhl@reviewjournal.com and 702-383-0391. Find @WesJuhl on Twitter.