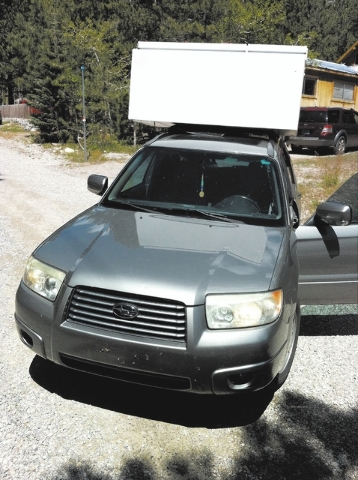 It's been a good run, and a long one, but you have to know when to go.
That time is approaching faster than the bug-stained grill of a runaway 18-wheeler in my sideview mirror.
Hey, wait a minute. You didn't think I was talking about myself, did you? Good heavens, no.
I'm thinking about the impending retirement of my 2006 Subaru Forester, the vehicle I've used for the past decade to crisscross Nevada, meet people and collect stories that have been published in the Review-Journal and newspapers throughout the state. The vehicle is approaching the end of its long and mostly stable run with an odometer ready to pass 226,000 miles.
Utilitarian gray, it's never been a looker. But it's managed to get me where I needed to go, through scorching summers and icy winters, often with daughter Amelia serving as my trusty navigator.
From the National Cowboy Poetry Gathering in Elko to the great Rotary Club Ice Fishing Derby at Cave Lake outside Ely and springtime at the Amargosa Opera House in Death Valley Junction with the ageless Marta Beckett, it has played a reliably sway-backed Rocinante to my directionally challenged Quixote. (For a much better use of the Rocinante metaphor, read John Steinbeck's "Travels with Charlie.")
We've roamed the Eastern Sierra, climbed through the Mammoth Lakes and rolled through Bishop, Calif., and down past Independence. We've shared plenty of good times and a few precarious moments, too.
Like the time I was exploring a dirt track near Gemfield, which is located outside Goldfield. Scraped off the skid plate and a universal shaft, but managed to limp back to Las Vegas.
And there's the time in the Spring Mountains a mule deer knocked out the front headlamp. It was rutting season, and the young buck kept coming even after I brought the Subaru to a stop. After nearly knocking itself out, the deer regained its footing and kept on going.
I've hauled everything from the kid and her friends to firewood and construction materials — and even managed to strap a refrigerator to the roof for a trip to the dump. Still have the dents to prove it.
It's been reliable, all right.
That 226,000-mile mark is a good number for most automobiles, but it receives no respect from the Subaru High Mileage Club. (Yes, it does exist. Check it out at subaruhighmileagueclub.com.) You have to motor about 500,000 miles to get a fist bump from that crowd.
It's likely they maintain their vehicles better than I do. Of course, most demolition derby drivers take better care of their cars than I do.
I'm not great at maintenance. Devoted car owners remember to regularly change their oil. Others have a quick-lube mechanic on speed dial. I'm lucky if I remember a vehicle takes oil.
These days I'm reminded often that the Subaru is lubed with 5/30 because it leaks so much of the stuff in the driveway. My once-proud pooch has become an incontinent four-wheel Fido.
Then there's its once-trusty transmission, which these days slips and slides and is on its way out. I asked a friend who is an expert at such things and received this response: "Do you have a sentimental attachment to it? Because a new transmission would probably cost more than the vehicle is worth."
Sentimentally attached? Well, of course I'm sentimentally attached. Aren't we all emotionally invested in our vehicles?
But I've noticed something else about that old Subaru. My sentimentality has diminished with every repair bill.
And although breaking up is hard to do, old friend, your days in Nevada are numbered.
John L. Smith's column appears Sunday, Tuesday, Wednesday, Friday and Saturday. Contact him at 702-383-0295 or at jsmith@reviewjournal.com. On Twitter: @jlnevadasmith.