Otherwise eke out a rock life
December 18, 2013 - 11:46 pm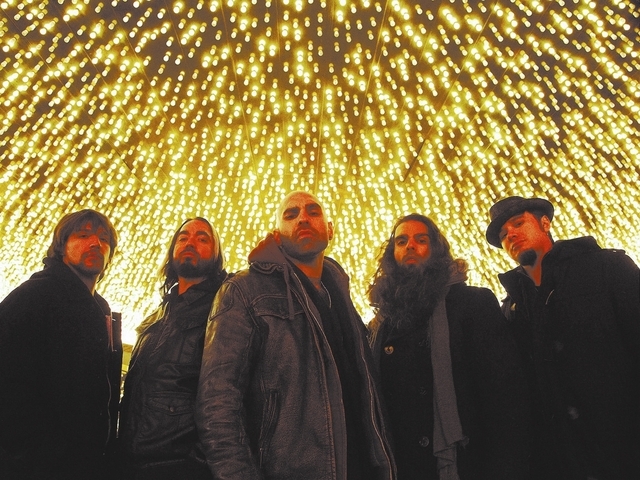 Adrian Patrick contemplates the small-hit rock songs his Vegas band released recently, and he says, "We sold 50,000 copies of our first album, and I got an $800 publishing check."
There's not much money in rock anymore, but it's still hard work.
Patrick's band Otherwise has broken into the Top 20 charts for Active Rock and Mainstream Rock songs with "Soldiers" and "I Don't Apologize."
The band toured 220,000 miles in the past 20 months. They're in town to perform Dec. 28 at Boulder Station.
But what did Patrick do with that $800 check?
"I gave it to my mom and dad."
Wait, what?
"They've been our biggest supporters," he says. "They come to every single show" when Otherwise gigs in town.
Patrick's brother Ryan, who studied classical guitar at Las Vegas Academy, plays in the band, and he also gave his $800 check to their parents.
The brothers hole up at home when they're in town and rock the soundproofed garage.
"We're keeping it real until we have the big bucks to buy a mansion in Greece," Patrick jokes.
"Rock 'n' roll isn't as sexy as it used to be. Of all the genres, it's the one suffering the most" lately, he says.
It didn't have to be this way. Patrick went to UNLV (he calls himself a "graduate of the University of Never Leaving Vegas"), then he earned a junior exec spot in MGM's Management Associate Program.
On his first day on that job, he sat next to Jay Z during the 2008 UFC fight when Antonio Nogueira beat Tim Sylvia at UFC 81 with a guillotine choke.
"Jay Z's sitting there," Patrick recalls, "and Nogueira chokes Tim Sylvia out with a guillotine, and Jay Z's like, 'What's that called? What's that called?'
"And my (corporate) vice president's like, 'Adrian knows, what's that called?' I go, 'That's a guillotine choke.' And Jay Z goes, 'My man says it's a guillotine,' and his whole entourage goes, 'It's a guillotine!'
"It was like a scene in a movie," Patrick says. "The fact he actually has an entourage that does that when he says something is so awesome."
Patrick could have made a life out of his briefcase, but he felt the draw of rock.
Otherwise is working on its next album for Century Media Records, possibly for a March or April release.
Meanwhile, the band just put out a new EP, "Enjoy the Pain" — for free — on WeAreOtherwise.com.
"We recorded these songs on the fly — on the bus, in people's bathrooms, in people's bedrooms."
Excuse me, bathrooms?
"We tracked vocals in our drummer's bathroom. Some of that cool reverb you hear on the EP is the toilet, hahaha. Yeah."
Patrick knows the band could make more money elsewhere.
"I used to work in the club scene," he says. "I remember seeing (DJ) Paul Oakenfold play. I was security for him when he did a show at Empire Ballroom. He came in, and he plugged in a laptop, and he hit a button, and they paid him like $55,000 or something.
"We pack thousands of pounds of equipment into a trailer to drive around the country and get paid 150 bucks. So I guess he's working smart, as opposed to how we're working."
But Patrick gives me a sort of Blues Brothers' "mission from God" speech.
"We're trying to save rock 'n' roll, man. I don't know if it's a moot point, or an effort in futility. But we're not giving up."
Email Doug Elfman at delfman@review journal.com. He blogs at reviewjournal.com/elfman.