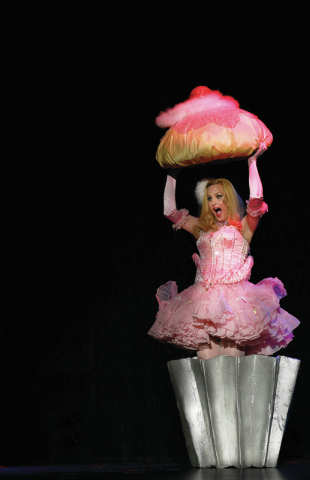 Cory Royer remembers creating neighborhood parties when he was 8, organizing pep rallies in high school and parties and functions for his fraternity in college.
He sees organizing a four-day event packed with humor, classes and pasties as the logical extension to his earlier event planning.
"I call it work, but when it comes right down to it, it's what I love doing," said Royer, the organizer of this year's Las Vegas Burlesque Festival. "I have a lot of fun putting together events and throwing a big party."
The festival is set for Nov. 6-9 at the Gold Coast, 4000 W. Flamingo Road. The event was started last year by local burlesque performer Cha Cha Velour, who teaches classes at her Las Vegas Burlesque Studio at Downtown Spaces, 1800 Industrial Road.
"After it was all said and done, Cha Cha said, 'That was fun but exhausting, and I'm not sure I want to do it again,' " Royer said. "I was part of her production team, and I asked her if I could purchase the idea. I adopted it, and a lot of the same people are involved."
Burlesque seems to have made a comeback in recent years after virtually disappearing in the 1970s. While there are plenty of places where people remove their clothes to music, burlesque offers an added layer of humor and theatricality. The term originally was more closely related to satire.
"It makes people laugh," Royer said. "The comedy aspect is one of my favorite parts of it. I've never laughed harder than I have at some of the burlesque events I've been to."
Humor is one of the many things local performer Blanche DeBris brings to the event. She is the master of ceremonies for the Saturday Night Spectacular portion of the event, featuring some of the biggest names in burlesque.
"I'm so happy to be able to host a show for our Las Vegas community," DeBris said. "I spend so much time performing on the road. It's going to be great to show everyone what great burlesque there is out there."
DeBris said she is plus-sized but is as comfortable unveiling her charms as she is cracking a joke. The inclusiveness of burlesque is another of the elements that attracts Royer as burlesque performers can be any size, shape, race or gender, she said.
Based on performer and attendee feedback, the festival has expanded this year to include classes.
"They range from basic, burlesque 101-type classes that anyone could jump in and learn something to ones where performers can work out and improve their acts by talking to some of the legends of burlesque," said Royer.
Las Vegas is home to the Burlesque Hall of Fame, and several performers from the early days of burlesque, including Tiffany Carter, who was a headline performer in the 1960s and 1970s and serves as the festival's liaison to the legends.
"She does exactly that," Royer said. "She reached out to the legendary performers, and we have four at the festival. Along with Tiffany, we have Dusty Summers, Bic Carrol and Liza Jourdan."
The festival also reached out to every show in town with "burlesque" in its title and any other show with burlesque elements. The result will be a performance set for Nov. 6 featuring local performers, including those from "Burlesque Roulette," "Nerdesque! Evil Geniuses: The Ones We Love to Hate," "Absinthe" and others.
The festival includes shows, classes Nov. 7 and 8 and a Sunday Morning Burlesque Brunch on Nov. 9. What it doesn't include is a competition.
"Almost every burlesque festival has a competition, but that's something Cha Cha didn't want," Royer said. "She wanted performers and fans to just come and enjoy themselves, and that worked out just the way she wanted. People are more relaxed. They just come and have fun and enjoy themselves and bump elbows with their peers.
For tickets and more information about the event, visit lvburlesquefestival.com.
Contact East Valley View reporter F. Andrew Taylor at ataylor@viewnews.com or 702-380-4532.