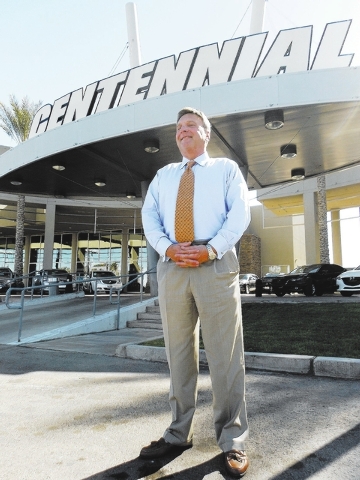 There is a pair of new guys on the block at Centennial Buick GMC Mazda at 6501 Centennial Center Blvd. in the northwest valley.
Seven Automotive LLC co-owners Tom Buis and Greg Burk of Phoenix purchased the dealership recently from Staluppi Automotive Group in Las Vegas.
"I think this is a tremendous opportunity," said Buis, a native of St. Joseph, Mo., who has been in the car business in Phoenix for the past 30 years. "There is steady growth and it's not saturated with dealers. There are so many manufacturer opportunities in Southern Nevada."
While the sales end of the business is strong at the dealership, so is the service end. Headed by longtime service director Bill Buckley, the service element is both strong and respected.
"Bill is one of the many key employees that we have kept here," Buis said. "In fact, he led this store to the No. 1 Customer Service Index score in the district. Employee satisfaction equals customer satisfaction and we're very aware of that."
The management team at Centennial is finalizing plans for the dealership, which will continue to include separate showrooms for Mazda along with Buick and GMC lines.
Both the GMC/Buick and Mazda dealerships will be totally remodeled over the next few months.
"We want this to be the best of the best," Buis said. "We have the best people, the best service and the best car-buying experience a customer can have. Our goal is to achieve the highest possible quality available in the car-buying experience.
"We would like to invite all of the loyal past customers to join us here. This is a golden opportunity, a great product, great market with great people."
Buis also wants to grow and develop the staff.
"We are looking for honest, career-minded individuals who want to capitalize on the business. You have parts, service, sales, Internet, accounting and marketing," he said. "There are so many components involved to make this work well and we're really looking forward to the challenge."
Buis said there is a special joy in the car business, especially when it comes to finding the right car for the customer.
"There is a special thrill helping someone find a new car," said Buis, who like many veterans of the business recalls his first-ever car deal. "There is nothing like the win-win element. Then, too, once a customer finds someone he or she is comfortable with, the relationship many times leads to longtime friendships."
Buckley, a 35-year veteran of the car business, sees big things on the horizon with the new ownership.
"They are very positive and they're also very aggressive," said Buckley, who has lived in Las Vegas since 1986. "In addition, both Tom and Greg are employee-oriented. This is a very challenging business that requires intense teamwork in order to be successful and I see all of that in this new ownership."
Details of the sale were not disclosed.
For further information, call 702-545-6823 or visit www.buickgmc.com and www.centennialmazda.com.