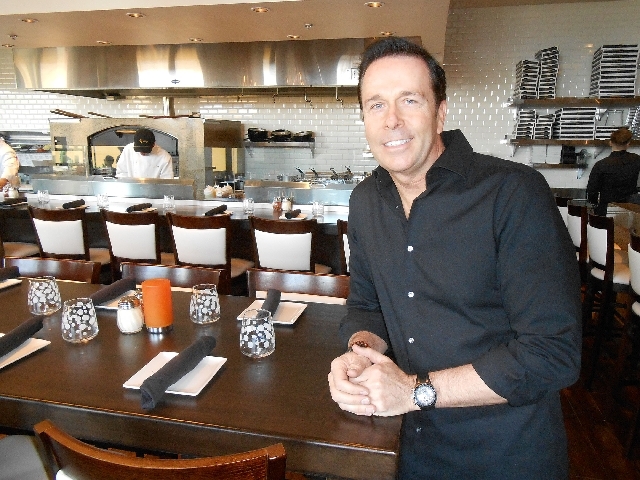 Think upscale, as in, upscale setting, upscale interior and upscale food but without the upscale prices.
Pizza Lounge, inside Tivoli Village at 402 S. Rampart Blvd., Suite 120, was designed to impress. What other pizza place features chandeliers?
"It's more of an experience than it is about one thing," said co-owner Ken Henderson. "So, it's the pizza, the lounge, this will be our trademark, the chandeliers. … My other business that I own, it's the largest talent agency in town, BEST Agency, and everything I've learned over 16 years is creating an experience. There's more to it than just one piece. … I want people to go, 'This is so cool. It's so different.' "
He said the concept goes well with Tivoli Village's vision of offering the unique and the special.
The décor matches padded chairs with solid wood tables in the L-shaped dining area. Oversized windows allow diners to people watch. Small conveniences include a purse hook on the underside of the tables. Another perk is that solo diners can take a seat at the bar and charge their electronic device free.
The venture got its start with humble beginnings.
Co-owner Gary Decker opened a small place in Laguna Beach, Calif., that was a by-the-slice concept where people could grab their food and go. It was followed by a second location in Huntington Beach. That one was a little larger and had dine-in tables to up the ante a little.
"This is my first restaurant venture, and I come to it as a consumer," Henderson said. "When I first came to Pizza Lounge in Laguna –– I have a house there –– I would call and have it delivered, and I just loved the product. I met Gary, and we always talked about Vegas."
One day they talked about opening a Pizza Lounge in Las Vegas as partners, and the idea took flight. They bounced suggestions off each other as they chose the look and the décor.
"Like, the tables are all thick and solid," Henderson said. "I didn't want them to be rickety little stuff. Everything is exactly the way we wanted with that warm feel. … The food is the no-brainer. I love to watch people when they take their first bite. They just look at their husband or their wife and go, 'Oh, my God.' They always say that."
Patron Kim Zimmerman said she found out about it on Facebook.
"It's really nice … the entrance with the chandeliers," she said. "The whole look of it, it's not your typical pizza joint."
"This one fits the 'Lounge' name," Henderson said. "This is what we'll be doing moving forward. We want to find a spot in a hotel here in Las Vegas, then we'll go and look at other places. … It's gourmet-style pizza with a lounge-y feel. Nothing we do here will relate to a pizza place. You won't see a cannoli" on the menu.
The atmosphere music is not intrusive. The wine list is extensive. A park is scheduled to be built just north of the eatery's spot.
Pizza Lounge opened March 15. It seats 60 in the 2,000-square-foot space. Outdoor dining will be expanded to increase that. Plans are to offer live entertainment.
"We haven't advertised yet, and we did that on purpose," Henderson said soon after the opening. "My philosophy is: I'd rather have 25 people in here that walk out with a 100 percent great experience than have 100 in here and 50 of them, go, 'They need a little more time.' "
The menu includes 26 styles of pizza starting at $9.95, including: coconut shrimp pizza; chicken, peach and Gorgonzola pizza; goat cheese, chicken and sun-dried tomato pizza; Sante Fe taco pizza; and basil chicken sausage pizza. Diners can also build their own. There has been talk of a dessert pizza being added to the menu.
Other menu items include lobster ravioli Gorgonzola ($14.95), spaghetti pomodoro ($9.95), grilled chicken aioli and Brie sandwich ($13.95) and roasted turkey and bacon club sandwich ($13.95).
Another item Pizza Lounge plans to offer is the Celebrity Pizza –– the recipe creation of a performer who will be on hand for the unveiling. Robin Leach is already on board with the idea. The Pizza Lounge will create an event to launch the newest item.
"We'll have a little photo shoot, have him back here making pizza," manager Gregory Daluz said.
Henderson plans to also ask comedians Brad Garrett, Rita Rudner and Carrot Top and singer Clint Holmes. Each celebrity pizza will be on the menu for a month.
Hours are from 11 a.m. to 10 p.m. daily. For more information, call 702-778-0400 or visit pizzalounges.com.
Contact Summerlin/Summerlin South View reporter Jan Hogan at jhogan@viewnews.com or 702-387-2949.