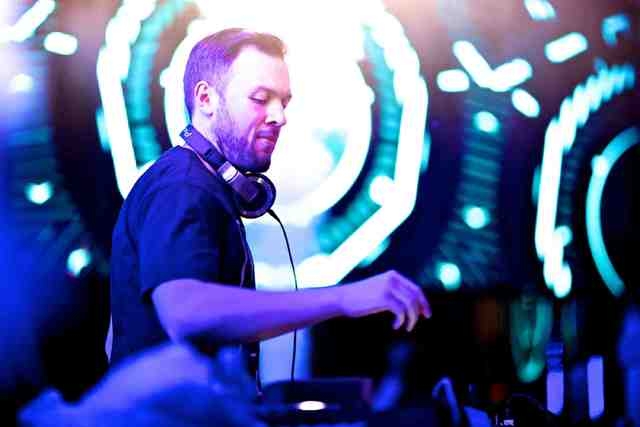 I enjoy listening to DJ-musician Chris Lake have a laugh about his friends. He just finished touring America with two partying DJ buddies, TJR and Nom De Strip. How did that go?
"Nom De Strip is a menace. TJR is not that much better. TJ sometimes forgets where he's at. He's urinated in the wrong place a couple of times, that I've known of," Lake says.
Lake — who performs Friday at XS nightclub — isn't bad-mouthing TJR and Nom De Strip. To the contrary, his tone is of a funny Scot living in L.A., telling funny truths about touring with music label mates.
"We had a lot of fun, and got a lot of stories" on tour, Lake says, "mostly about the other guys getting drunk and disorderly, and me having to pick up the pieces in the morning, trying to get them to wake up, and go to the airport while still clearly drunk, to go catch our flights to the next place."
Oh, did I mention? Lake doesn't touch booze, so he was the sober one on this crazy trip.
Why did Lake stop drinking?
"Because I didn't stop drinking one night in Miami four years ago, and when I woke up the next day feeling like death's door, and it took me four days to recover from my hangover, I decided, 'Enough is enough. I'm an asshole when I'm drunk. I'm stopping.'"
If I had a nickel for every Scottish/Irish/British/San Francisco DJ who told me a story like that …
"I was doing a public service" by quitting alcohol, he says.
People who give up one vice often pick up a replacement ritual. Lake traded alcohol for exercise. He sometimes wakes at 4 a.m. in L.A. to stay in shape.
"I'm up first thing in the morning, working out. It clears my head for the day."
That means when he comes to Vegas for his resident-DJ gig at XS, he is as sober as a churchmouse.
"I haven't had a drink now for approaching four years. So all that free drink I get in the club — my friends come along to take all of it," Lake says.
It's good to be sober. But the bad part of sobriety comes at about 3 a.m. or 4 a.m., when drunk friends think they're being hilarious by putting him in a headlock, he says.
"When you get to 3 or 4 in the morning, all that behavior that everyone else thinks is really funny, I'm probably getting to that point where I'm really annoyed with what everyone's doing and I want to punch someone," he says, laughing.
He says early morning is when drunks tend to go, 'Yeah, yeah, yeah, I've got this story to tell to you for the third time, and I'm going to say it while spitting in your ear.' Great. Great. Love it."
But Lake, who is one of the most entertaining DJs I have ever interviewed, rolls with the drinkers. He has even been planning the next road-trip with TJR and Nom De Strip, that "menace."
"These guys are fantastic."
Doug Elfman's column appears on Page 3A in the main section on Mondays, Tuesdays, Thursdays and Saturdays. He also writes for Neon on Fridays. Email him at delfman@reviewjournal.com. He blogs at reviewjournal.com/elfman.