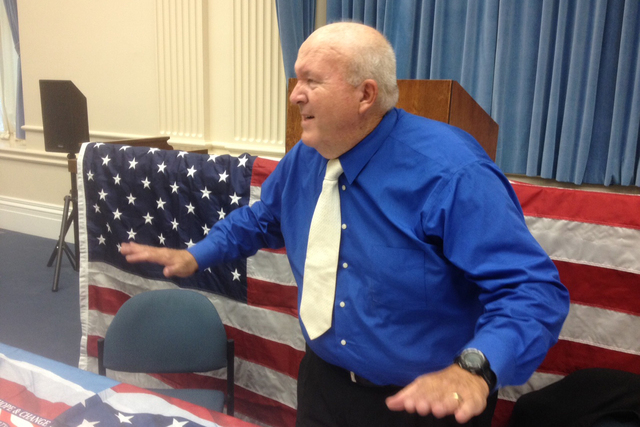 Major-party presidential candidates, particularly in the crowded Republican field, might have a tough time getting press attention this election cycle, but they have nothing on Dennis Andrew Ball.
Ball, who recently visited the capital in his effort to form a new party across the 50 states in his quest for the presidency, has a long way to go to get on the media's radar screen.
Ball, of Marion, Ill., is attempting to qualify the American Party of America as an official party for state balloting.
He was in Nevada seeking supporters to help him with the signature-gathering effort that will be needed to get the party recognized for the 2016 general election. Sitting alone in the Old Assembly Chambers in the state Capitol surrounded by his literature, it was clear that he faces a Herculean effort.
Ball, who ran as a write-in candidate for president in 2012, said the new party is necessary to address issues that are damaging the traditional structure of the heterosexual nuclear family.
"I think that following the rule of law has been lost for a long, long time, and it needs to be resurrected now," he said. "I knew as a write-in candidate in 2012 I had to get really busy to make this happen. And I am."
Ball's party stands in opposition to abusive government actions, including taxation without representation, and in support of limited government including doing away with such agencies as child protective services and probate courts that he said damage families.
Ball supports a balanced budget amendment, requirements for welfare recipients to work or get job training and opposes any further restrictions on Second Amendment rights, among his many other positions.
He has authored two books, "The Ball Doctrine! Creating Peace &Prosperity In Every Nation!" and "America 2000: Foundation for Generations!"
Ball will need to get the signatures of 1 percent of the total number of registered voters in Nevada to get on the ballot.
— Sean Whaley
REID BURNS OVER BURNING MAN
U.S. Senate Minority Leader Harry Reid is weighing in on a flap between the U.S. Bureau of Land Management and organizers of Burning Man over the federal agency's demand for VIP accommodations at this year's free-expression and counterculture festival on the Black Rock Desert.
The Reno Gazette-Journal on Friday reported the BLM, which issues a permit for the event that draws tens of thousands of people to the remote desert, wants Burning Man to furnish flushing toilets, washers and dryers, hot running water and air conditioning for high-level government officials on the playa as a condition of the permit.
Burning Man organizers call the demand excessive and unprecedented. They also say it would cost the organization about $1 million to comply.
On Friday, Reid, D-Nev., sent a letter to Interior Secretary Sally Jewell calling the BLM's requests "extravagant."
"While I agree that the BLM should take its permitting duties seriously and work with Burning Man to both guarantee the safety of its participants and the protection of the environment, providing outlandishly unnecessary facilities for the BLM and its guests should be beyond the scope of the permitting requirements," Reid wrote.
"Part of Burning Man's philosophy is self-reliance and living with the elements is part of the experience," he continued. "Flush toilets and laundry facilities can be found about 10 miles away in Gerlach, Nev., if BLM's employees need such amenities."
The festival has been held on the Black Rock Desert 100 miles north of Reno since the early 1990s, drawing tens of thousands of people from around the world. Last year about 65,000 attended.
Reid in his letter noted that the event brings "untold cultural benefits" to Nevada and contributes an estimated $35 million to the state's economy each year.
This year's festival runs Aug. 30 through Sept. 7.
— Sandra Chereb
JEWELL LIKES MONUMENT IDEA
Interior Secretary Sally Jewell endorsed plans for a national monument in Nevada, saying there would be minimal conflict with other land uses if 704,000 acres were set aside for conservation protection.
A plan for President Barack Obama to designate a "Basin and Range National Monument" in the region encompassing parts of Nye and Lincoln counties still is circulating among the White House and federal agencies, with an announcement possible later this summer.
While meeting with Western governors at Lake Tahoe, Jewell told reporters Wednesday it "has yet to be determined" whether Obama will employ his executive powers under the Antiquities Act to create the monument area.
The area being considered for the Basin and Range National Monument consists of Garden Valley and Coal Valley, separated by the Golden Gate Range and including the Mount Irish Range, the Seaman Range and the Worthington Mountains.
"These are very special landscapes and unique in their scope and scale," Jewell said, adding it could be protected with "really very little conflict" as valid existing rights would be allowed to continue.
Jewell said U.S. Sen. Harry Reid, D-Nev., has urged the Obama administration to move forward with the plan, which among other things would preserve the scenery surrounding "City," a monumental earthen artwork nearing completion near Hiko.
Bills by Reid and Rep. Dina Titus, D-Nev., would withdraw 800,000 acres in the area but are not likely to get passed over the objections of Republicans who note there is little appetite among leaders in the two counties to set aside more public land.
Jewell said she has not been to the area, but others in the Interior Department have and "the Basin and Range Area is very special."
BLM Director Neil Kornze, for instance, formerly was a special adviser to Reid on public lands and carried out early scoping of the area for the senator.
— Steve Tetreault
'PAWN STARS' HOST BACKS RUBIO
Rick Harrison, a star of the Las Vegas-based "Pawn Stars" series on the History Channel, is supporting U.S. Sen. Marco Rubio, R-Fla., in the 2016 presidential race.
Rubio is seeking the GOP nomination in a crowded field of candidates.
Harrison isn't shy about showing his support. There's a Rubio campaign ad out in which Harrison expresses confidence in the candidate, using language that reflects his pawn shop expertise.
"Trust me. I know a good investment when I see one," Harrison says in the ad.
Harrison interviewed with Fox News host Sean Hannity last week about his support of Rubio.
"He's an incredible speaker … he doesn't need a teleprompter for everything," Harrison said, an apparent dig at Obama's use of a teleprompter.
Rubio was outside Gold and Silver Pawn Shop, where the show is filmed, on a May 28 visit to Southern Nevada. It was his first campaign visit to Las Vegas.
— Ben Botkin
Contact Sean Whaley at swhaley@reviewjournal.com or 775-687-3900. Find him on Twitter: @seanw801. Contact Sandra Chereb at schereb@reviewjournal.com or 775-687-3901. Find her on Twitter: @SandraChereb. Contact Review-Journal Washington Bureau Chief Steve Tetreault at stetreault@reviewjournal.com or 202-783-1760. Find him on Twitter: @STetreaultDC. Contact Ben Botkin at bbotkin@reviewjournal.com or 702-405-9781. Find him on Twitter: @BenBotkin1.