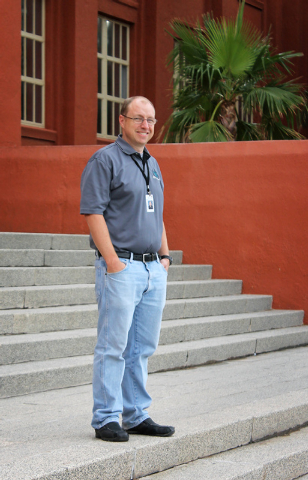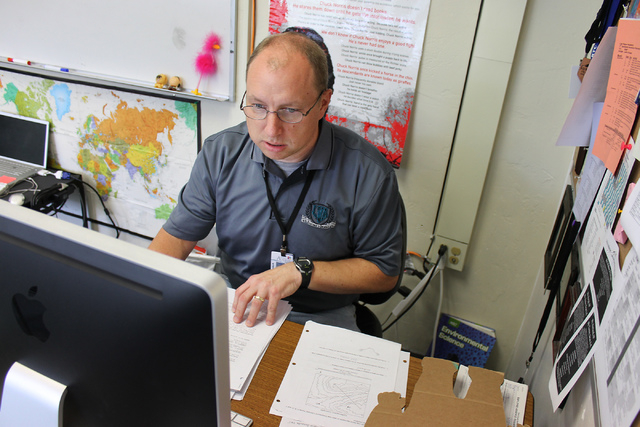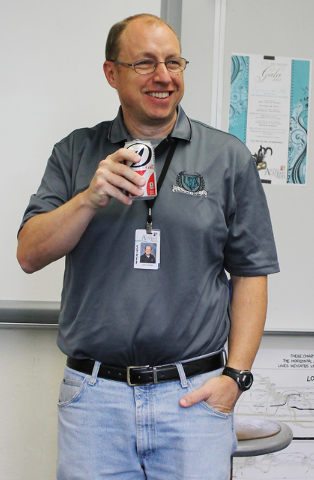 Joshua Hager, science department chairman at the Las Vegas Academy, achieved the goal that many students strive to achieve, admission to Harvard University.
His journey there, however, was quite different than most, as were the courses he took.
He completed most of his degrees while working full time as a teacher, and did so online.
This grueling schedule could have made anyone a grouch at work, especially if he had to be around teenagers all day.
However, Hager remains good-natured even with his one deaf ear and one eye that doesn't shed tears.
On the first day of school this year, Hager's students were in for a surprise.
He was going over the policies of his classroom when he announced that he didn't care if they ate during his class. He instructed them to look below their feet at the carpet, a collage of mysterious stains and substances. Then he proceeded to take a Coke out of his minifridge and splashed it on the ground, claiming that there was no way for them to make the carpet worse than it already was.
The uproarious reaction from the students made it clear that Hager had loosened up the room.
This, along with the way he relates to his students, is what distinguished his classes.
"Mr. Hager takes breaks in our classroom to talk about his personal experiences with college," says Shea Okamoto, a senior in his advanced placement environmental class. "He also gives us tips on how to apply to colleges, and he answers any questions we have about the process."
This all stems from Hager's experience with academia, which led him to where he is today.
In high school, Hager was "pathetic, gradewise" because he was bored with his coursework. His grade-point average was 2.6.
When the time came to apply to college, his options were limited. High test scores were not enough to win over college admissions officers because all they saw was a lack of effort on his part. Hager applied to three colleges and only one accepted him, Seton Hall University in New Jersey.
After registering, Hager dropped out.
"I was very immature," he says. "I thought to myself, 'Well, this is just like paying for high school,' and I didn't really like high school, so I just stopped going. Literally. Not a wise choice."
When he realized that "doors don't open without a college degree," Hager decided it was time to again apply to college.
He attended the College of Southern Nevada, then the University of Nevada, Las Vegas and Sierra Nevada College.
Finally, after taking school seriously, he applied for an online program in environmental management at Harvard University, which he could finish while still staying in Las Vegas to teach.
Hager believes his interview helped him get in.
"Rather than try to sell myself, which is what I heard everybody doing, I began to ask questions about the program that got the interviewer talking about their experiences with it," he says. "Questions like, 'What experience do you think I'll enjoy the most? What did you enjoy the most?' Anytime you're in a college interview situation like that, get the person talking about their college experiences because they're going to relate you to nostalgia and a great memory of school and that's a great way to do it."
Studies completed, Hager now hopes to achieve an administrative position, preferably at the Las Vegas Academy, while still teaching classes.
"Where education really takes place is in the classroom between a teacher and students," he says. "I think it would be great if administrators continued to teach because you have to stay sharp and know what's going on. I think it should be essential for leaders in a school to still be teaching in a school."