Recycled card program helps teens gain work experience
December 14, 2013 - 4:00 pm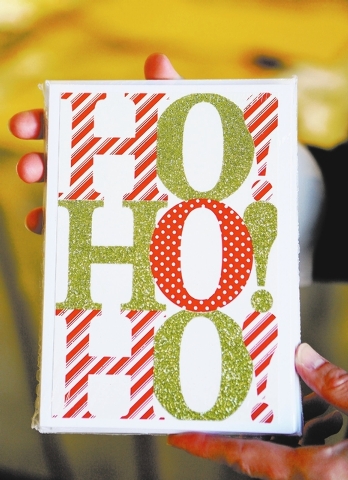 For 45 years St. Jude's Ranch for Children has been helping abused, neglected and homeless youths in Nevada and Texas by providing safe homes and services. The Ranch provides youth with clothing, shelter and foster care.
The charity, at 100 St. Jude's St. in Boulder City, runs the Recycled Card Program that teaches entrepreneurial and small-business skills. St. Jude's also has two locations in Las Vegas at 5005 McLeod Drive, No. 200, and 2685 Rainbow Blvd., No. 112.
"We're a higher-level care facility," said Kelley McClellan, director of development. "Many of the children have behavioral and emotional needs because of their past experiences. They come here with nothing but the clothes on their back and with their brothers or sisters."
McClellan said the Ranch operates with 40 percent government funding and generates the rest via sales from its Recycled Card Program and through donations.
In the program, teens on the Ranch use donated greeting cards and cut out the front to create new greeting cards, which they sell at the charity's gift store and online.
During the holiday season, McClellan said the Ranch receives as many as 40 bins of used greeting cards a day. Volunteers start by opening the packages and separating them into categories, such as Christmas, Easter, birthdays, anniversaries and sympathy cards.
Once the cards are separated, teens ages 15-19 can apply for the program by filling out an application and by being interviewed.
"This program teaches teens how to support themselves," McClellan said. "They have the chance to learn basic job skills, work ethic and a sense of responsibility and commitment."
Packages of 10 cards are sold for $15 in the gift shop or for $17 online.
The money raised through the program goes toward helping the charity pay for the financial needs of the youths.
There are about 3,000 children in Clark County foster care, according to the county's website, clarkcounty.gov.
Sixty-six youths reside on the Ranch in Boulder City.
McClellan said the licensed residential foster facility makes it a priority to take in large sibling groups and provide a normal family experience.
Data gathered by the charity estimates that approximagtely 60 percent of the children have been physically abused, 40 percent have been sexually abused, many have suffered both and all have been neglected.
The charity also participates in the Campbell's Soup Label Program that allows the Ranch to collect points toward a new vehicle.
The program urges people to send Campbell's Soup labels, V8 caps and other participating product labels to the facility in Boulder City so the charity can collect points.
Once the charity collects 1,500,000 points, it will be able to receive a free Dodge Caravan.
Tillie Lucero, employee at the Ranch, said the charity has collected 579,000 points so far and that it typically takes about a year or two to collect enough points for a van. Lucero said the charity has received five vans over 28 years.
"People send us labels from all over the country." Lucero said. "It's just like money in the bank for us."
The charity uses the van to transport youths to school, soccer practice, recitals and other off-campus activities.
The charity also provides youths with donated items, such as clothing, accessories, seasonal wear and shoes.
There is also a pregnant and parenting program in place that helps "at-risk" mothers ages 10 to 17 receive training and guidance on parenting, job and life skills.
Linda Yowell, transitional living program coordinator, has been working at the Ranch for 11 years. She said she has seen kids grow into successful adults.
"It's been challenging work, but it's very gratifying watching teens make the transition into adulthood," Yowell said. "Our goal is to work with them and help them succeed. That's why we're here."
For more information, visit stjudesranch.org.
Contact Sunrise/Whitney View reporter Sandy Lopez at slopez@viewnews.com or 702-383-4686.