Rescued farm animals lend helping hooves for therapy classes
January 28, 2016 - 3:00 pm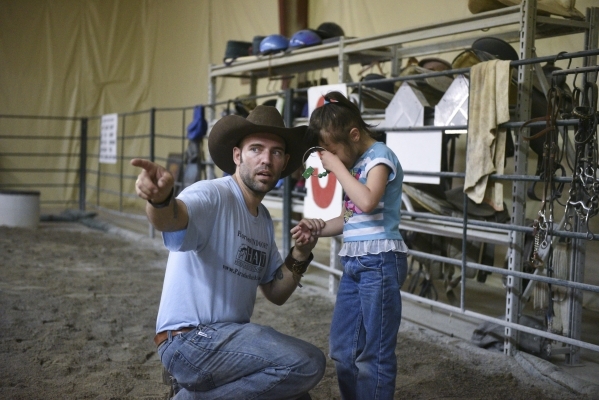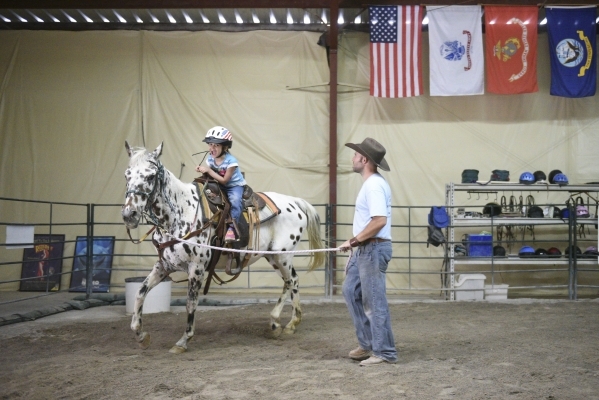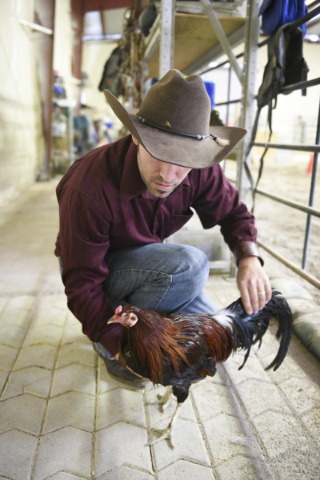 There's something magical about non-human animals.
They have the ability to calm one down after a stressful day. They don't talk the same way that humans talk, but the communication is there. They don't seem to judge, and they somehow make one feel special — as though everything is going to be OK.
Individuals with special challenges have been known to largely benefit from this type of animal interaction.
That's why Paradise Ranch, 1722 Primrose Path, is offering free horse therapy classes to people with special needs or those undergoing challenges. The ranch is an indoor facility in the Centennial Hills area with animals that are specially trained to work with individuals with special needs.
"It's a lot easier to trust and bond with other animals sometimes than it is with another person," said Paul Rogers, co-owner of the ranch.
From February to November, the ranch plans to offer four free one-hour sessions to individuals who could benefit from such therapy.
From February through March, the ranch plans to host children in foster care; April through May will be reserved for children with fetal alcohol syndrome and children born with addictions; June through July will benefit families of domestic violence; August through September is planned for teens with behavioral issues or addiction; and lastly, October through November is set to help veterans and military families affected by combat duty.
Staff members have educational backgrounds in mental health and focus on creating a positive and fun environment for all ability levels, according to Rogers, who makes it his mission to go beyond horse theory, creating a program and offering tips for parents and caregivers.
"We do a lot of parent training," he said. "Sometimes parents are struggling and may be accidently reinforcing a behavior. We take notes on what the parents are doing and try to build on ideas. We like to make the parents' lives easier."
The couple has a special place in their hearts for foster children; in 2010, they adopted their oldest son, Chris Braathen, 21.
"Kids in foster care go through so much transition," said Stephanie Rogers, Paul's wife and ranch co-owner. "We've seen that after doing a few sessions of horse therapy, foster kids do better at school and can generally focus better overall. This is a place where they can come in and rebuild positive relationships and trust."
In addition to the therapy horses, the ranch also has pigs, birds, goats, snakes and bearded dragons.
"Sometimes children come here feeling unhappy or nervous, but as soon as they see our pot belly pig or goats, they start to smile," Stephanie said. "You can't have a bad day when you're around them."
Most of the animals have been rescued or have special needs themselves, she added.
Siblings of children who come to the ranch are also treated with special care — the couple has a room filled with toys and video games. Siblings can pet the animals, or they can also get on the horses.
Alicia Morris is a former foster child and knows firsthand the benefits of having animals around. She grew up in a foster home that included on-site access to animal-based therapies.
"The animals gave me this feeling of calm and comfort," Morris said. "I was able to vocalize my feelings to them. That's why I started taking my daughter to Paradise Ranch."
For four years, her 8-year-old daughter Sophia Nola Hudig has gone to the ranch for horse therapy to help with her autism. Her mother has noticed steady milestones.
"Before coming to Paradise Ranch, she would just take off running," Morris said. "Paul has helped me stop the running by, I'd say, 75 percent. She's listening and communicating better and is able to follow directions more."
People interested in the program must call the ranch at 702-515-7117 to schedule an appointment and fill out an application.
The ranch is open by appointment Wednesday, Friday, Saturday and Sunday. Visit paradiseranchlv.com.
— To reach North View reporter Sandy Lopez, email slopez@viewnews.com or call 702-383-4686. Find her on Twitter: @JournalismSandy
Paradise Ranch
1722 Primrose Path
paradiseranchlv.com
People interested in the program must call the ranch at 702-515-7117 to schedule an appointment and fill out an application
The ranch is open by appointment Wednesday, Friday, Saturday and Sunday.