Roberson PACs under scrutiny by Nevada officials
March 18, 2016 - 10:35 pm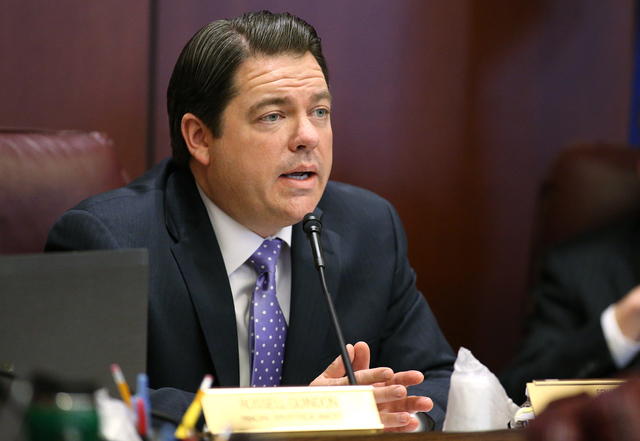 State officials are examining whether political action committees created by state Senate Majority Leader Michael Roberson were used as a conduit to allow donors to exceed contribution limits on Republican legislative campaigns.
Roberson, a GOP candidate for Nevada's 3rd Congressional District, in 2011 began creating a network of four affiliated political action committees that grew into a six-figure fundraising behemoth benefiting a small group of legislative candidates.
Over two election cycles, the committees registered to Roberson poured more than $200,000 into Republican legislative campaigns, including those of Patricia Farley and Becky Harris, who won Senate seats in 2014, and Mari St. Martin and Steve Kirk, who lost Senate races in 2012.
Those contributions are now under scrutiny, with state officials working to determine if money received by Roberson's PACs and donations made to the candidates effectively masked contributions.
"Conduit contributions" are not new in Nevada. Rory Reid paid a $25,000 fine in 2011 after more than $900,000 passed through 90 shell organizations into his 2010 Democratic gubernatorial campaign. Reid denied any wrongdoing in reaching a settlement through then-Secretary of State Ross Miller, also a Democrat.
Roberson's PACs came under scrutiny after a complaint was filed with Republican Secretary of State Barbara Cegavske's office in February.
The complaint asks the state's elections chief to investigate, citing possible violations involving Victory PAC, Senate Majority PAC, Reform PAC and Jobs First PAC. The name of the person who filed the complaint was redacted from a document obtained by the Las Vegas Review-Journal.
It's not the first time Roberson has faced disclosure questions about the PACs. In August, the Nevada secretary of state's office ordered Roberson to amend paperwork and disclose that the committees, all registered under his name at his Henderson address, are affiliated. Roberson's attorney failed to convince the state that each committee is an "organization of legislators" not subject to disclosure laws. After the state rejected that argument, Roberson updated the PAC documentation.
Roberson is now seeking the Republican nomination for the 3rd Congressional District seat, an open race that has attracted more than a dozen candidates from both major parties.
Roberson adviser Mike Slanker said the complaint lacks merit and suggested politics are at play, specifically naming Danny Tarkanian, a fellow Republican candidate in the 3rd District race.
"Senator Roberson has helped elect Republicans to the state Senate for years," Slanker said. "He was the architect of taking back the Senate majority for the Republican Party. This complaint is right out of perennial candidate Danny Tarkanian's playbook and is completely without merit. (It's) an attempt to distract from a long list of personal baggage like $17 million dollar judgments, legal malpractice, Supreme Court sanctions, and bankruptcy that have lost him the last four campaigns he has attempted."
In response, Tarkanian's campaign said: "Establishment elites like Michael Roberson always think they're above the rules, but it speaks volumes that a Republican secretary of state — in consultation with a Republican attorney general (Adam Laxalt) — has reviewed Roberson's campaign money scheme and is demanding he provide answers to the serious questions being raised."
COMPLAINT DETAILS
The complaint notes Roberson's initial failure to disclose the PAC affiliation: "There seems to be no other explanation why Roberson — or any politician for that matter — would need to create a series of solely controlled PACs registered to his home address, except to empower himself — and others — to contribute in aggregate beyond the maximum $5,000 per election to their favored legislative campaigns."
By law, an individual, including a corporation, may donate as much as $5,000 per election, or a total of $10,000 if the candidate runs in both a primary and general election.
The complaint doesn't name donors, but it does list the dates of the gifts and the names of the candidates who received them.
State campaign finance disclosure reports show that on Dec. 18, 2013, Las Vegas Sands Corp. donated $10,000 to Harris' campaign.
The following day, Dec. 19, the casino operator donated $10,000 to each PAC and to Roberson's own Senate campaign fund. In the same election cycle, each PAC gave $10,000 to Harris.
Ron Reese, spokesman for Las Vegas Sands, declined comment, noting the company isn't a party to the complaint. The Review-Journal is owned by a limited liability company controlled by the family of Sheldon Adelson, Chairman and CEO of Las Vegas Sands Corp.
On May 14, 2014, the Nevada Subcontractors Association PAC contributed $5,000 to both the Victory PAC and Reform PAC. On May 16, 2014, Victory PAC sent $5,000 to Farley, while Reform PAC sent $5,000 to Harris. The Subcontractors PAC, whose representatives couldn't be reached for comment, also directly donated $7,500 to Harris.
Victories in 2014 by Farley and Harris helped flip control of the state Senate to the GOP and make Roberson majority leader.
None of the donors or candidates who received contributions are accused of wrongdoing, though Tarkanian's campaign criticized the arrangement.
"Apparently Michael Roberson's rise to power was fueled by a campaign finance shell game he ran out of his Henderson home — a scheme that enabled him to funnel thousands in special-interest money to legislative candidates, who then owed him their loyalty," the campaign said.
A spokeswoman for Cegavske had no immediate response when asked if enforcement action involving Roberson would be necessary.
Roberson has until April 8 to respond to the secretary of state.
Contact Ben Botkin at bbotkin@reviewjournal.com or 702-387-2904. Find him on Twitter: @BenBotkin1