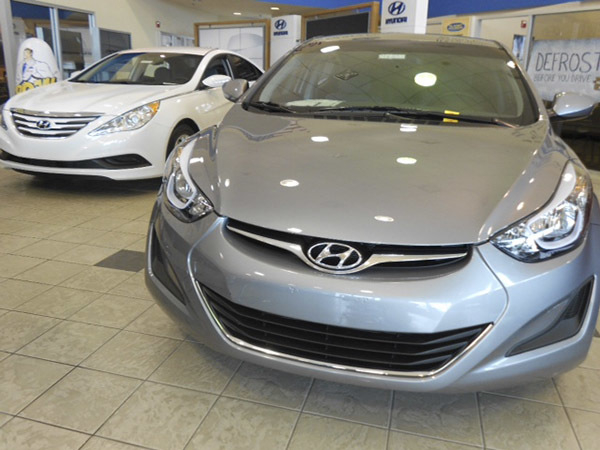 ​Through the first six months of the year, the 2014 Sonata and the 2014 Elantra are running neck-and-neck to lead sales figures at Planet Hyundai Sahara at 7150 W. Sahara Ave.
With the dealership coming off a banner year in 2013 when it became the top-selling dealership in Hyundai Motor America's Western region District WE4, the Sonata and Elantra are leading the way to another year of record numbers.
​With the exceptional fuel mileage all Hyundais produce, their reliability accentuated by a 10-year, 100,000 mile powertrain warranty along with a five-year, bumper-to-bumper 60,000-mile warranty; and an assortment of other amenities available with the Sonata and the Elantra, Planet Hyundai Sahara is riding a wave.
​"They're the best cars in the market right now when you consider the safety, the reliability and the resale values of each car," said Jason Laguna, the store's general sales manager.
​Bob Higdon, the dealership's delivery manager, agrees.
​"The Sonata is a large car category while the Elantra is a midsize category car," said Higdon, who has been in the car business for 28 years. "Both vehicles feature what is called Fluidic Styling, four cylinder six speed power trains with Shiftronic transmission and … the largest cargo spaces and passenger volumes in their categories.
​"In addition, they both have outstanding EPA (Environmental Protection Agency) ratings for city and highway driving. Both get as much as 35 miles to the gallon or better on the freeway."
​The Elantra comes equipped with a two-liter, 173 horsepower engine, while the Sonata has a 192-horsepower engine along with the optional availability of a 274-horsepower turbo.
Higdon said that the Sonata and Elantra each have five-star safety ratings thanks to four channel ABS brakes, electronic stability control, electronic brake distribution and selective traction control systems.
​"The sport edition Sonata and Elantra feature steering wheel mounted paddle shifters for a more responsive driving experience," he said. "They appeal to people of all ages and they come equipped with standard features you don't find in very many competing brands of automobile."​
The locally owned and operated chain of dealerships include Planet Hyundai Used Car Superstore at 7100 W. Sahara and Centennial Hyundai at 6200 Centennial Center Blvd. in the northwest valley. For more information, visit www.planetlv.com or www.centennialhyundailasvegas.com or call 702-938-1400 (Sahara) or 702-483-2200 (Centennial).