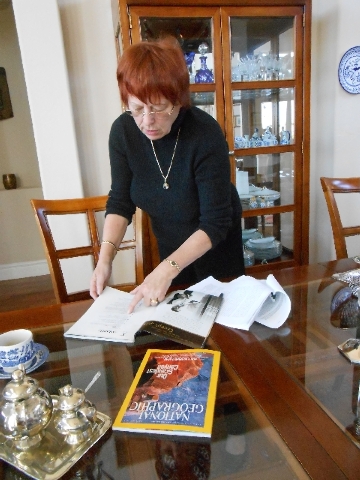 On Feb. 26, Summerlin resident Barbara Harff, a professor of political science emerita at the U.S. Naval Academy, was honored for her contribution to genocide prevention with the Raphael Lemkin Prize from the Auschwitz Institute for Peace and Reconciliation.
The non-monetary award was applauded by the governments of Poland and Hungary, although the award itself is not government-sponsored. Harff flew to New York City to receive it at a Benjamin N. Cardozo School of Law conference at Yeshiva University.
Harff was born and raised in Kassel, Germany, where her family was active in opposing the rise of Adolf Hitler's regime. In her 20s, Harff came to America to pursue her education, earning her Ph.D. from Northwestern University. She's spent her life putting genocide on policymakers' radar.
"My professors didn't know what it was when I started," she said. "I'm not kidding."
In 1982, upon returning to the United States from her first academic job at La Trobe University in Melbourne, Australia, she gave her second scholarly paper at the International Studies Association meetings in Cincinnati. The topic did not draw a huge crowd.
"I presented the findings on a comparative survey on attitudes toward genocide and intervention to an audience of two –– one of whom left after 10 minutes," she said.
She tasked herself with identifying genocide conflicts around the world after World War II, coming up with 46 cases. It took seven years to complete and put her closer on the radar for
policymakers.
At the 1988 ISA meetings in St. Louis, Harff participated in round-table discussions that included pioneering genocide scholars from the U.S. and Great Britain. This one attracted an audience of about 30, including some Holocaust scholars.
In 1994, following the initiative of then-Vice President Al Gore, the State Failure Task Force –– now the Political Instability Task Force –– was founded. Gore wanted to know why revolutions and ethnic conflicts occur with some frequency and why some regimes collapse. Genocide, which Harff further coined the term "politicide," was on the bottom of the agenda.
"There were 20 of us scholars; I was the token genocide person," she said.
Still, Harff said she was excited to be chosen for the task force, which "allowed us to test existing theory. … We assembled huge data sets, developed models and tested hypotheses in a systematic fashion trying to find explanations."
She believed she was chosen because she knew empirical research and had published some quantitative analyses.
"It was a dream come true to be potentially heard and taken seriously by the policy community," she said. "This had always been my target audience, not just other scholars."
Harff was also part of the Stockholm Declaration on Genocide Prevention in January 2004, which attracted heads of state, 55 foreign ministers, policymakers, scholars and activist groups and promised to end genocide in the 21st century.
"I had suggested inviting Rwanda's president, Paul Kagame, who, after receiving a copy of my then-risk assessment that showed Rwanda still as a possible candidate for genocidal violence, publicly declared that there would never be another genocide in Rwanda," Harff said. "We'll see. And this is what we want, a political leader who is sensitized to international opinion and one who recognizes that others are watching."
Though she has written approximately 70 articles, monographs, chapters and books, her key contributions were her risk assessments and early warning efforts based on systematic analysis of the antecedents of geno/politicide. Her data-based analyses for preconditions and accelerators of genocidal situations and her risk assessments were prepared for the Clinton and Bush administrations and the United Nations. Madeleine Albright, President Bill Clinton's secretary of state, for example, mentioned Harff's research in her 2008 publication Preventing Genocide, which was co-authored with former Secretary of Defense William S. Cohen.
"Barbara's training in law, especially international law, history, sociology and statistics, enabled her to achieve a pre-eminent position among scholars, with a breakthrough in the area of risk assessments," said professor Yehuda Bauer, academic adviser to Yad Vashem and a member of the Israel Academy of Sciences and Humanities. "(She) is today one of a group of scholars who act as advisers to the U.N. and to a number of governments that are beginning to combine to search for effective ways to combat mass violence and genocidal situations. I think that, contrary to accepted wisdom, diplomatic means are the centerpiece to any practical efforts to diminish such dangers."
After Stockholm, Harff and Bauer collaborated to establish an organization that would give free advice to governments, the U.N. and any interested parties on how to prevent genocide. Its members include a Pulitzer Prize winner, former U.N. Special Advisers on the Prevention of Genocide and international scholars.
She resolved to help create a "conflict resolution toolbox," which was tailored to deal with pre-genocidal violence. In short supply, she said, are studies that deal with future situations such as those seen in Syria, Macedonia and Rwanda.
"People think in terms of military options, but that's not what we need," she said. "We were looking for diplomatic solutions and other conflict resolution tools that halt escalation to genocide. For policymakers, they have to be cost-efficient and need to work. Sanctions are supposed to work, but they can be counterproductive."
Meanwhile, over the years, policy has expanded, and awareness is growing.
Harff said Americans hear the word "genocide" and think only of Nazi Germany. But atrocities have occurred around the world, including in Sudan, Cambodia, Uganda, Rwanda, Burundi, Kinshasa, the Democratic Republic of the Congo and Somalia.
"When you remind them (people) of the situations, it comes back, and they say, 'Oh, was that a genocide?' Because genocide is not a household word," she said. "We made it a household word."
Contact Summerlin/Summerlin South View reporter Jan Hogan at jhogan@viewnews.com or 702-387-2949.