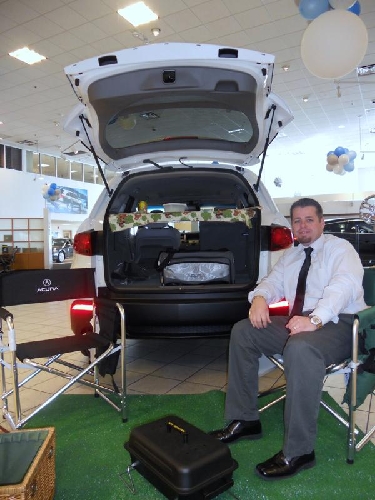 Acura of Las Vegas Service Director Brad Garrett once had a dream of entering the medical profession. He wanted to be pharmacist following in the footsteps of his grandfather, Charlie Garrett, who owned three pharmacies in Las Vegas.
However, Garrett, a 38-year-old Las Vegas native, scrapped the goal to enter the car business, and he hasn't looked back since.
"I started out washing cars at a Honda dealership while going to school at night in Salt Lake City," said the personable Garrett. "The car business is a lot like the medical field in that you must have compassion in dealing with customers' problems and needs.
"People come to me with problems just like they would a doctor. The fact that they might not be able to get something to work the way they want is very simple, as long as you pay attention. We must be able to analyze the underlying problems. In the car business, fixing the customer is many times as important as fixing the car."
Garrett he has worked for several other dealerships.
"I have worked for several dealerships with German, Japanese or Korean vehicles," he said. "My job is a lot easier at Acura because the vehicle is so reliable and its owners are very astute. They know that the Acura is, dollar for dollar, the best vehicle in the world.
"The Acura is not as expensive as many other luxury cars. It's, by far, the best car for the money. We work on all brands and it's a great compliment when customers come to us with other luxury vehicles knowing that we will take care of them."
Garrett spent several years working in the car business in other parts of the country. However, he returned to Las Vegas after about 12 years.
"Growing up in Las Vegas was a fascinating experience," he said. "When I was away from the city, there were certain things about it that I missed. Now when I combine working with Acura of Las Vegas with living here, I could not imagine a better combination.
"My parents and my great-grandmother live here, too. This is a perfect hub where we can get to other areas in a reasonably short period of time."
Acura of Las Vegas General Manager Tim Donnelly lauds Garrett.
"Having Brad in charge of our service department is a great relief," Donnelly said. "He is very qualified to be service director, and even better yet, he also has great people skills. We could not have a better person in charge.
"Of all of the service managers I have worked with, Brad is one of the best."
Situated at 7000 W. Sahara Ave., Acura of Las Vegas is part of the Super Store Auto Group, which has five stores in Southern Nevada and more than 26 in the country.
Further information regarding Acura of Las Vegas can be found by calling 367-7000 or visiting www.lasvegasacura.com.