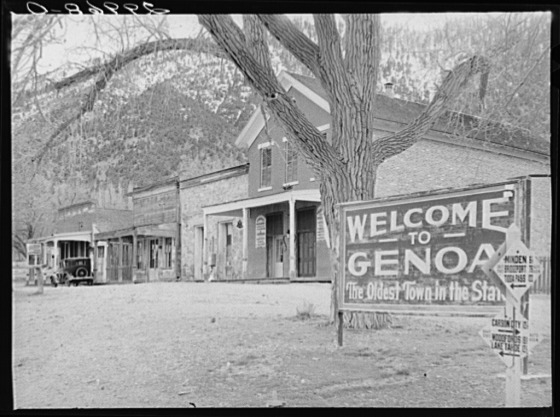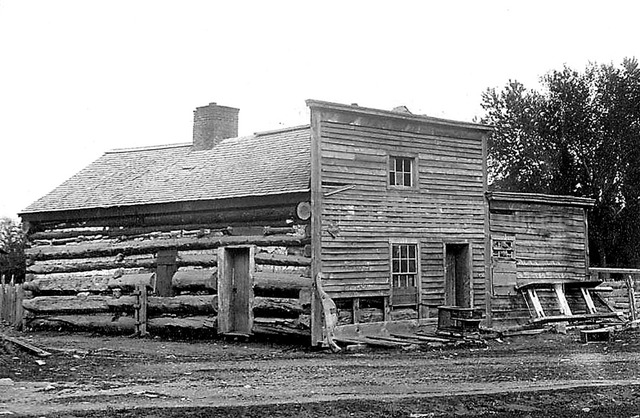 CARSON CITY- It seems a simple assignment. Write about Nevada's oldest settlement. Piece of cake.
But then you don't know realize how serious some residents of Dayton and Genoa and historians take the issue. There have been heated arguments in Northern Nevada over which town is Nevada's oldest.
A road sign in Douglas County points to Genoa as "Nevada's oldest settlement," founded in June 1851. Meanwhile, the Dayton Chamber of Commerce calls their community "Nevada's first settlement," and the local water tower proclaims Dayton as "Nevada's oldest settlement."
Rather than take sides in the dispute, Gov. Kenny Guinn refused in 2001 to attend each community's 150th birthday celebration. And while Indian tribes at Pyramid Lake and Fallon have lived in their areas continuously for as long as 10,000 years, that distinction seldom is mentioned in the debate.
What historians agree on is that there is no other state that has a dispute over its oldest settlement.
Genoa usually has won the battle in the court of public opinion. The U.S. Postal Service in 1951 even produced a three-cent postage stamp that honored Genoa, about 15 miles southwest of Carson City, as Nevada's "first settlement." The town of now nearly 1,000 was then celebrating its 100th birthday.
But some historians have changed their minds and chosen Dayton, a Lyon County community about 10 miles east of Carson City, as the oldest settlement. Out of community pride, Dayton boosters have joined the cause and even snapped at people who say Genoa was first.
They do have historical support.
In his memoirs, Genoa's founder wrote that when he arrived in 1851 only Indians were living in what would become Nevada — "except for a white man in Gold Canyon who had a trading post there and wintered there in a small kind of dugout." The Gold Canyon area would be named Dayton in 1861.
And in the diary of Lucena Parsons, a pioneer traveling by wagon train to California, she noted stopping at Gold Canyon in May 1851 and watching about 200 miners dig for gold.
She also wrote she saw a "Colonel Reese" pass by on his way to establish the Mormon Station trading post at the edge of the Sierra Nevada about 25 miles away. Mormon Station was renamed Genoa in 1855.
Score two points for Dayton.
Reese had been sent to western Utah territory (now Nevada) by Mormon leaders in Salt Lake City to establish a trading post for immigrants. His original trading post burned down, but a replica later was built and now is the Mormon Station State Historic Park. The park website identifies the area as Nevada's "first permanent, non-native settlement."
What is also undisputed is that gold had been discovered in 1849 in Gold Canyon by Abner Blackburn, who picked up a nugget and then left for California. And that in 1850 the first Mormon Station had been established at Genoa, but its inhabitants left before winter.
Based on the Parsons' dairy, Associated Press writer Martin Griffith, an amateur historian who has walked across the state, wrote in the 1990s that Dayton was Nevada's oldest settlement.
But Stanley Paher, a Reno historian who has written many books about Nevada's ghost towns, maintains Dayton was not a permanent settlement. He conceded people might have lived year-round in the gold camps near Dayton between 1851-53, but they did not winter there for the next four years. Dayton, therefore, was not a permanent settlement.
He bases his conclusion on diaries written after 1853 in which travelers only noted Mormon Station along the immigrant trail. Paher said he has nine maps from the 1850s and all only show Mormon Station or Genoa. He added all early histories of Nevada identify Genoa as the oldest permanent settlement.
Paher added that every year he has set up booths during annual celebrations in Dayton and Genoa to sell his books. His displays show Genoa was first. While older Dayton residents are "entrenched" in the belief their town, now home to 9,000 residents, is the oldest, newcomers have no idea of the controversy and could not care less.
He and Griffith and then-state archivist Guy Rocha engaged in a heated debate on the issue before 200 people in 2002, but Paher said their argument did not cause "anyone to change their mind."
Rocha, who has written about a series of myths he discovered about Nevada history, said he tried to remain neutral on the issue of who was first, writing articles that presented both sides.
Asked to take sides recently, Rocha said he believes miners did overwinter in Gold Canyon so it was the state's first settlement.
But he added that Genoa quickly became a community with stores and homes and therefore is the state's first town. It got a post office in 1852, nine years before Dayton.
"The terminology is critical," Rocha said.
A settlement may have only a few people, who maybe live only in tents, but it is permanent. A town is a place with permanent buildings and where residents set down roots.
Griffith agrees with his assessment. He said people have "continuously inhabited" the Dayton area at least since late May 1851, making their community a few days older than Genoa.
When he and a friend were walking across Nevada more than 20 years ago, Griffith said a guide at the historical museum in Dayton told them "Welcome to Nevada's first settlement." Then a few days later, they arrived at the state park in Genoa and were told "Welcome to Nevada's first settlement."
That led to his scouring through diaries and old histories to find who was right.
While some consider the whole issue silly, Griffith said, "It is important to get the facts right."
It's strictly a white's man game. Native Americans already were there when Reese and the miners arrived, including some Washoe just a few miles down the road from Genoa.
Pyramid Lake tribal members greeted explorer John C. Fremont when he visited and named their lake in January 1844.
Petroglyphs at Pyramid Lake recently were dated as 14,800 years old. Griffith said they have always been talking only about the first "European" or non-native settlement, conceding that the Indians "absolutely" were first. Many writings, however, don't make that distinction.
Sherry Rupert, a member of the Sesquicentennial Commission and executive director of the Nevada Indian Commission, said human remains found at Pyramid Lake have been carbon-dated back 9,200 years. Remains at the Fallon Paiute-Shoshone reservation go back even longer — 9,500 years.
You aren't first at anything, Genoa and Dayton.
Contact Capital Bureau Chief Ed Vogel at evogel@reviewjournal.com or 775-687-3901.