Should Donald Trump apologize for his 'blood' comments?
August 10, 2015 - 12:25 pm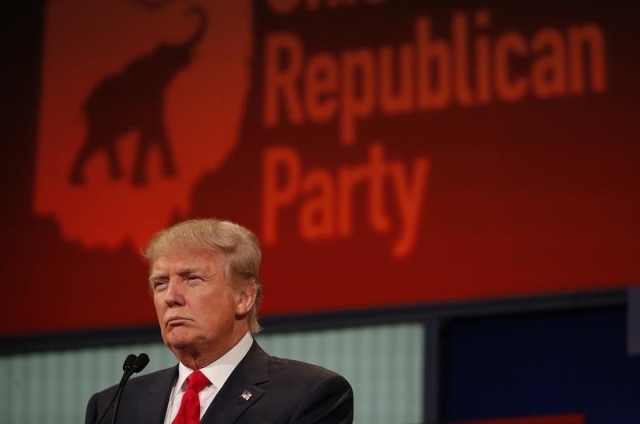 In recent months, it's been impossible to turn on a television or read the news without seeing Donald Trump's name — especially after the first Republican primary debate in which he was asked about calling women "fat pigs, dogs, slobs and disgusting animals."
"Your Twitter account has several disparaging comments about women's looks. You once told a contestant on Celebrity Apprentice it would be a pretty picture to see her on her knees," FOX News host and moderator Megyn Kelly asked Trump on Thursday night.
"Does that sound to you like the temperament of a man we should elect as president, and how will you answer the charge from Hillary Clinton, who was likely to be the Democratic nominee, that you are part of the war on women?"
Trump answered the question reiterating his belief that the United States is "too politically correct," to a thunderous applause. A Review-Journal column called the debate "the beginning of his end."
Trump slammed Kelly that night, the following day and throughout the weekend, saying her questions were "ridiculous" and "off-base."
"You could see there was blood coming out of her eyes," Trump told CNN on Friday night. "Blood coming out of her wherever."
RedState.com editor Erick Erickson responded, saying the comment crossed a line and uninvited Trump to RedState Gathering, a conservative event hosting GOP hopefuls in Atlanta.
Trump attempted some damage control, claiming he meant Kelly's nose, and once more noted the "political correctness" of the nation. Twitter blew up Friday night with hundreds of tweets calling Trump sexist and misogynistic.
Trump's comment also came under fire by Penny Young Nance, CEO and president of the conservative group Concerned Women for America. She told CNN Trump's "tantrum was even more enlightening than his original remarks she questioned."
Rupert Murdoch took to Twitter to praise the hosts and criticize Trump, saying "Friend Donald has to learn this is public life."
Trump on Monday morning said he wasn't going to apologize for his comment.
"She should really be apologizing to me, you want to know the truth. And other candidates have said that." Trump said on MSNBC's Morning Joe.
By Monday, the hashtag "#PeriodsAreNotAnInsult" was trending to remind Trump that commenting on a menstrual cycle in the way his comment was perceived was both sexist and misogynistic. The hashtag was promoted by a website of the same name launched by Femsplain's Amber Gordon.
"@realDonaldTrump Any thoughts on what brand of tampon I should go with? Can't decide for myself, too stupid. #periodsarenotaninsult," Megan Buss tweeted.
This wasn't Trump's first time verbally attacking a woman, as noted by Kelly during the debate. He called Rosie O'Donnell a "slob" with a "fat, ugly face," on multiple occasions. He called singer Bette Midler "grotesque" in a series of 2012 tweets. He called Ariana Huffington, the editor of the Huffington Post, a "dog" in April. Earlier this summer, he called a lawyer "disgusting" when she requested a break to pump breast milk for her newborn.
As of Monday, Trump was still the leading candidate in polls. He topped an overnight NBC Poll with 23 percent, leading Sen. Ted Cruz at 13 percent.
Trump visited Las Vegas last month, off the heels of his last verbal controversy, when he commented immigrants from Mexico who are in the country illegally are "bringing drugs. They're bringing crime. They're rapists. And some, I assume, are good people."
CNN contributed to this report. Contact Kristen DeSilva at kdesilva@reviewjournal.com. Find her on Twitter: @kristendesilva