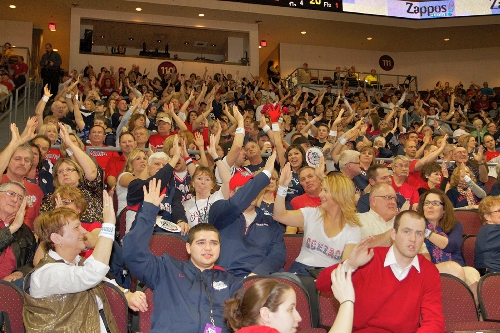 BEAGLE FUNDRAISING EVENT PLANNED
The Southern Nevada Beagle Rescue Foundation has scheduled an Easter Beagle Adoption Event from 11 a.m. to 3 p.m. Saturday at Barking Dogs Self-Wash and Grooming, 9325 S. Cimarron Road, Suite 145. The event will feature adoptable beagles and beagle mixes, as well as the Easter Bunny for photos with furry friends, an Easter bonnet dog contest, raffles, a bake sale and activities for kids. Families, kids, dog lovers and their furry friends, and all those who want an afternoon of fun are welcome.
The event is not limited to beagle owners or beagle lovers. For more information, call 493-9779.
TRAVEL CLUB TO MEET AT TAP HOUSE
The Las Vegas Single Social Travel Club for Mature Adults invites prospective members to its meetings, which are scheduled for 7 p.m. the last Tuesday of the month at The Tap House, 5589 W. Charleston Blvd. The next one is scheduled for today.
The meet-and-greet portion is set to start at 6:30 p.m. in the meeting room. Discussions focus on day trips, local events, in-state and out-of-state traveling, cruises and international traveling. A guest speaker is frequently featured. The meeting closes at about 8 p.m., when appetizers are served and the group mingles. For more information, call 888-324-2028.
Pool planning egg dive
Desert Breeze Pool has scheduled an egg dive April 4 at the pool, 8275 Spring Mountain Road. Youths 3 to 10 are invited to splash around in the indoor pool to find floating and weighted plastic eggs. Children ages 3 to 4 are scheduled for hunting from 1:30 to 1:45 p.m.; ages 5 to 6 from 1:45 to 2 p.m.; ages 7 to 8 from 2 to 2:15 p.m.; and ages 9 to 10 from 2:15 to 2:30 p.m. The cost is $3 per participant, and children younger than 5 must have an adult in the water with them during the event. All nonswimmers will be required to wear provided lifejackets. Games, goody bags and crafts also will be available. Preregistration is required as space is limited to 25 participants per age group. The deadline for registration is Monday. For more information, call 455-7798.
THE SILVERTON TO SUPPORT NONPROFIT
The Silverton, 3333 Blue Diamond Road, is planning to donate $1 up to $2,500 to Opportunity Village for every Facebook "like" the Silverton's page receives starting April 1. Opportunity Village, 6300 W. Oakey Blvd., is a nonprofit organization that supports the intellectually challenged. For more information, call 263-7777 or visit silvertoncasino.com or opportunityvillage.org.
SPRING VALLEY HOSPITAL HEALTH FAIR
TO INCLUDE FREE SCREENINGS
A Spring Fling Health Fair is planned from 9 a.m. to noon Saturday at Spring Valley Hospital Medical Center, 5400 S. Rainbow Blvd. Free screenings are to include blood pressure, vision, glucose, depression and bone density. For more information, call 853-3008.
CASINOS TO GO DARK FOR EARTH HOUR
Nine Boyd Gaming properties in Las Vegas plan to go dark for Earth Hour from 8:30 p.m. to 9:30 p.m. Saturday as a reflection of the company's commitment to sustainable business practices.
By installing more efficient lights in a variety of areas during the last three years, Boyd Gaming has cut its annual electricity usage by more than 17 million kilowatt-hours. New initiatives now being introduced will reduce usage by an additional 5 million kwh.
Foundation collecting clothing for medically fragile children
The Foundation for Positively Kids is hosting Pack the Bins, a six-week clothing drive to help medically fragile children in Las Vegas, which kicked off the first day of spring, March 20.
The goal is to raise 1 million pounds of gently used adult and children's clothing. Donations can be deposited at any of Positively Kids' 145 donation bins located throughout the Las Vegas Valley. For more information, visit positivelykids.org.
NATURE WRITING CLASS SET
AT RED ROCK CANYON
The Bureau of Land Management plans to host Introduction to Nature Writing, a sensory-based writing class, from 1 to 2:30 p.m. Thursday and April 12 and 26 at Red Rock Canyon National Conservation Area. Each session will include short writing exercises, group discussions and selected readings from notable American nature writers. Participants may share their own writing. Depending on the group's interest, plan to experiment with different types of nature writing such as creative non-fictions, short story, memoir, poetry or simply writing for one's own enjoyment. The class is free. Seating is limited. To RSVP, call 515-5367.
SHOES BEING COLLECTED FOR TORNADO VICTIMS
Desert Birkenstock and Soles4Souls are working to provide victims of tornado-ravaged areas with something many lost: shoes. Bring your gently worn shoes to Birkenstock stores, and they will be delivered to the local Soles4Souls warehouse near McCarran International Airport.
There are two Desert Birkenstock/Soles4Souls drop-off locations: in northwest Las Vegas at 2192 N. Rainbow Blvd., and in Henderson at 594 N. Stephanie St.
For more information about donating, call Desert Birkenstock at 454-0114.
RED ROCK CANYON TO HOST JEWELRY-MAKING CLASS
A jewelry-making class for teens is planned from 1 to 4 p.m. April 4 at the Red Rock Canyon Visitor Center, 1000 Scenic Loop Drive.
The Colors of Red Rock class is taught by Jennifer Vincent, an interpretive naturalist, and takes inspiration from the canyon.
All materials will be supplied but feel welcome to bring your own if you like.
Class size is limited. Reservations are required by calling 515-5367. For more information, visit redrockcanyonlv.org.
NEVADA PUBLIC RADIO PLANNING RECYCLING EVENT
Nevada Public Radio is planning on bringing together multiple organizations that specialize in or benefit from recycling for a community-wide spring recycling event from 8 a.m. to noon April 7 at The Donald W. Reynolds Broadcast Center at College of Southern Nevada, 1289 S. Torrey Pines Drive. Participating organizations and services available are:
Shred-it: paper shredding, document destruction and computer hard drive destruction for working and non-working hard drives. Hard drives must be removed from the computer and the crushed hard drive remains will be recycled.
Blind Center of Nevada: recycling or repurposing electronics such as computers (including data erasing,) printers, appliances, etc.
Republic Services: recycling of commingled household and business recyclables such as plastic bottles, metals including steel and aluminum cans, cardboard, magazines, newspapers, junk mail, phone books, paper bags and glass (separation of materials is not required).
Nevada Public Radio will also collect and recycle unused mobile phones.
For more information, visit knpr.org.
CAR SHOW PLANNED TO SUPPORT INJURED POLICE OFFICERS
An Injured Police Officers Fund car show is planned from 10 a.m. to 4 p.m. April 14 at Bass Pro Shops in the Silverton, 333 Blue Diamond Road. It is open to all years, makes and models of classic vehicles. Awards, trophies, vendors and concessions are planned. For more information, call 380-2840.
SILVERTON DONATES TO GIRL SCOUTS
TO HONOR AIR FORCE SQUADRON
The Silverton, 3333 Blue Diamond Road, made a monetary donation to the Girl Scouts of Southern Nevada for cookies to be donated to the Air Force RED HORSE Squadron. On March 1, $1,750 was donated to the Girl Scouts at the Silverton, which paid for 437 boxes of cookies. For more information about the Silverton, visit silvertoncasino.com.
TRANSPORTATION COMMISSION OFFERS REDUCED FARE TRANSIT PASSES
The Regional Transportation Commission of Southern Nevada announced that 30-day and five-day full and reduced fare transit passes now are available for purchase at more than 135 7-Eleven locations across the Las Vegas Valley. With the new addition of 7-Eleven stores, it will be easier and more convenient for Transportation Commission transit riders to purchase their full or reduced fare transit passes.
The 30-day and five-day full and reduced fare transit passes also are available at other retailers throughout Southern Nevada, including Albertsons, Walgreens and Mariana's. Passes also are available for purchase at bookstores at the College of Southern Nevada campuses.
A full list of local retailers selling Transportation Commission transit passes can be found at rtcsnv.com/transit/fare_vendors.cfm.
HOSPICE FOUNDATION PLANS
BEREAVEMENT CAMP FOR KIDS
Solari Hospice Foundation has established Camp Solari, a weekend-long bereavement camp for children and their surviving guardians. This year, Solari Hospice Foundation is partnering with Las Vegas-based Clear View Counseling, which will be orchestrating and leading all camp activities. The camp's mission is to teach children and teens, ages 6 to 18, healthy ways to work through their grief, meet others who have experienced similar losses, and continue life as positively as possible while honoring their lost loved ones.
The next Camp Solari is scheduled for May 18-20 at the Mount Charleston Lodge, at the end of state Route 157. Applications will be accepted through Friday. All weekend activities — including lodging, meals and materials — are free to camp participants. Solari Hospice Foundation covers these costs through fundraisers and charitable donations.
Camp Solari attendees are chosen based on need and prioritized on a first-come, first-served basis. To request an application for Camp Solari, call 870-0000. To learn more about the camp, or to make a donation to the Solari Hospice Foundation, visit solarihospice.com and click on the link for Camp Solari. To learn more about Clear View Counseling, call 254-4883 or visit clearviewcounseling.com.
MAMMOVAN SCHEDULED TO OFFER
LOW-COST BREAST CANCER SCREENINGS
Thanks to a $10,000 grant from Food 4 Less, Nevada Health Center's Mammovan is scheduled to offer low- to no-cost breast cancer screenings at selected Food 4 Less locations. Stops are scheduled from 8:15 a.m. to 3 p.m. May 1 at 8180 Las Vegas Blvd. South; June 5 and Sept. 4 at 1301 S. Boulder Highway; June 14 at 4001 S. Decatur Blvd.; Aug. 16 at 1955 N. Nellis Blvd.; and Nov. 21 at 2255 Las Vegas Blvd. North. For more information, visit nvhealthcenters.org.
AREA PET RESCUE SEEKING FINANCIAL AID FOR MICROCHIPS
Due to microchip upgrades and other factors, Adopt A Rescue Pet is facing doubled costs for microchips for its adoptable animals. The nonprofit rescue is asking the public to donate $10 to sponsor a pet's microchip. This will allow the rescue to provide a registered microchip to every dog being adopted. Of the 1,292 animals adopted last year, 126 were relocated and returned to their owners or to the rescue due to their microchips. Secure donations can be made at adoptarescuepet.org or mailed to Adopt A Rescue Pet, 1500 E. Tropicana Ave., Suite 105, Las Vegas, NV 89119. Adoptions can also be made in person at the weekend adoption events at PetSmart, 2140 N. Rainbow Blvd., or Petco, 2340 E. Serene Ave.
THE ANIMAL FOUNDATION OFFERING DISCOUNTS FOR SENIORS
The Animal Foundation, 655 N. Mojave Road, is launching its Seniors 4 Seniors program, offering local seniors (60 or older) $50 discounts on adoption fees for dogs 3 years or older and cats 1 year or older. The shelter receives more than 50,000 animals annually. Younger cats and dogs find homes quickly and easily while older pets frequently get passed over. Animals that are a bit older are often calmer and gentler, which can be a better match for less active people. Additionally, senior citizens often spend more time at home, which can be ideal for an older pet. The program is sponsored in part by the nonprofit Pets for the Elderly Foundation. For more information, call 384-3333, ext. 131 or email adoptions@animalfoundation.com.
E BUNNY GEARING UP FOR EASTER OUTREACH PROGRAM
For 22 years, the E BUNNY, a grass-roots community outreach program, has helped make Easter fun for thousands of children in need. The E BUNNY delivers Easter baskets to facilities such as the Las Vegas Rescue Mission, Sunrise Children's Hospital, Clark County Social Services and Straight from the Streets. In addition, baskets are given to children living in temporary housing and shelters in the poorest areas of Las Vegas and Henderson.
Donations of pre-packaged Easter baskets, which can be purchased at any grocery, drugstore or general department store, are needed. The community group does not accept monetary contributions, only Easter baskets to pass directly to the children.
For details and drop-off locations, email barbarakenig@aol.com or call 498-9808.