Southwest and Spring Valley Neighborhood News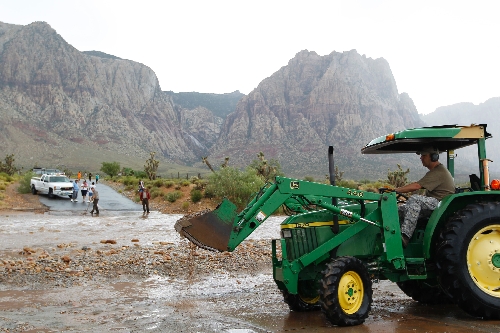 Learn to make recyclable art
Turn your trash into treasure as folk artists around the world do every day. The Windmill Library, 7060 W. Windmill Lane, is hosting a recycled art workshop for teenagers as part of its summer reading program.
The workshop is from 3 to 4 p.m. today in the story room.
For more information, call 507-6030.
Safari stories set at spring valley
Children 11 or younger are invited to explore the wild African safari through stories and song this week.
The Spring Valley Library, 4280 S. Jones Blvd., is scheduled to host "Safari So Good" from 10:30 to 11:15 a.m. and from 11:30 a.m. to 12:15 p.m. Wednesday in the story room.
For more information, call 507-3820.
Make your own Harry Potter T-shirt
Screen print your own Harry Potter T-shirt to wear to the latest movie.
Bring your own light-colored shirt to the Windmill Library, 7060 W. Windmill Lane, from 3 to 4:30 p.m. Wednesday .
Teens can choose from printing a Hufflepuff, Slytherin, Ravenclaw or Gryffindor shirt.
Reserve a spot by calling 507-6041.
24-Hour Radiothon to benefit
The Caring Place
"The 24-Hour Radiothon," beginning at 10 a.m. Friday, is set to be broadcast from the Palms, 4321 W. Flamingo Road, for 24 hours.
The event will benefit The Caring Place, a local nonprofit organization dedicated to easing the journey of those affected by cancer. Local and national sports and entertainment celebrities along with ESPN Radio 1100/98.9 have confirmed their participation. ESPN Radio listeners and others from around the country will have the opportunity to bid for a one-hour co-hosting spot with one or more of the participating celebrities, with most opening bids beginning at $100. Online bids can be placed at wearelv.com, with all proceeds benefiting The Caring Place.
A cocktail reception for the Sportsperson of the Year award will take place from 6:30 to 8:30 p.m., providing guests an opportunity to mingle with celebrities and sports figures. Tickets to the event are $75 per person or $600 for a table of 10, and can be purchased by calling 871-7333.
Learn to use your ebook
Adults and seniors are invited to eBook training classes at the Windmill Library, 7060 W. Windmill Lane.
A class is scheduled from 10:30 a.m. to noon Monday and 1 to 2:20 p.m. July 26. The classes will focus on downloading eBooks and how to transfer them to an eReader. Bring your eReader with its USB cord and your library card. This class is for adults and seniors.
For more information or to register, call 507-6300.
BABY ITEMS NEEDED FOR MILITARY FAMILIES
Cannery Casino Resorts is teaming up with Operation Showers of Appreciation to host a large baby shower for local military moms.
Often military wives and enlistees come to Southern Nevada as part of a relocation where they're away from family and friends. Others are pregnant while their spouse may be serving overseas.
Anyone can drop off new baby items, clothing and diapers at the valet area at any Cannery Casino Resorts property, including the Rampart Casino, 221 N. Rampart Blvd. Donations will be accepted through Saturday. About 100 expectant or recent mothers will be presented with the gifts during a shower planned for July 30 at the Eastside Cannery, 5255 Boulder Highway.
For more information, call 507-5900.
Bank of America awards grants
to nonprofit groups
Bank of America has awarded more than $500,000 in grants to 35 nonprofit Nevada organizations with an emphasis in social services during the first four months of 2011. The grants, ranging from $2,500 to $60,000, provide general operating support and funding for specific programs and services to housing and social assistance organizations.
Last year, the Bank of America Charitable Foundation provided more than $1.2 million in grants to nonprofit groups, and bank employees volunteered more than 9,000 hours for community service across Nevada.
Problem gambling council relocates
The Nevada Council on Problem Gambling has a new home in town.
The council is now at 5552 S. Fort Apache Road, Suite 100.
The group's mission is to generate awareness, promote education and advocate for quality treatment of problem gambling in the state.
For information on the council, visit nevadacouncil.org. For confidential assistance, call the Problem Gamblers Help Line at 800-522-4700.
Gymnastics summer camps available
Flip For Me Gymnastics, 5905 W. Wigwam Ave., has scheduled recreational gymnastic camps from 9 a.m. to 1 p.m. Monday through Friday to provide children with a safe and fun environment to experience gymnastics, tumbling, athletic games, arts and crafts, open gym time and more.
To reserve a spot for your child, call
202-0020.
Show your love for pets with a 'like'
For every person who "likes" the Facebook page of the Silverton, 3333 Blue Diamond Road, during July, the casino will donate $1 to the Nevada Society for the Prevention of Cruelty to Animals.
The campaign, aimed at helping pets in need, started in June and hopes to raise $5,000.
Foreclosed Upon Pets seeks
foster homes for animals
Foreclosed Upon Pets Inc. is in urgent need of foster families to house animals until forever homes are found. The all-volunteer group takes in pets left behind in the rocky home mortgage situation. It is running at capacity and can accept no more animals without more foster parents.
For more information, call 272-0010 or visit forecloseduponpets.org.
Nominations being taken
for Caregiver of the Year
Homewatch CareGivers, a provider of full-service home care, will be accepting nominations for its National Family Caregiver of the Year award through July 29.
Semifinalists will win a yearlong scholarship to Homewatch CareGivers University, where they can take various courses on gaining an educational foundation, skill set and confidence to continue improving their caregiving. The semifinalists also will be given eight hours of respite care. One winner will be awarded the $10,000 grand prize and the title of National Family Caregiver of the Year.
For more information on the program, visit homewatchcaregivers.com.
SIGN-UPS FOR CHURCH SUMMER CAMP OPEN
Camp Hope, a two-week summer day camp, is scheduled from Aug. 1-12. Good Samaritan Lutheran Church, 8425 W. Windmill Lane, is hosting the camp for children who will be in kindergarten through fourth grade in the upcoming school year.
Camp Hope will run from 9 a.m. to 3 p.m., with before and after care available.
To register, call 873-3589 or visit gslclasvegas.org.
Enter to win an iPad 2
through winder farms
For every product purchased at Winder Farms, a home delivery grocery service at 6420 Cameron St., Suite 203, customers will be entered to win an iPad 2. The giveaway lasts through Aug. 31.
Winder Farms specializes in delivering farm-fresh products, such as milk in glass bottles or half-gallon jugs, various dairy products, organic fruits and vegetables and natural meats.
To sign up to be a Winder Farms customer, visit winderfarms.com.
Nv Energy launches checkme plus
air-conditionING program
Is your air conditioner ready to handle the heat in Southern Nevada? NV Energy has launched the CheckMe Plus Air Conditioning Program, offering customer rebates to tune up or replace air conditioners that are not operating efficiently. To save energy and money, check out the CheckMe Plus A/C Program at nvenergy.com/ac or call
855-625-6404.
Design a logo for Nevada Arts Academy
The Nevada Arts Academy is seeking a logo design to represent the academy on print materials (fliers, letterheads, business cards, etc.) and on the academy's website. The designer of the winning entry will receive a $500 prize. For complete contest rules, visit musicartslv.com or call 248-1288.
Registration open for september's youth flag football
Registration is open for the NFL Youth Flag Football leagues.
Beginning in September, games will be played on Saturdays at All-American Park, 1551 S. Buffalo Drive.
Children ages 6 to 14 are eligible to play.
The $65 fee includes a team jersey.
Call the Mirabelli Community Center, 6200 Hargrove Ave., at 229-6359 for more information.
Camping near Red Rock Canyon
closed for summer
The campground at Red Rock Canyon National Conservation Area is closed until Sept. 1 due to summer's low usage.
It is approximately two miles east of the Red Rock Canyon Visitor Center on state Route 159 (West Charleston Boulevard) and is the only developed campground within the conservation area.
Visitors are encouraged to take advantage of other camping opportunities in the area, including backcountry camping at Red Rock Canyon with permit, 515-5050; Valley of Fire State Park, 397-2088; Lake Mead National Recreation Area, 293-8990 or 293-8906; Death Valley National Park, 760-786-3200; Mojave National Preserve, 760-252-6100; USDA Forest Service Humboldt Toiyabe National Forest, 515-5400; Spencer W. Kimball Scout Reservation, 968-8138; and Potosi Pines Camp, 875-1980.
Camping is allowed on Bureau of Land Management land outside of the Las Vegas Valley for up to two weeks without charge.
For more information, go to blm.gov.
Day camps available at YMCA
The YMCA of Southern Nevada offers wallet-friendly solutions for families looking for child care and ways to stay active this summer. The YMCA is taking day camp registrations and selling Sizzlin' Summer passes, which provide four months of unlimited access to its locations: the Bill & Lillie Heinrich YMCA, 4141 Meadows Lane; Durango Hills Community Center YMCA, 3521 N. Durango Drive; Centennial Hills Community Center YMCA, 6601 N. Buffalo Drive; and the YMCA's newest location, the SkyView YMCA in North Las Vegas, 3050 E. Centennial Parkway.
YMCA day camp is for kids 5 to 15 and runs from 9 a.m. to 4 p.m. Monday through Friday, June 13 through Aug. 26. Free care for campers is available from 7 to 9 a.m. and 4 to 6 p.m. and is provided for working parents. Weekly camp prices range from about $100 to $200, and a daily drop-in rate of $45 is available. No one is turned away because of an inability to pay. Financial assistance is available.
The Sizzlin' Summer Pass provides unlimited access to the YMCA's water parks, swimming pools, wellness centers and classes. Prices are $109 (individual) and $209 (family). For a list of amenities by location, go to lasvegasymca.org.
TRAVEL CLUB TO MEET AT TAP HOUSE
The Las Vegas Single Social and Travel Club for Mature Adults invites prospective members to its meetings, which are scheduled for 6:30 p.m. the last Tuesday of the month at the Tap House, 5589 W. Charleston Blvd.
The meet-and-greet portion is set to start at 6 p.m. Meeting discussions focus on day trips, local events, in-state and out-of-state traveling, cruises and international traveling. A guest speaker frequently is featured. The meeting closes at about 7:30 p.m., and appetizers are served as the group mingles.
For more information, call 888-324-2028.