Southwest and Spring Valley neighborhood news July 2-8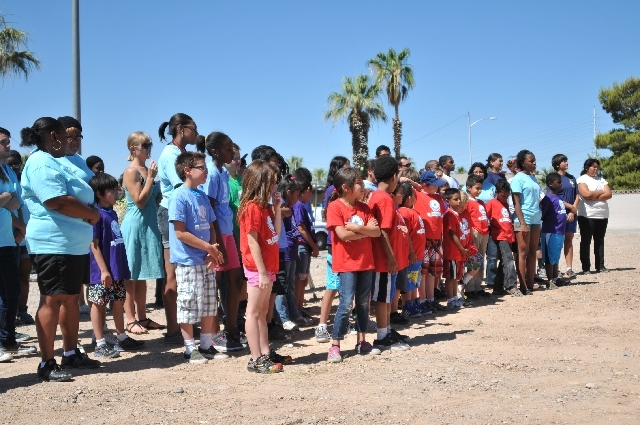 SUMMER HEALTH FAIR, BLOOD DRIVE PLANNED AT SPRING VALLEY HOSPITAL
A free Summer Health Fair is planned from 11 a.m. to 1 p.m. July 27 at Spring Valley Hospital, 5400 S. Rainbow Blvd. The fair is set to feature a farmers market, low-cost screenings for glucose and cholesterol, free screenings for bone density, vision and blood pressure, and health education/information booths. A blood drive is planned from 10 a.m. to 2 p.m. in the first-floor conference room. To register for the drive, visit redcrossblood.com.
SHOOTING GALLERY OFFERING
FREE TRAINING TO TEACHERS
The Range 702, 4699 S. Dean Martin Drive, has announced a free two-hour firearms familiarization course designed for teachers and other education-certified employees. The business plans to provide a professional learning atmosphere for class members to be trained on handgun safety and the proper handling of firearms. The Firearm Familiarization class is set for 3 p.m. Sundays and 9 a.m. Mondays.
Participating school district employees are required to bring a district or school ID to verify school employment on the day of class. All Range 702 instructors are certified firearms professionals and NRA-certified firearms instructors. Eye and ear protection, firearms, and ammunition will be provided.
For more information, call 702-485-3232 or visit therange702.com/training.
CHILDS' PLAY OFFERING
SUMMER MINI-CAMPS
Childs' Play, 7260 S. Cimarron Road, has announced children's summer mini-camps through the season. The camps, for ages 3 to 5, are planned from 10 a.m. to 12:30 p.m. Mondays, Wednesdays and Fridays through August. Each day is to be a different theme for exploration, playing and learning with story times, circle times, science experiments, arts and crafts, fine and gross motor skills and open play.
Prices per mini-camp are as follows (a $5 sibling discount is available each day):
n One day a week: members, $35; nonmembers: $45
n Two days a week: members, $65; nonmembers: $75
n Three days a week: members, $85; nonmembers: $95
Scheduled weeks are July 8, 15, 22, 29 and Aug. 5 and 12.
All participants must be potty-trained. These camps are 2½ hours each.
For more information or to register, call 702-722-6041.
PALMS POOL CABANAS OFFERED
AT DISCOUNT TO BENEFIT NONPROFIT
Palms Pool and Bungalows, 4321 W. Flamingo Road, is planning Cabanas for a Cause July 8, when all cabanas are to be available for $100 with all proceeds donated to Three Square food bank.
For more information, call 702-942-6832 or email table@palms.com.
BANK OF AMERICA INITIATIVE PLANNED
TO BENEFIT VETERANS SUPPORT GROUPS
Bank of America has announced a fundraising initiative called Express Your Thanks to benefit veterans of the Wounded Warrior Project and Welcome Back Veterans, an initiative of Major League Baseball Charities.
The project's goal is to raise $1 million for these charities. Running through Veterans Day (Nov. 11), anyone can participate by taking a photo, creating a video or writing a message of support and sharing it on bankofamerica.com/troopthanks. They also can post on Twitter with the hashtag #troopthanks. For every message posted, Bank of America will donate $1 to Wounded Warriors and Welcome Back Veterans.
THEATER ANNOUNCES CLASSES FOR YOUTHS
The nonprofit and nonprofessional Las Vegas Little Theatre has announced its LVLT Summer Youth Theatre Academy. Weekly classes for students ages 7 to 13 started in June. Students may register for one or more sessions to gain hands-on experience in one or more facets of theater and acting. Each week is to end with a performance by the students in the LVLT Black Box theater.
Classes are set from 8 a.m. to 4 p.m. Monday through Friday on the following topics:
n July 8-12: Musical Theater: Triple Threat Theater
n July 15-19: Comedy: Make 'Em Laugh
n July 22-26: Drama: Why the Long Face?
n July 29-Aug. 2: Mystery: Who Done It?
n An audition workshop is planned for July 1-3 and is open to students ages 7 to 18.
The LVLT Summer Youth Academy is conducted by Emily Fagan, a certified speech, theater and English teacher. Classes are $250 per week for each student; three weeks are $350; and all six weeks (excludes audition workshop) are $1,300. The three-day workshop is $150 per student.
For more information, call 702-362-7996 or visit lvlt.org.
NEVADA CHILDHOOD CANCER FOUNDATION PLANS CAMP CARTWHEEL FOR JULY
Registration is open for the Nevada Childhood Cancer Foundation's 17th annual Camp Cartwheel Summer Camp for critically ill children and their siblings, planned for July 17-20 and 24-27 at Torino Ranch in Lovell Canyon, abut 40 miles southwest of Las Vegas. The event is a medically supervised, outdoor and overnight camp experience for children diagnosed with cancer or other life-threatening illnesses.
The free camp includes five days of swimming, scuba diving, arts and crafts, canoeing and outdoor games for more than 190 campers, ages 5-17.
For more information, call 702-735-8434 or visit nvccf.org.
SHRINERS HOSPITALS FOR CHILDREN OPEN OFFERS FUNDRAISING OPPORTUNITY
The Shriners Hospitals for Children Open offers the opportunity for local charities and schools to raise funds for their programs by selling daily ticket vouchers to the 2013 tournament, scheduled for Oct. 14-20 at TPC Summerlin, 1700 Village Center Circle.
By selling tickets to the annual PGA tournament through the Tickets for Charity and Tickets for Schools programs, organizations retain 100 percent of the proceeds. Participating organizations can include parent-teacher associations, sports clubs, academic clubs and local nonprofits.
Last year's program raised more than $30,000 to support more than 30 local nonprofits in addition to assisting more than 25 school systems to defeat budget cuts. Merryhill School's parent-teacher organization led the participating schools last year in raising $2,700 for their programs. Additionally, the International Public Safety Leadership & Ethics Institute sold more than 300 tickets to the tournament to raise $3,220.
Programs interested in participating should contact Stephanie Maes at 702-873-1010 or smaes@shrinershospitals
open.com.
For more information, visit shriners
hospitalsopen.com.
TRANSPORTATION COMMISSION
TO IMPLEMENT SERVICE CHANGES JULY 7
The Regional Transportation Commission of Southern Nevada plans to implement its annual transit service change July 7.
After receiving public feedback, modifications will include increased frequencies, schedule and span of service adjustments, in addition to modifications to the Boulder Highway Express (BHX), Henderson & Downtown Express (HDX), Route 212-Sunset Road and Route 402-Sunset/Boulder City. Also, boarding changes are proposed on the Sahara Express (SX), BHX and HDX.
A full list of service changes is available at rtcsnv.com, or for more information, call 702-228-7433.
HELP OF SOUTHERN NEVADA LAUNCHES BOTTLED WATER PROGRAM FOR HOMELESS
HELP of Southern Nevada invites the community to be part of its HELP2O campaign, which donates bottled water to the homeless.
Patrons can donate water at any Las Vegas-area Whole Foods Market through Aug. 31. For every bottle of Real Water brand purchased at Whole Foods Market during the campaign, the Nevada-based Real Water company will donate a bottle of Real Water.
Collection points for donated water include: Whole Foods Fort Apache, 8855 W. Charleston Blvd.; Whole Foods Tenaya, 7250 W. Lake Mead Blvd.; Whole Foods Town Square, 6689 Las Vegas Blvd. South; and Whole Foods Henderson, 100 S. Green Valley Parkway.
Bottled water donations can be purchased in-store and donated or purchased elsewhere and dropped off. The water will be collected on a regular basis and distributed to area homeless.
Additionally, monetary donations can be made with HELP of Southern Nevada change jars at all four Whole Foods Market locations or by submitting a donation through the nonprofit's website at helpsonv.org.
COMMUNITY ASSOCIATIONS INSTITUTE ACCEPTING AWARD NOMINATIONS
The Nevada chapter of the Community Associations Institute is accepting nominations for individuals and charities statewide for its annual Ordinary People Extraordinary Measures Awards. The institute is a trade organization representing homeowners, homeowners associations, community managers and industry partners.
Formerly known as the Annual Heroes Luncheon, the awards program was redeveloped in 2012 to honor small charitable organizations that make a difference. Nominations are due July 15. For nomination forms, visit cai-nevada.org and click on "Events." Winners will be honored during the chapter luncheon slated for Sept. 10 at the Gold Coast, 4000 W. Flamingo Road.
MDA SEEKS VOLUNTEERS FOR AUGUST CAMP
The Muscular Dystrophy Association is looking for volunteer counselors and medical professionals to care for children with muscular dystrophy and related diseases at the Southern Nevada MDA Summer Camp, slated for Aug. 4-10 at Apple Canyon Center in Mountain Center, Calif.
Volunteer counselors must be at least 16. Campers' ages range from 6 to 17. Each counselor is a companion to an MDA camper, helping him with camp activities (sports, horseback riding, arts and crafts, etc.) and day-to-day activities (eating, bathing and dressing).
Also, the association is seeking physicians, nurses, emergency medical technicians, physical therapists and other medical professionals to volunteer for the camp's medical staff. Medical staff members supervise and maintain the health and well-being of all camp participants.
To volunteer, contact the local MDA office by visiting mda.org/locate.
AREA GROCERY DELIVERY SERVICE OFFERS PINK MILK
Winder Farms, a grocery home delivery company based in southwest Las Vegas, will go pink for Susan G. Komen for the Cure by raising money and awareness for breast cancer screening, treatment programs and research. Through Oct. 31, Winder Farms is set to donate a portion of the proceeds from its Strawberry Milk to the local affiliate of Susan G. Komen for the Cure. October is Breast Cancer Awareness Month.
Winder Farms Strawberry Milk is made with reduced fat milk and comes from cows not treated with artificial growth hormones or antibiotics.
For more information, visit winderfarms.com. Sign up using the promotional KOMENSN13, and Winder Farms will donate an additional $25 to the charity.
TRAVEL CLUB TO MEET AT TAP HOUSE
The Las Vegas Single Social Travel Club for Mature Adults invites prospective members to its meetings, which are scheduled for 7 p.m. the fourth Tuesday of the month at the Tap House, 5589 W. Charleston Blvd.
The meet-and-greet portion is set to start at 6:30 p.m. in the meeting room. Discussions focus on day trips, local events, in-state and out-of-state traveling, cruises and international traveling. A guest speaker frequently is featured. The meeting usually closes at about 8 p.m., when appetizers are served and the group mingles. For more information, call 888-324-2028.
SOLARI HOSPICE SEEKING VOLUNTEERS
Solari Hospice Care, 5550 S. Jones Blvd., is looking for volunteers to aid with day-to-day operations and patient well-being. Volunteers bring companionship to people in the final months and weeks of life, often when people find themselves cut off from the community, isolated and alone. They bring respite to family caregivers who are caring for dying loved ones. Sometimes volunteers share a special knowledge or hobby, such as speaking a second language or playing music. Solari also uses volunteers to answer phones, assist with receptionist duties or perform light secretarial work.
For more information, call Shari Diebold at 702-870-0000.
SOLARI HOSPICE OFFERING FREE BEREAVEMENT SESSIONS
Solari Hospice Foundation, 5550 S. Jones Blvd., offers free weekly bereavement support groups from 5 to 7 p.m. Tuesdays.
For more information, call 702-870-0000 or visit solarihospice
foundation.org.
MEN'S CHORAL GROUP PLANS
WEEKLY MEETINGS
The Silver Statesmen Chorus invites men of all ages to join its group. The chorus rehearses at 7 p.m. each Thursday at Christ The King Catholic Community, 4925 S. Torrey Pines Drive.
For more information, visit silverstatesmen.com.
HOSPITAL NEEDS VOLUNTEERS
Spring Valley Hospital Medical Center, 5400 S. Rainbow Blvd., is looking for volunteers to help at its facility. For more information, contact marketing director Naomi Jones at 702-853-3308 or naomi.jones@uhsinc.com.