Summerlin-area neighborhood news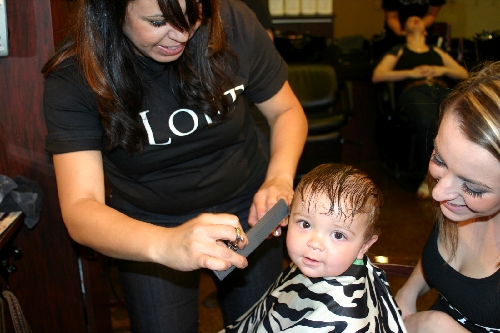 Jewish Genealogy Society to meet
at Sahara West Library
The Jewish Genealogy Society of Southern Nevada plans its monthly meeting for 1 p.m. Sunday at the Sahara West Library, 9600 W. Sahara Ave.
The topic will be "Every Artifact Tells a Story."
There is no charge to attend meetings, which are open to members and nonmembers. The group meets at 1 p.m. on the third Sunday of each month.
For more information, call
528-4334 or visit jewishgen.org/jgs/jgs-southernnevada .
Mystery menu dinner planned
at Grace in the Desert church
ECW at Grace in the Desert Episcopal Church plans to present a Mystery Menu Dinner at 7 p.m. July 23 at its facility, 2004 Spring Gate Lane.
Bring your sense of humor and your appetite for a fun-filled evening including a door prize and a raffle.
Cost is $15 per person. Advance ticket purchase is required by Monday .
For more information, call 469-3554.
BABY ITEMS NEEDED FOR MILITARY FAMILIES
Cannery Casino Resorts is teaming with Operation Showers of Appreciation to host a large baby shower for local military moms. Often military wives and enlistees come to Southern Nevada as part of a relocation where they're away from family and friends. Others are pregnant while their spouse may be serving overseas.
Anyone can drop off new baby items, clothing and diapers at the valet area at any Cannery Casino Resorts property, including t he Rampart Casino, 221 N. Rampart Blvd .
Donations will be accepted through July 23. About 100 expectant or recent mothers will be presented with the gifts during a shower planned for July 30 at the Eastside Cannery, 5255 Boulder Highway.
For more information, call 507-5900.
Bank of America awards grants
to nonprofit groups
Bank of America has awarded more than $500,000 in grants to 35 Nevada nonprofit organizations with an emphasis in social services during the first four months of 2011.
The grants, ranging from $2,500 to $60,000, provide general operating support and funding for specific programs and services to housing and social assistance organizations.
Last year, the Bank of America Charitable Foundation provided more than $1.2 million in grants to non profit groups, and bank employees volunteered more than 9,000 hours for community service across Nevada.
Puppy Enterprises relocates
In April, Puppy Enterprises relocated to 2380 N. Buffalo Drive, Suite 145 (on the southeast c orner of Smoke Ranch Road), less than a mile from its previous location.
The full-service salon offers grooming service and dog treats. Hours are from 8 a.m. to 5 p.m. daily .
For more information or to make an appointment, call 364-8255.
24-Hour Radiothon to benefit
The Caring Place
"The 24-Hour Radiothon," scheduled for 10 a.m. July 22, is set to be broadcast from the Palms, 4321 W. Flamingo Road, for 24 hours.
The event will benefit The Caring Place, a local nonprofit organization dedicated to easing the journey of those affected by cancer. Local and national sports and entertainment celebrities along with ESPN Radio 1100/98.9 have confirmed their participation.
ESPN Radio listeners and others from around the country will have the opportunity to bid for a one-hour co-hosting spot with one or more of the participating celebrities, with most opening bids beginning at $100. Online bids can be placed at wearelv.com, with all proceeds benefiting The Caring Place.
A cocktail reception for the Sportsperson of the Year award will take place from 6:30 to 8:30 p.m., providing guests an opportunity to mingle with celebrities and sports figures. Tickets to the event are $75 per person or $600 for a table of 10 and can be purchased by calling 871-7333.
Zumba fundraiser at legacy high
to help cancer patient
A fundraiser Zumba fitness class is planned for 9:30 a.m. Friday at Legacy High School, 150 W. Deer Springs Way.
Funds raised will help Rob Grimshaw, who has been diagnosed with epithelioid sarcoma, a cancer so rare there have been fewer than 10 cases of it in the United States in the past 15 years. It does not respond to chemotherapy, and insurance will not cover alternative treatments.
The cost is $10 per person. All donations will go toward Grimshaw.
For more information or to make an online donation, visit robgrimshaw.
blogspot.com.
Make checks payable to USSSA Cancer Fund FBO Rob Grimshaw. For mailing information, call Cason Swinn at 234-5948.
Lifeguard games set for Saturday
at Pavilion Center Pool
The Southern Nevada Lifeguard Games are slated for all ages from 6 to 9 p.m. Saturday at Pavilion Center Pool, 101 S. Pavilion Center Drive.
Enjoy the show as lifeguards compete from across the valley.
Admission is free. For more information, call 229-1488.
Magician Tony Daniels to present Harry Potter magic show at libraries
Magician Tony Daniels plans to bring his Harry Potter Magic Show to local libraries this week in anticipation of Friday's theatrical release of the final Harry Potter movie, "Harry Potter and the Deathly Hallows: Part 2."
The show is set to be at the Summerlin Library, 1771 Inner Circle Drive, at 10:30 a.m. today, at the Sahara West Library, 9600 W. Sahara Ave., at 3 p.m. Saturday and at the Rainbow Library, 3150 N. Buffalo Drive, at 2 p.m. Sunday.
College of Southern Nevada students to showcase oil paintings
Students from the College of Southern Nevada will showcase oil paintings in the "Oil for Pleasure" exhibit at the Rainbow Library, 3150 N. Buffalo Drive, Thursday through Sept. 25 during regular library hours.
A reception is set for 5 p.m. Thursday.