Summerlin resident turns love of felines into cat-sitting business
October 20, 2016 - 5:00 am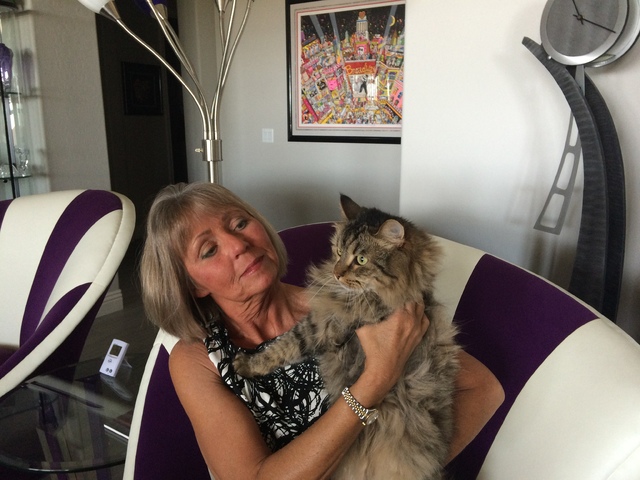 You might say Nanette Shahbaz has found the "purr-fect" job.
Always a cat lover, the Summerlin resident began a cat-sitter business called The Cat Lady.
Shahbaz came to Las Vegas in September 2015. She hails from the Chicago area where she and her husband, David, met. Soon after, she introduced him to her cat, a female named Mittens.
"I warned him I was a cat person, and he told me he was allergic," she said. "Oh, well."
They got married anyway, and 26 years later, Zarada, a rescued female cat, had also become part of their family. After she died of kidney failure — common in spayed females — they got Zoya, a Siberian purebred.
"We got her because Siberians are supposed to be hypoallergenic — thinking of my husband," Shahbaz said, making an "ouch" gesture. "Didn't work."
Luckily, David learned to cope.
Some of the people who use her service are those who go on vacation, travel for business or have an unexpected need to go out of town.
Eldridge DuFauchard of Summerlin has a 10-year-old, medium-hair domestic indoor cat named Kandi. DuFauchard travels often, sometimes twice a month, and can be gone for extended periods. He'll arrange for Shahbaz to care for Kandi if he's going to be gone more than three days.
"I used to (rely) on neighbors to come take care of her, but when I'd come home, I'd see where she had shed all over the place and left fur balls on the carpet, probably from anxiety," he said. "So, it relieves me to have Nanette now. She'll send me daily updates through text messages and take pictures of Kandi eating or just having fun. So, it relieves a lot of stress, wondering if she's OK while I'm gone."
Shahbaz began her business in 1996 in Chicago, at first taking canine clients as well but quickly dropping that service once winter and Chicago's 50-degree-below windchill temperatures arrived. Walking dogs in such weather was no fun. Now, in sunny Las Vegas, Shahbaz deals only with cats.
She is licensed, bonded and insured. Hers is a one-person business, so Shahbaz limits her range to an 8-mile area from her home near Russell Road and Hualapai Way.
She charges $18 for a half-hour visit and will feed and water, clean the litter box and sometimes administer medications, pick up mail and water plants.
Playtime is up to the cats.
She will also notice things a homeowner might not. One time, a cat in a home of five was drinking almost nonstop. Shahbaz alerted the owners and suggested they take it to their vet. It turned out to be diabetic. Another time, a male cat was crying every time he used the litter box to urinate. Shahbaz told the owner he might be suffering from crystals, a suspicion that turned out to be correct.
She said the best part of her job is being around cats and getting to know them.
"Animals give unconditional love," she said. "They don't care what you look like, if you're in ratty jeans or if you didn't get a chance to shower yet."
Each client's cat is different. Some will greet her at the door, some hide. And then there was the one perfect for the TV show "My Cat from Hell."
"I literally had to walk in there with an open umbrella so the cat could not attack me," Shahbaz said. "The clients warned me. She said, 'The cat hates everybody.' … I walked in there petrified every time."
One day, Shahbaz got attacked and came away with deep scratches on her legs, so bad she bled. It's all part of the business. Even after three years, she said, the ferocious feline has never warmed up to her.
One of her Chicago clients was a breeder of Persians and had 17 cats. Each had a different personality, including Hannah, who insisted on being picked up and carried everywhere. Shahbaz said she considered it one of the perks of her job.
Visit thecatlady.net.
To reach Summerlin Area View reporter Jan Hogan, email jhogan@viewnews.com or call 702-387-2949.