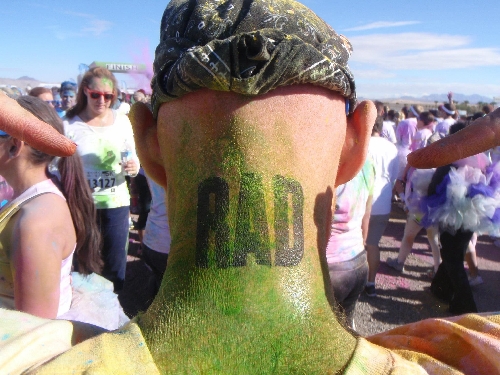 TOWN ADVISORY BOARDS TO MEET
The Winchester Town Advisory Board is scheduled to meet at 6 p.m. today at the Winchester Cultural Center, 3130 S. McLeod Drive.
The Paradise Town Advisory Board is scheduled to meet at 7 p.m. today at the Paradise Recreation and Community Services Center, 4775 S. McLeod Drive.
The Whitney Town Advisory Board is scheduled to meet at 6 p.m. Thursday at the Whitney Recreation Center, 5712 E. Missouri Ave.
The Sunrise Manor Town Advisory Board is scheduled to meet at 6:30 p.m. Thursday at the Hollywood Recreation and Community Services Center, 1650 S. Hollywood Blvd.
For more information or agendas, visit clarkcountynv.gov.
US CENSUS JOB INTERVIEWS SET AT LIBRARY
The U.S. Census Bureau has scheduled testing and interviews for part-time field representatives from 2 to 6:30 p.m. Thursday at the Whitney Library, 5175 E. Tropicana Ave. Applicants must be U.S. citizens and present proof of employment eligibility. They must also have a valid driver's license and a reliable vehicle to use in completing assignments, pass a basic skills test and meet educational qualifications. Bilingual applicants are encouraged to apply. For more information, call 702-507-4010.
VETERANS CAREER FAIR PLANNED
Hiring Our Heroes, a special hiring event for veterans and military spouses, is scheduled from 11 a.m. to 3 p.m. Thursday at the Las Vegas Motor Speedway, 7000 Las Vegas Blvd. North. For more information, contact Chris Adams at 513-677-7055 or visit recruitmilitary.com.
TREE OF MEMORY SERVICE ANNOUNCED AT PALM MORTUARY
The Palm Mortuary is set to celebrate the 15th annual Tree of Memory Holiday Service at 7 p.m. at three locations next week. The service is scheduled for Monday at Palm Boulder Highway, 800 S. Boulder Highway in Henderson, for Dec. 4 at Palm Eastern, 7600 S. Eastern Ave., and for Dec. 6 at Palm Northwest, 6701 N. Jones Blvd.
The public is invited to enjoy food, drinks, carols and a memoriam. The non-denominational service is set to conclude with a tree lighting. Specially engraved ornaments can be purchased to hang on the Tree of Memory, and all proceeds will benefit the Cleveland Clinic Lou Ruvo Center for Brain Health.
As part of the Palm Northwest Tree of Memory program, parents of children who have died will be provided with long-stem white roses, which they are invited to place in the arms of The Christmas Box angel statue in a special service following the tree-lighting ceremony.
For more information, visit palmmortuary.com or call 702-464-8300.
ROPING EVENT COMING TO HORSEMAN'S PARK
The Bad Habits Team Roping event is scheduled beginning daily at 9 a.m. until early evening Sunday through Dec. 16 at Horseman's Park, 5800 E. Flamingo Road. The event is free for spectators.
For more information, contact Tex Carter at 702-353-4522 or Richie Griffith at 702-236-8004. For more information about Horseman's Park, visit equineeventlv.com or call 702-455-8206.
GOVERNMENT ADVISERS SOUGHT
Clark County is seeking interested residents of unincorporated towns to serve on town advisory boards and citizens advisory councils. The boards and councils hold public meetings at least once a month to discuss and make recommendations on long-term planning, zoning changes, public works projects, county programs and ordinances that may affect their town.
In the Las Vegas Valley, applicants for the two-year volunteer position are sought for Enterprise, Mount Charleston, Paradise, Spring Valley, Sunrise Manor, Whitney, Winchester and Lone Mountain.
Applicants must be eligible to vote and live within the area encompassed by the TAB or CAC they are applying for and attend annual training. Applications are available at clarkcountynv.gov and are due by Dec. 7.
RADIOTHONS TO BENEFIT THREE SQUARE FOOD BANK
Three Square's Fight Holiday Hunger program is happening through Dec. 31. The food bank has partnered with Barrick North America, Comprehensive Cancer Centers of Nevada, IGT and Towbin Automotive so all cash contributions are matched dollar for dollar.
As part of Fight Holiday Hunger, radiothons are planned from 6 a.m. to 6 p.m. Wednesday and Thursday. For two days, KJUL 104.7 FM is asking listeners to phone in monetary donations. Similar to telethons, various prizes will be offered, such as show tickets and dinners. The call-in number is 702-258-6060, or visit kjul1047.com.
Also, from 6 a.m. to 10 p.m. Dec. 13 and 6 a.m. to 8 p.m. Dec. 14, X107.5 FM and Ultimate Fighting Championship plan to host a radio-thon in the parking lot at Walmart, 7200 Arroyo Crossing Parkway. Morning radio personalities Dave Farra and Jason Mahoney will welcome special on-air guests, including UFC fighters, who will sign autographs and meet with fans. X107.5 will be asking for non-perishable food items and/or cash and check donations.
To make a donation or for more information, visit fightholidayhunger.com or x1075lasvegas.radio.com.
WINDER FARMS COLLECTING TURKEYS FOR THREE SQUARE
Winder Farms is hosting a turkey drive through Dec. 31 to benefit Three Square food bank. Winder Farms customers can donate by clicking on "Donate a Turkey to the Food Bank" then "Add to Next Delivery" during their regular online shopping. The cost of the turkey will be added to the customer's next bill, and Winder Farms will deliver the turkey to Three Square.
TRAVEL CLUB TO MEET TODAY AT THE TAP HOUSE
The Las Vegas Singles Social and Travel Club for mature singles plans to meet at 6:30 p.m. today at the Tap House, 5589 W. Charleston Blvd. The groups meets on the fourth Tuesday of each month, except in December when no meetings are scheduled.
Attendees should plan to arrive at 6 p.m. to mix and mingle and get food in restaurant. The meeting starts at 6:30 p.m. to go over the business agenda, host guest speakers, talk and plan day trips, in-state/out state and international trips.
For more information, call 888-324-2028.
WHOLE FOODS MARKET ANNOUNCES GRAB & GIVE PROGRAM
Whole Foods Market announces its Grab & Give program. Through Dec. 31, shoppers can get into the spirit of giving by purchasing and donating meals and other essentials for families in need.
Whole Foods Market will allow shoppers to choose to make a donation of $5, $10, $25 or more to provide a full meal for a family of four, including healthy options from Whole Foods Market's 365 Everyday Value line of products.
Additionally, shoppers can make a $5 donation for personal hygiene items.
As donations come in, Whole Foods Market stores will give them to partner nonprofit charities, which will distribute the items to local families in need.
IMPACT LAS VEGAS SEEKS 100 WOMEN TO JOIN NONPROFIT ORGANIZATION
Impact Las Vegas, a new Southern Nevada nonprofit group, is seeking 100 women who are motivated to make a difference in the community to join the organization by the end of the year.
Impact Las Vegas is a nonprofit women's giving circle based in Las Vegas. Membership consists of women who donate $1,000 each year by Dec. 31. Membership donations are pooled from a minimum of 100 members to fund an annual $100,000 grant to a Southern Nevada nonprofit organization in one of five focus areas: culture, education, environment, family or health and wellness.
Once the minimum 100-member threshold is reached, 100 percent of member donations are returned to the community in the form of a grant. In June 2013, Impact Las Vegas members will cast one vote each to determine the nonprofit grant recipient(s) for that year.
For more information or to become a member, visit impact-lv.org or email info@impact-lv.org.