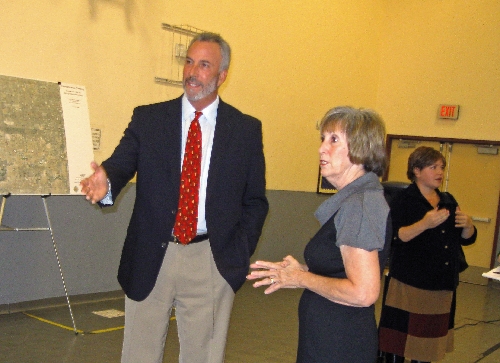 There were about 200 chairs set up in anticipation of a big crowd. The number of residents who showed up could fit into two minivans, and just as many staffers filled the other seats.
The town hall meeting Oct. 27 at Desert Breeze Community Center, 8275 Spring Mountain Road, featured Ward 2 Las Vegas City Councilman Steve Wolfson and District F Clark County Commissioner Susan Brager. Wolfson took an optimistic view.
"Sometimes good things happen with small groups," he said. "You can all get your questions answered."
He also suggested that the meeting shouldn't have been scheduled when the World Series was playing.
Game 6, which could have decided the winner of the series, was on TV that night. The St. Louis Cardinals and the Texas Rangers were battling things out in the second inning with the score tied as the meeting began.
One of the topics at the town hall meeting was to announce boundary changes for Clark County districts and welcome Ward 2 residents to the newly reconfigured District F. The changes were due to figures that came out of the census, to make representation more equitable.
Brager said her district "gave up" roughly 50,000 people. She had 400,000, and some other commissioners had 200,000 before the boundaries were redrawn, she said.
"I've represented these people for so many years, I don't like giving up anyone," she said. "But when you get humongous, you want to keep things so there's as much intimacy as possible."
District F used to Etch A Sketch its way up as far north as Smoke Ranch Road and as far east as Rancho Drive. It now is contained to just north of Charleston Boulevard and only as far east as Decatur Boulevard, except for a small bump out to Dean Martin Drive between Desert Inn and Flamingo roads.
The new map can be viewed at clarkcountynv.gov/depts/admin_services/paas/pages/redistricting.aspx. The former boundaries can be seen at clarkcountynv.gov/depts/admin_services/paas/documents/valleyprecwtotpopwcommissioncolor.pdf.
Brager said the types of concerns constituents call her about include the foreclosure market and what can be done. She also fields questions about University Medical Center and its future.
She has said that is a pressing issue and "If we can get UMC to be a teaching hospital … on the order of Scripps (Research Institute), more programs, more fellowships," it will move it into a stable future.
Public safety was another concern. The recent rash of pedestrian fatalities finds its nemesis in Brager who, at 19, was walking when she was hit by a drunken driver.
"I was crushed between two cars," she said. "Everything was broken from my waist down, so that hits home with me … I have no tolerance for that."
The question-and-answer portion saw few questions — one man asked about the economic recovery and another was inconvenienced when a traffic accident in Peccole Ranch took a long time to be cleared.
Budget cutting was another issue at the top of the list, and tightening of the county's belt was squeezing things tight already. Brager said she hated to ask for any more concessions as that leads to layoffs, then the domino effect of foreclosures, then more people without health insurance.
"I don't know that there are any more loops on the belt," she said.
Brager had her own exasperation when she called the Las Vegas Valley Water District to resolve an extraordinarily high water bill of $600.
The woman who took her call went back and forth with her until both realized she was of no help.
"She said, 'Maybe you should call your commissioner,' " Brager said.
Contact Summerlin/Summerlin South View reporter Jan Hogan at jhogan@viewnews.com or 387-2949.
District F boundaries
To view the new District F boundaries, visit clarkcountynv.gov/depts/admin_services/paas/pages/redistricting.aspx.