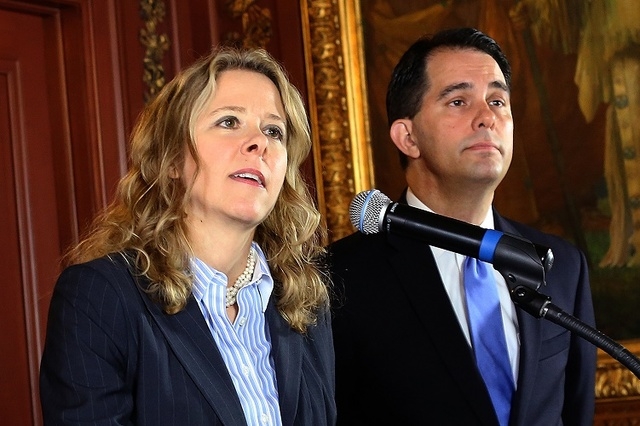 MADISON, Wis. — Wisconsin Supreme Court Justice Rebecca Bradley wrote a 1992 column in which she supports the idea that women play a role in date rape, the latest of her controversial student writings to emerge as she runs for a full 10-year-term on the court.
The liberal group One Wisconsin Now released the column Wednesday that Bradley published in Marquette University's magazine while she was a student there. In it, Bradley says she intends to expose the feminist movement as "largely composed of angry, militant, man-hating lesbians who abhor the traditional family."
Bradley has already apologized several times this week for anti-gay opinion pieces she wrote as a student that were also exposed by One Wisconsin Now. She said her views have since changed.
Bradley faces state Appeals Court Judge JoAnne Kloppenburg in the April 5 election. Bradley's campaign declined an interview Tuesday and didn't immediately respond to a request for comment on the anti-feminism column Wednesday.
The column, called "Awaiting feminism's demise," argues that the feminist movement does not represent the average American woman, instead advocating the "extremist platform" of the political left. In it, she defends prominent women, including writer and critic Camille Paglia and MIT professor Cynthia Wolff, who she said had been targeted by other feminists.
In a collection of essays published in 1992, Paglia wrote that a girl who gets "dead drunk" at a fraternity party is a fool, and that if she goes upstairs with a fraternity brother she is an idiot.
"Feminists call this 'blaming the victim.' I call it common sense," Paglia wrote.
Bradley wrote in her 1992 column that Paglia "legitimately" suggested women play a role in date rape.
"It is abhorrent to blame the victim of a sexual assault, whatever the circumstances," One Wisconsin Now research director Jenni Dye said in a statement.
Bradley, who was appointed to the Supreme Court by Gov. Scott Walker in October, largely has the backing of conservatives in the officially non-partisan race while Kloppenburg has the support of liberals.