Woman recalls time as Strip's first female baccarat dealer
December 11, 2012 - 12:19 am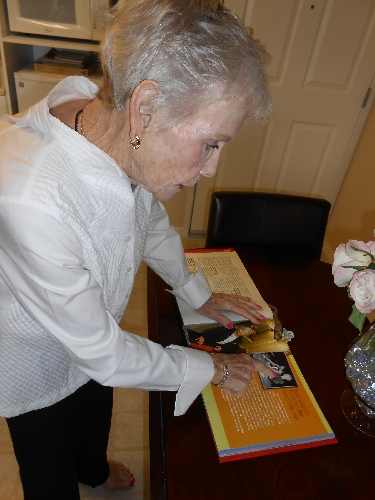 Shirley Brancucci holds the distinction of being the first female baccarat dealer on the Strip. It was the early 1970s.
She came to Las Vegas in 1952 and served cocktails at the Riviera, which had ties to a gambling faction in Kentucky, where Brancucci grew up. She knew she could make good money in Las Vegas.
"I had what they called 'juice,' to come out to the Riviera and start as a cocktail waitress," said Brancucci, who lives just east of Summerlin.
Being a cocktail waitress paid well, but the heavy trays took a toll on her back, and she needed to swap to another department. Al Sachs, who was general manager of the Stardust, told her to go to dealer school. She took the course and learned all the games.
"They had just started using females as (blackjack) dealers on the Strip," Brancucci said. "There had been some before, but they were downtown. There were no women on the Strip. So I started in baccarat, and who was my boss? (Frank) 'Lefty' Rosenthal. They tried to blow him up."
The Stardust had no uniform that fit her, so she bought two tuxedos and had them altered to her petite figure. Her first night on the table was nerve-racking, she said, as her boss watched her like a hawk.
"Frank Rosenthal, he was very, very, 'You better do what I say,' " she said. "He had a big, big ego."
In the 1995 film "Casino," the ficitional Tangiers property used the history of the Stardust, and Robert De Niro's character, Sam 'Ace' Rothstein, was a thinly veiled re-creation of Rosenthal. Brancucci knew many in the casino's mob culture by virtue of working there. They, no doubt, knew of her, too, with all the publicity she attracted.
She was written up in the papers and had her picture taken. Comedian Alan King hosted a tournament at Caesars Palace called the Alan King Tennis Classic. It was carried on national TV by the TVA television network. She was invited on it to "teach" King baccarat at a table they'd set up on stage.
"Al Sachs wanted me to go on it because he figured they'd mention the Stardust, which they did not," she said.
Another show, "The Frank Rosenthal Show," was on local TV, and she appeared on that as well. More recently, Brancucci was one of the people featured in the book "The Stardust of Yesterday: Reflections On A Las Vegas Legend" by Las Vegas Review-Journal restaurant critic Heidi Knapp Rinella. Rinella recalled interviewing Brancucci.
"I really liked her," Rinella said. "She was one of a dying breed."
Brancucci has the book, with her page marked.
"Here's a picture of me when I first started … We dealt money then," she said.
When she started in baccarat, Brancucci wasn't sure she would break the barrier for other women. It wasn't her dealing skills that were in question.
"Some of the people (men) would not play if I was on the game," she said. "They would play if I was on the 'money' but not calling the game. So they had me sit on the 'base' all the time."
Once those players got to know her, they became friendly and later agreed to let her deal the game when they played.
"I felt like they were being real dumb about it," she said.
When another baccarat position opened up two years later, the casino hired another woman.
Back when she started, baccarat was considered a man's game and women didn't play it. They did, however, accompany the high rollers to the table.
"I remember one time when two couples came in, and the one girl had on a crocheted top with nothing underneath," she said. "I mean, you could see everything. I'm on the table with all male dealers who, I tell you, could not have called the hand in a million years, they were all staring at her."
She said she had Priscilla Presley come in as well, accompanying "that bodybuilder she dated after Elvis."
In her early days in Las Vegas, Brancucci was working cocktails at the Tropicana under mobster Johnny Rosselli and resort co-owner Charles Baron.
"Johnny Rosselli, he was very hot," she said. "He was messing with me (touching her inappropriately) one day, and I kicked him, and he kicked me back. I didn't know who he was … I told him I was there to serve drinks and that was what I was doing."
It was the era when the showgirls would come out and visit with the patrons. If they wanted to go to dinner with them, she said, that was their prerogative.
"The talk said that all the cocktail waitresses slept with the customers, but that wasn't true," she said. "I can remember one time (the boss) came to me at the Riviera, and he said, 'Put your tray down and get changed. I have a customer that wants to take you to dinner. He's got a $400,000 line.' I said, 'If he has that much money, and he wants to go to dinner, you take him.' "
Brancucci said it was not unusual for a cocktail waitress to make as much as $250 a night.
"If you got a good player, you just kept him in drink," she said. "You knew every time you brought him a drink, he was going to give you a tip."
The biggest tip she ever got as a cocktail waitress was $500. It was at the Tropicana and came from mobster Sam Giancana. Before long, she was dating him.
"I'd known him from (living in) Florida," she said. "I went with him for years. Being with him was like a whole new world."
That whole new world included walking into a jewelry store with him and picking out a little something for herself. It also included a fancy blue convertible and a new three-story house. The latter had to be bought under her mother's name for tax purposes.
"She went to the mortgage company, and they said, 'So, how did you want to set this up (pay for it)?', and she pulled the money out of her bra and paid the whole thing. … Everything was cash with Sammy," Brancucci said.
When Giancana went to jail, the FBI started harassing her and following her children to school even though she and Giancana were no longer a couple. She hired an attorney and tried to make light of it with her young children.
"My kids thought his name was Sam Flood, and he sold automobiles," she said. "He was real sweet to me and my family."
Of working on the Strip, she said she missed the people, being friendly with customers and talking with people to make them feel welcome. She was at the Stardust for 37 years, 10 as a baccarat dealer.
She said it felt good to know she had helped pave the way for other women.
"I think everything was a little more personal when the mob was here," she said. "I think they cared about you as an individual. Now, with the corporations, you're just a body to them. They (tell employees), 'If you don't want to be there, we'll put another body in your place.' "
Contact Summerlin/Summerlin South View reporter Jan Hogan at jhogan@viewnews.com or 702-387-2949.