Women walk weekly to train for 60-mile Susan G. Komen event
October 2, 2015 - 4:00 am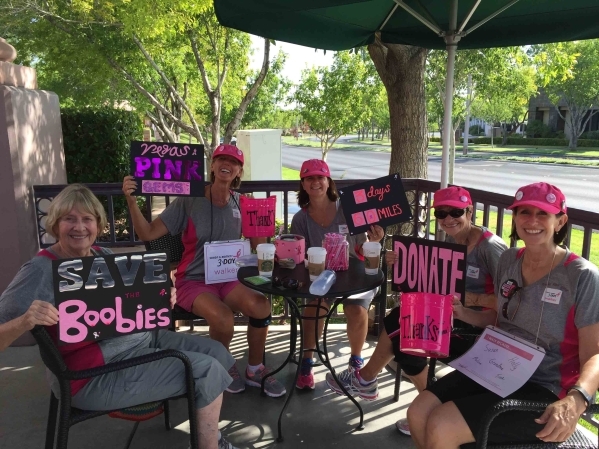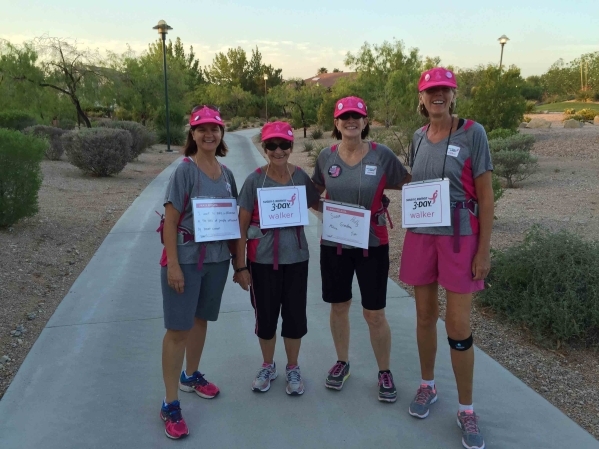 Four women, 60 miles, all of it on foot: That's the task that four Summerlin-area women — Tammra Brunner, 53; Fay Orshoski, 73; Susan Schilder, 46; and Lori Candalino, 54 — have given themselves.
They are walking as a team — calling themselves the Vegas Pink Gems — to raise money for breast cancer research as part of the Susan G. Komen 3-Day Event, a 20-miles-a-day, three-day walk planned for Nov. 20-22 in San Diego.
Their goal is to raise $10,000. George Harris, co-owner of Mingo Kitchen & Lounge, 1017 S. First St., No. 180, plans to host a fundraiser for the group from 5:30 to 7:30 p.m. Oct. 8 at his restaurant. The team will be there to greet people.
Orshoski's mother, Marge Russell, fought breast cancer and beat it, living into her 80s before she died. The Vegas Pink Gems know other women whose lives have been touched by breast cancer.
Perhaps it's fitting that Orshoski is credited with suggesting the idea for the team.
"It was something I wanted to do for a long time," she said. "I've always been so impressed with the sister, you know, who started Susan G. Komen. I always thought, 'One person started this, and look at where it is today,' and I always wanted to be a part of that."
In Summerlin, the four women can be found every Saturday and Sunday hitting the trails in their pink T-shirts. Orshoski said being the oldest doesn't mean she's a slacker.
"Sometimes they have a hard time keeping up with me, but I think we're all pretty much on the same page right now," she said. "I know, at times, they'd tell me to slow down."
Even the summer heat couldn't keep them from their 24-week walking plan leading up to the event. Candalino said the triple-digit temperatures were never a factor.
"I'm a desert rat. I've lived in Las Vegas since 1970, so I love the heat," she said.
The team members wear signs around their necks with messages such as "Three Day Walker" and "I Walk Because." Their other signs thank their sponsors: Down Dog Diagnostics Yoga Therapy; Green Leaf Promotions; and Life in Motion Personal Training. Brunner owns the last one.
They said the signs prompt people to stop and talk to them about what they're doing and why.
"I don't know how we came up with that (making signs)," said Candalino, "if it was on the Komen website or what, but after one of our walks, we just sat down with Tammy's daughter, Brianna, and made all kinds of signs with different sayings on them."
They usually follow the same route, from the Banburry Cross Drive area to Downtown Summerlin to The Vistas. Brunner said that because they stick to the same route, it means they often see the same neighbors along the way.
"If one of us is missing that day, they'd say, 'Where's the other walker?' " Brunner said.
This is not the first attempt at a long-distance event for all of the group: In 2013, Brunner, Orshoski and Schilder entered the Las Vegas Rock'n'Roll Half Marathon, a 13-mile event. Now, with Candalino joining them, they're tackling 60 miles for the event in Southern California.
"We were talking about doing it for a while," Brunner said. "Then we were, like, 'If we're going to do it, we'd better do it now.' "
The women are following a 24-week training plan, adding more miles each week. They started just as the heat hit, so they opted to begin their weekend trek at 5:30 a.m. Each carries a 16-ounce bottle of water and also a drink with electrolytes.
In late August, they were up to 11 miles, always ending at the home of Donna Strilec, Brunner's mother. She has coffee and muffins waiting for them.
"She can't walk it, but she feels a part of it," Brunner said of her mother. "She was the first to donate to each of us."
In Southern California, the Vegas Pink Gems will walk 20 miles each of the three days.
"We're hoping it will be a breeze to do it, since we're used to the heat and the hills," Brunner said.
To donate, visit the3day.org/goto/vegaspinkgems.
— To reach Summerlin Area View reporter Jan Hogan, email jhogan@viewnews.com or call 702-387-2949.
How to help
Vegas Pink Gems fundraiser
5:30 to 7:30 p.m. Oct. 8
Mingo Kitchen & Lounge, 1017 S. First St., No. 180
Fundraiser to raise $10,000 for the group for the Susan G. Komen event in San Diego.
Visit the3day.org/goto/vegaspinkgems.