Youtube star Jenna Marbles turns down fortune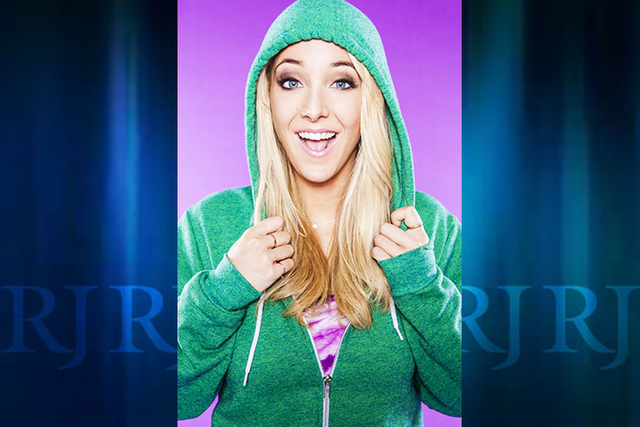 I am in the strange position of explaining to many of you dear older readers who Jenna Marbles is — a fact which may seem insane to many of you younger readers who know everything about her.
Five years ago, Marbles' weekly three-minute YouTube videos (a big one showed us how makeup changes her face) skyrocketed her to Internet superstardom, due to her big funny brain.
For a minute, it seemed as if YouTube had been created for Justin Bieber and Jenna Marbles. Bieber, sadly a dumb entitled kid, took the money and ran. Marbles, a twentysomething who had earned her master's degree in sports psychology, did not.
And so Marbles (who will serve as the celebrity host of the Palms' "Ditch Friday" pool party this week) has accumulated 1.7 billion YouTube views and counting.
A week ago on YouTube: Marbles put out a video called "Things I Thought As A Kid" and it got 2 million views. The New York Times put out a video called "Gang Life in Baltimore," and it got 12,000 views. CBS News put out a video called "Teenage organ donor's gift of life" and it got 6,000 views.
Even though Marbles has people working for her at Creative Artists Agency, she hasn't cashed in for a TV acting gig, and she routinely rejects commercial endorsements.
Marbles called me Monday from her home in beachy Southern California, and I asked if she's ever sat down to calculate all of the money she has said "no" to.
She laughed heartily.
"Oh my god, no, never," she said.
"Give me a ballpark," I said.
"I have no idea. Let me just say this. I turn down a lot of things when I feel like they're buying my audience," she said.
She feels it would devalue her authenticity and viewers if she made disingenuous sales pitches for companies to line her pockets with riches, she said.
"I say 'no' to money a lot. Someday, I might be like, 'Oh you [expletive] idiot.' But,'" she said. "I would never want to know what that total sum of money is. I think I would cry."
Just to give you an idea of how big of a bank Marbles is not buying into: I heard podcaster Abel James of "The Fat-Burning Man Show" say he passed on a million bucks, and his podcast isn't anywhere close to the popularity of Marbles' celebrity, especially to younger people.
I told Marbles I'm not trying to hold her up as a symbol of her generation, but she does fit the Millennial stereotype that she'd rather turn down money to honor her conscience.
She said it has been weird to explain her anti-money-grubbing rationale to people, including her mother.
"My mom works for me, and I think she gets it now at this point," Marbles said. "But there was a learning curve there to try and explain to her and other people, 'I don't really want to say yes to that money.' 'But why not?!' It's a little bit weird."
Marbles does reportedly earn six figures or more through YouTube's financial incentives, and she has a Friday show now on SiriusXM radio, plus a podcast called "Jenna & Julien."
And even though Marbles frequently says she doesn't see the benefit of transitioning into traditional mainstream media, she's already a star on the most mainstream thing in the world. YouTube is now bigger or more influential than just about every TV and movie studio in America.
So don't feel sorry for her, is what I'm saying. She certainly doesn't feel sorry for herself.
"I'm driven by the fact that every day I get to wake up, and no one is my boss, and I can feed myself, and keep a roof over my head, just by giggling on the Internet," Marbles said.
"Every single day I get to do that, I'm living the dream. I really like not having to answer to anyone."
As for her videos, she continues to approach them the same as always. She asks viewers what they would like her to address. Sometimes, she will comply but in her own style. Other times, she cuts videos to her own ideas.
She shoots, edits, and uploads each video in one day, a self-imposed deadline that forces her to sharpen her creativity, authenticity, and efficiency. It also keeps her sane.
"If you put in 70 hours for one three-minute video, you might go a little bit mad after a while," she said.
And she doesn't pander to her viewers, because she doesn't want to sell out her authenticity to them, either, and they wouldn't want her to, anyway.
"I can't just sit here and make videos about One Direction, because I'm a 28-year-old adult. You know what I mean?" she said, referencing the boy band.
"It's important to stay as genuine as possible, because that's what people are looking for. That's what connects us in the first place, is just something real," she said.
"The more you say that, the more you are that, the happier you'll be, the happier everyone will be, and I think the more honest success you will have."
Contact Doug Elfman at delfman@reviewjournal.com. He blogs at reviewjournal.com/elfman. Find him on Twitter: @VegasAnonymous.