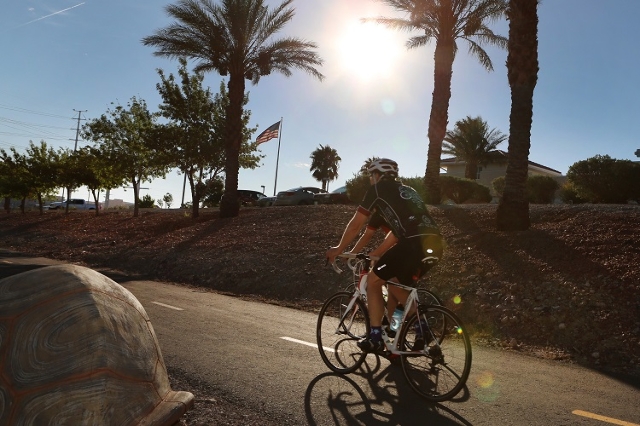 It's going to be another hot August day in the Las Vegas valley with Tuesday's high temperature expected to reach 110 degrees, according to the National Weather Service.
The excessive heat warning that was placed Sunday continues through 8 p.m. Wednesday as high temperatures prevail.
The valley reached a record warmest low Monday with 89 degrees, meteorologist Chad Shafer said. It beat the previous record of 87 degrees in 2010.
Wednesday will make for another hot day with temperatures forecasted at 109 degrees with a low of 83.
And what forecasters consider a cool-down for Las Vegas will start Thursday at 106 degrees, which should be some relief from the very hot weather.
The system that will be making its way through, but not drop off any rain, should cool us slightly above normal temperatures, Shafer said.
Numbers for the weekend will drop down to 103 on Friday and 101 for Saturday.
Contact Cassandra Taloma at ctaloma@reviewjournal.com or 702-383-0381. Find her on Twitter: @CassandraTaloma.