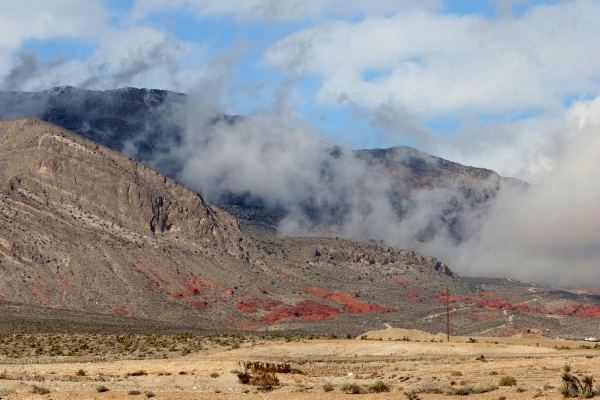 Dreary weather conditions are expected to stick around the Las Vegas Valley on Thursday, disappear Friday and return Saturday.
Chances for showers are 30 percent and will increase into Thursday afternoon accompanied by light winds, according to the National Weather Service. The scattered showers are expected to bring less than one-quarter inch of rain Thursday. The rain threat will diminish by the evening.
Only traces of rain were reported at McCarran International Airport on Wednesday, according to meteorologist Justin Pullin. Lee Canyon, the snow play area in the Spring Mountains, got an additional 10 inches of snow overnight.
Thursday will see a high near 50 degrees, a low near 37 and a lot of cloud coverage, according to the Weather Service. Current temperatures are slightly below normal because of the clouds and storms, Pullin said Thursday morning.
Friday will be calm and cloudy with a high of about 50 degrees and low in the mid-30s. But the tranquil weather might not stay long.
Saturday is expected to have a "quick-hitting" storm with a 15 percent chance for rain in the afternoon and into Sunday morning, Pullin said.
Sunday will start the week with mostly sunny skies and highs in the low 50s, according to the weather service.
This is a developing story. Check back for updates.
Contact Lawren Linehan at llinehan@reviewjournal.com or at 702-383-0381. Find her on Twitter: @lawrenlinehan