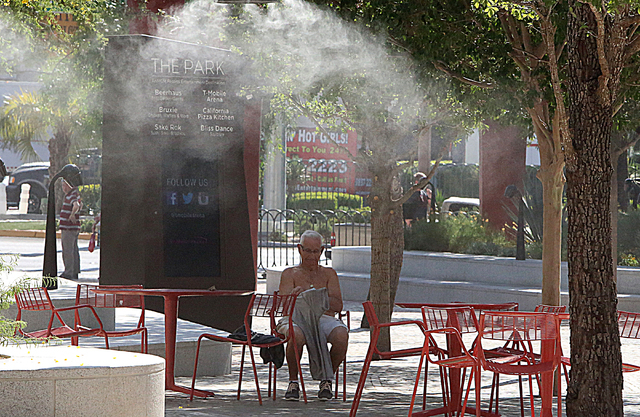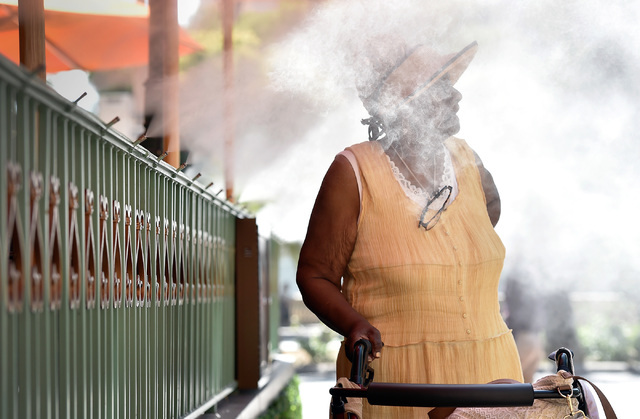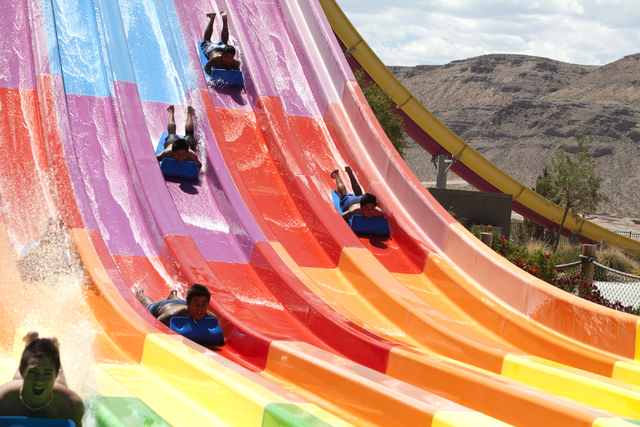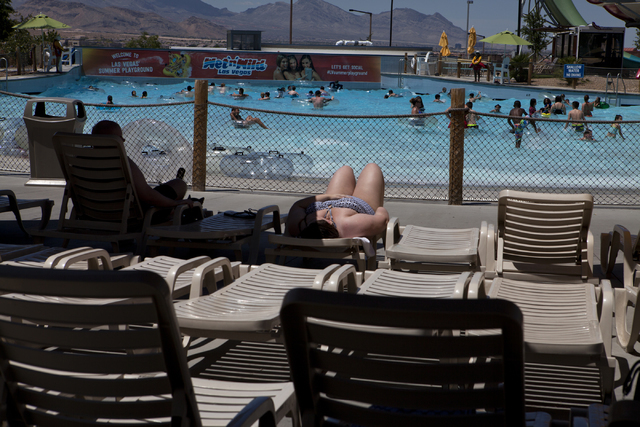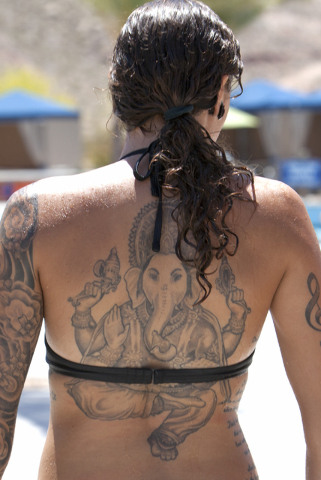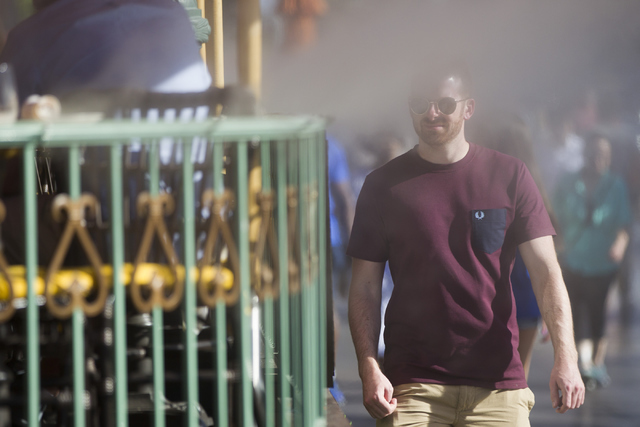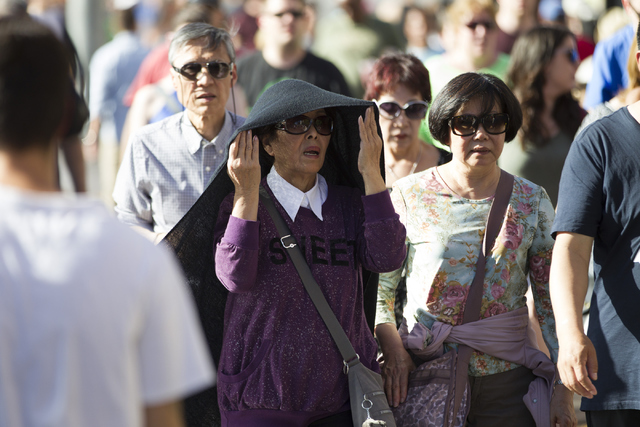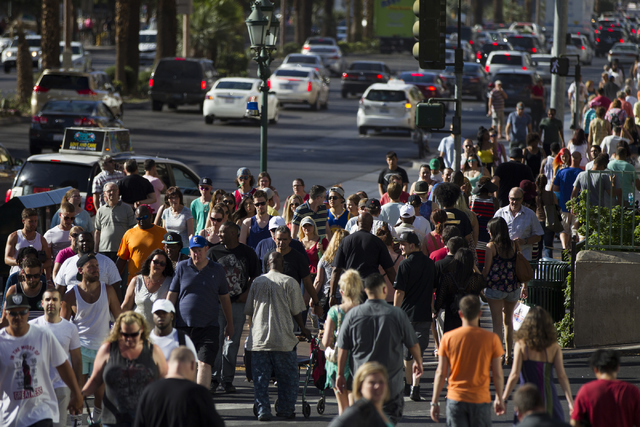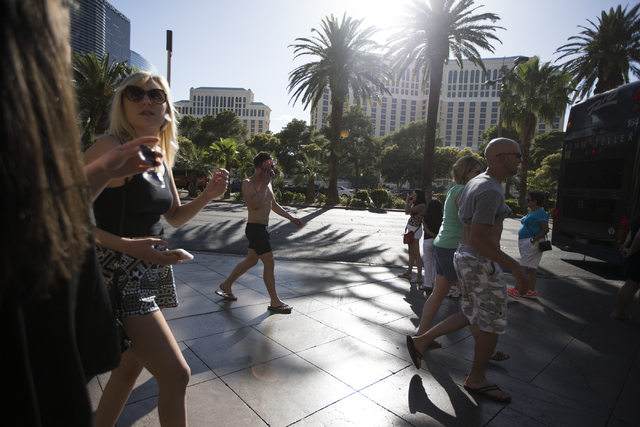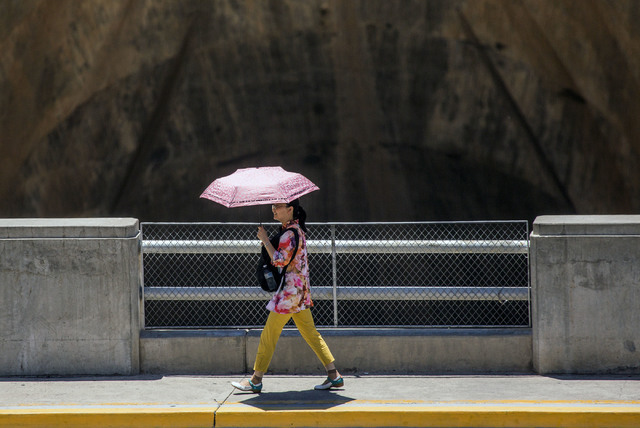 Temperatures in the Las Vegas Valley are expected to hit triple digits this week, tying record highs and triggering an excessive heat watch.
"It'll be sunny, dry and hot," National Weather Service meteorologist John Adair said.
Temperatures will rise and skies will be sunny with a 101-degree high on Wednesday, which is predicted to be the first triple-digit day this year, and a high of 104 on Thursday, Adair said.
The excessive heat watch will be in effect from 10 a.m. Friday to 8 p.m. Saturday, according to the weather service.
"This means a prolonged period of excessively hot temperatures are expected," Adair said, "and dangerous situations in which heat illnesses are possible."
Symptoms of heat exhaustion include heavy sweating, paleness, muscle cramps and dizziness, according to information provided by Clark County officials.
Friday's high should be 107 degrees, which is the record high for that day set in 1957. Saturday's expected 109-degree high also is the record high for that day, set in 1996, Adair said.
"Since this is the first round of excessive heat after a cooler-than-normal spring, it may be difficult to adjust for some people," Adair said.
The Clark County Fire Department warns Las Vegas residents, especially children, the elderly and people with poor circulation and weight problems of the potential dangers associated with high temperatures.
"With the valley's first heat wave of the year upon us, it's important to remind residents that it's very easy for adults and especially children to become dehydrated in our desert heat," Clark County Fire Chief Greg Cassell said. "To enjoy our warm weather and avoid heat-related health problems, drink more water than usual and seek shaded or cool areas during the heat of the day."
Clark County officials remind residents to never leave children or pets unattended in vehicles, because temperatures in a car can reach 120 degrees when outside temperatures are in the 90s.
Officials also advise people to carry plenty of water and to drink it, even when not thirsty; limit intake of alcoholic beverages; wear loose, light-colored clothing; use sunscreen with a high sun protection factor; limit errands during the hottest hours of the day; and take extra precautions with children in and near swimming pools.
Christie Richards from Houston came to Las Vegas with her husband for her 30th anniversary. She says the valley's weather is hotter than what she is used to back home.
"You wouldn't think it is, but it is," Richards said. "I actually got sick from it. I learned to drink water."
Eric Wyant, 37, moved from Kansas to Las Vegas four years ago. He works as a performer on Fremont Street and said he enjoys summers in Las Vegas because they are less humid than Kansas.
"It grows on you after a while, but people got to stay hydrated out here because it's going to suck it right out of you," Wyant said.
Temperatures are expected to cool down between Sunday and Monday, according to the weather service.
Anthony Harris, 33, also works as a performer at the Fremont Street Experience. Dressed in a robot costume, he said the heat took longer to come this year.
"Now that the heat's coming, we want the cold back," Harris said.
Review-Journal reporter Rocio Hernandez contributed to this report. Contact Lawren Linehan at llinehan@reviewjournal.com or at 702-383-0381. Find @lawrenlinehan on Twitter.