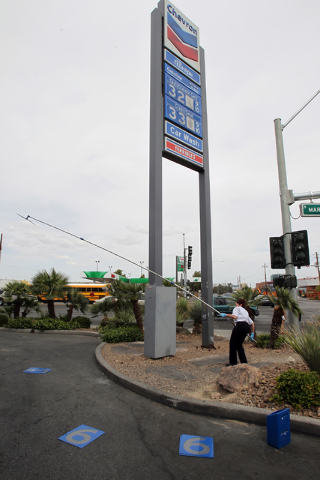 Another storm system is expected to roll through the Las Vegas Valley this week, bringing snow to the mountains on Thursday and Friday, according to the National Weather Service.
Winds gusting 20 to 25 mph Wednesday will last into Thursday, bringing a 30 percent chance of rain Thursday evening, said weather service meteorologist Todd Lericos. Lericos said the storm will likely bring showers similar to the valley's most recent rainfall.
Highs will be about 76 degrees Thursday before nighttime lows dip to about 58 degrees.
Snow is forecast to fall Thursday at elevations as low as 6,000 feet, Lericos said. The upper reaches of Kyle and Lee canyons should see an inch of snow at the most starting 11 a.m. Thursday, he said.
The snow is expected to fall in bursts as showers roll over the mountains, Lericos said.
Chances for showers will jump to 40 percent Friday, accompanying highs about 63 degrees, Lericos said. Winds Friday will slow to 5 to 10 mph and the valley might hear a couple claps of thunder, Lericos said.
Saturday is when things will start to rebound, Lericos said. Conditions are forecast to be partly sunny with high temperatures in the low 70s.
Sunday will be mostly sunny with high temperatures peaking in the high 70s and the valley should see highs back in the 80s early next week, Lericos said.
Contact Kimber Laux at klaux@reviewjournal.com or 702-383-0381. Find her on Twitter: @lauxkimber.