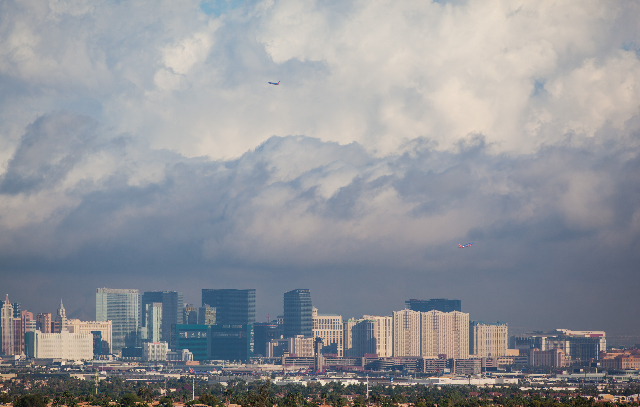 The first day of fall means it's time to unpack the sweaters, grab a few light scarves and switch back to hot tea or coffee — unless you live in Las Vegas. Fall in Southern Nevada can be more accurately called "extended summer," because nearly nothing changes.
There are three season in Las Vegas: summer, two days of perfect and mostly snowless "winter."
Twenty-three days into September and the Las Vegas Valley has seen only four days under 90 degrees. The last weekend of the month is expected to reach 103 degrees.
If trees didn't die under the extreme heat in July, their leaves' colors aren't changing anytime soon. In fact, it won't completely look like fall until about October 31, according to an interactive fall foliage prediction by Smokey Mountains.
By Nevada Day (or Halloween, if you prefer), the valley should see "peak" foliage change, meaning the valley will look like all of those fall pictures your friends are sharing on Facebook at the start of the month.
By then, the temperatures should drop to about 74 degrees, or, in Las Vegas local speak, "pretty chilly."
In the meantime, go to the pool, drink your iced pumpkin spice latte and brag to your friends in the Pacific Northwest dealing with mid-50s temps right now.
Contact Kristen DeSilva at kdesilva@reviewjournal.com. Find her on Twitter: @kristendesilva