2016 Chevrolet Malibu meets with immediate success at Findlay
February 5, 2016 - 3:59 pm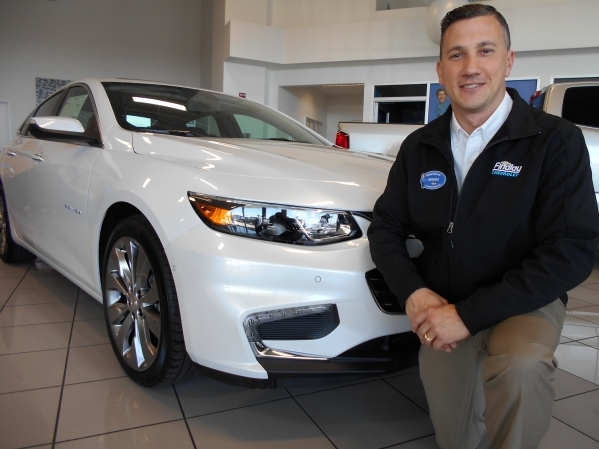 When General Motors unleashed the 2016 Chevrolet Malibu and Malibu Hybrid through its television commercials, the interest in the vehicle was instantaneous as evidenced by the response at Findlay Chevrolet.
Considering past awards that included "Most Dependable Midsize Car" and "Highest Ranked Midsize Car in Initial Quality" by J.D. Power in 2015, the new Malibu is expected to again receive strong plaudits. The vehicle, which was first introduced in 1964, literally has it all, including an impressive list of amenities.
Named after Malibu, Calif., Chevrolet's latest version is turning heads, generating phone calls and visits and exciting everyone from customers to members of the Findlay Chevrolet staff.
In brilliant General Motors fashion, the 2016 Malibu is scoring high marks especially in technology where the vehicle is considered "cutting edge" with a dramatic design along with advanced technology. Models include the L, LS, LT and Premier.
Parents worried about their teenagers driving the vehicle can keep an eye on the situation by inputting a PIN into the ChevroletMyLink display so that Teen Driver technology relays information regarding various safety issues.
Among the important elements that are transferred through muting audio is letting parents know when front seat occupants aren't wearing their safety belts; giving audible and visual warnings when the vehicle is traveling over predetermined speeds; and setting limits on music volume.
In addition, the link informs the parent when the available Forward Collision Alert or Lane Departure warning were triggered.
The OnStar Remote Link mobile app enables the vehicle owner to start the Malibu remotely. Also, doors can be locked or unlocked, and the link manages available OnStar 4G LTE Wi-Fi connection and sends directions to the vehicle with available OnStar Navigation.
Power plants include the Ecotec 1.5L I-4 DI Turbo; the Ecotec 2.0L DOHC VVT DI Turbo and the Ecotec 1.8L naturally aspirated Hybrid. Mileage ratings are 27/37 for the 1.5L, 22/33 for the 2.0L and 48/45 for the Hybrid.
Dealership vehicle exchange manager Brian Savinda has been with Findlay Chevrolet for five years and says, "Chevrolet has taken the 2016 Malibu to the next level. The technology in the car is unbelievable and with the combination of the two turbos and Hybrid power plants, GM has the entire package covered."
Located between Rainbow and Jones boulevards off the 215 Beltway, Findlay Chevrolet is headed by General Manager Jamaal McCoy.
Further information is available by calling 702-982-4000 or by visiting www.findlaychevrolet.com.
Findlay Chevrolet is part of Findlay Automotive Group founded more than 50 years ago by the late Pete Findlay, whose son, Cliff, now spearheads 28 new and pre-owned vehicle operations in Nevada, Utah, Oregon, Arizona and Idaho.