2017 Camaro ZL1 draws serious attention at Findlay Chevrolet
February 21, 2017 - 3:20 am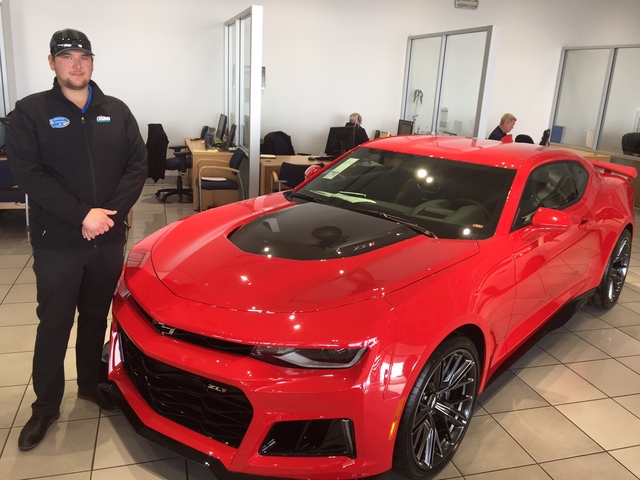 Much has been said about the impressive 2017 Chevrolet Camaro ZL1. With 650 pound-feet of torque, the ZL1 is a receiving rave reviews from automotive publications such as Motor Trend, Car and Driver, autoguide.com, roadandtrack.com and cars.com, among others. In short, automobile critics love the car.
General Motors made the car lighter while adding the super-charged 6.2-liter LT-4 into the ZL-1 Camaro.
When the vehicle was started recently in the showroom of Findlay Chevrolet in the southwest valley, the roar was so intense that every head in the store turned to look at the fire-breathing, 650-horsepower automobile.
"Essentially, General Motors took the engine and the Magnetic Ride Control suspension, performance exhaust from the Corvette Z06 and placed it into the ZL-1 Camaro," said sales and leasing consultant Steve McGee. "This is our third one that has been sold, and we have two manuals and two automatics that are on order and pre-sold.
The car comes with a six-speed standard transmission and the option for a 10-speed automatic. The automatic runs from 0-60 in only 3.5 seconds.
"You're screaming when you're driving this car," McGee said. "The 10-speed in this car is awesome. … This is the first time that General Motors has offered it as an option."
General Motors' exclusive elements in the ZL1 include a wide front fascia and grill that will allow more air, and General Motor's new "flowtie" replaces the bowtie, which also allows more airflow.
Other key components on the ZL1 include exclusive rims, and the Recaro seats are similar to racing seats.
McGee said General Motors also included strong connectivity that includes Bluetooth, Android Auto and Apple CarPlay.
"Heads-up display enables the driver to see the speed, and the rpm is on the windshield so you don't take your eyes off the road," McGee added. "In addition, the car has the backup camera, rear cross traffic and rear parking sensors and side blind zone that alerts the driver about vehicles in their blind spots.
"General Motors didn't leave anything out of this car ranging from performance to all of its safety features. It's sleek with aerodynamic design, and it will get looks anywhere it's taken."
Situated between Rainbow and Jones boulevards off the 215 Beltway, Findlay Chevrolet is headed by General Manager Jamaal McCoy.
Further information can be found by calling 702-982-4000 or by visiting www.findlaychevrolet.com.
Findlay Chevrolet is part of Findlay Automotive Group, founded more than 50 years ago by the late Pete Findlay, whose son, Cliff, now oversees operations of 28 dealerships in Nevada, Utah, Idaho, Arizona and Oregon.