Centennial Subaru grand opening scheduled for April 1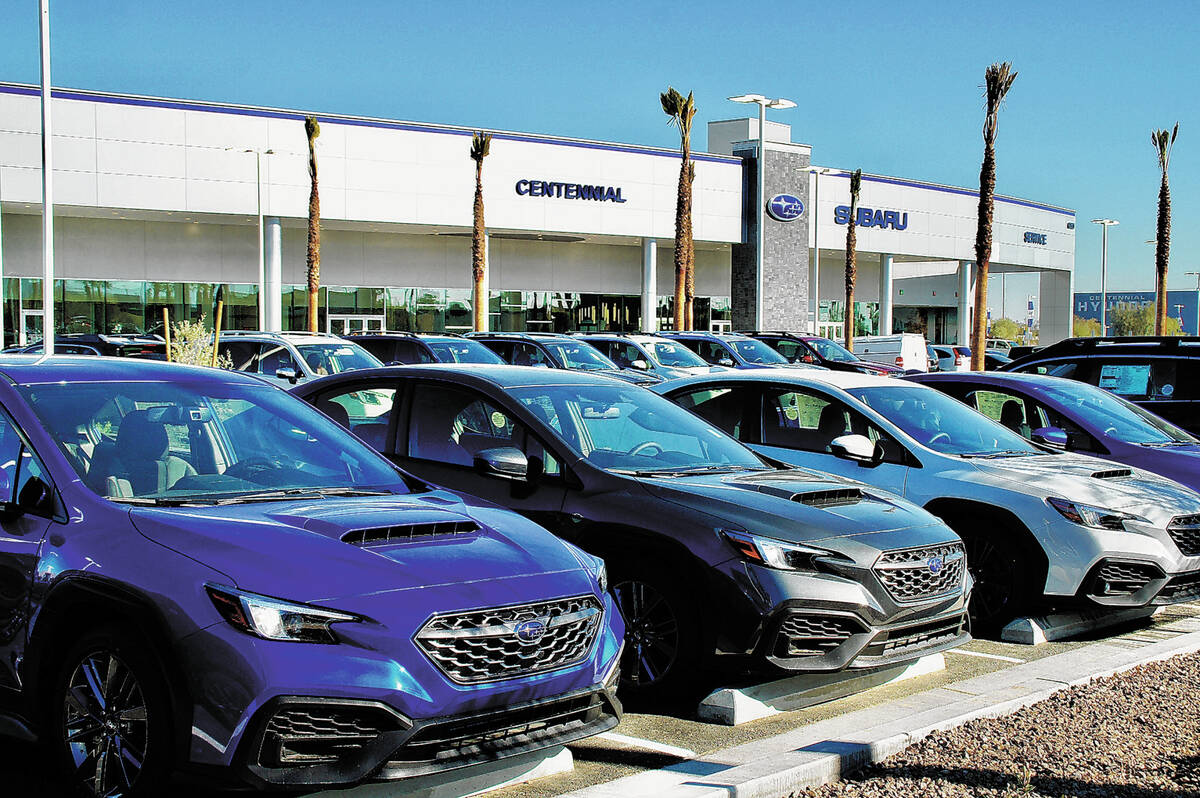 The northwest part of the Las Vegas Valley will soon be exploding with excitement, entertainment and fireworks as Las Vegas Centennial Subaru officially launches its grand opening celebration on Saturday, April 1.
The public is invited and encouraged to RSVP early to enjoy free specialty cocktails, street tacos and other foods and beverages that will be served on a first-come, first-serve basis. Selected foods include fried chicken sliders, kalbi beef tacos, fennel-dusted tuna tataki, mini lobster rolls and vegetarian truffle cream toast.
Entertainment will include Rat Pack, Elvis and Marilyn Monroe impersonators, colorful showgirls strolling about the grounds for picture taking, a caricaturist to capture your special moments, magic by Robb the strolling magician and continuous music provided by DJ Buza.
The ribbon-cutting ceremony begins at 4 p.m. with cold sparklers shooting into the air. Special invited guests include Subaru CEO Thomas Doll, management from Ascent Automotive Group, as well as local business and community leaders. Look for the 7-foot-tall LED Vegas-themed sign on Centennial Center Boulevard.
"This grand opening is not only to officially mark the opening of Centennial Subaru but to announce to the public that we want to be an integral part of the community, where we build life-long relationships with the community," Centennial Subaru General Manager Ryon Walters said. "Our goal is to be a model corporate neighbor to all residents and businesses, large and small, throughout Southern Nevada.
"We want Centennial Subaru to be a meeting place where you can drop by with your children, who can play in a designated play area, bring your pets to our pet-friendly lounges and on-sight dog park, or even fill your water bottle at conveniently located water bottle stations located near our showroom," Walters added.
In recognition of Centennial Subaru's philanthropic commitment to Nevada, company officials will present a monetary donation to the Three Square Food Bank. Three Square is the recipient of Subaru's Share the Love event, where a local charity is selected to receive partial proceeds from each vehicle sold from November through January.
Since opening in 2007, Three Square has provided more than 528 million pounds of food to hundreds of thousands of people in need. To donate, or learn more about Three Square Food Bank, visit threesquare.org
"Incredible partners such as Subaru are truly a driving force in Three Square's pursuit of a hunger-free community," said Michelle Beck, Three Square interim president and CEO. "With one in seven Southern Nevadans struggling to put food on the table, this generous gift in honor of the Centennial Subaru grand opening will allow us to continue providing one of life's most basic essentials to families and individuals in need. On behalf of the hundreds of thousands of neighbors we are privileged to serve, we are deeply grateful for their tremendous commitment to ending hunger."
To attend Centennial Subaru's grand opening, RSVP to dgagliano@centennialsubaru.com.
Las Vegas Centennial Subaru is located at 6350 Centennial Center Blvd. For information, visit centennialsubaru.com
About the dealer
Centennial Subaru's parent company is Ascent Automotive Group, a platform comprised of various dealerships located across America with a focus on next-level customer service and care. AAG is also the parent company of Lexus of Las Vegas and Lexus of Henderson.