Certified Acura RDX from Findlay works perfectly for Las Vegas family
October 2, 2015 - 1:39 pm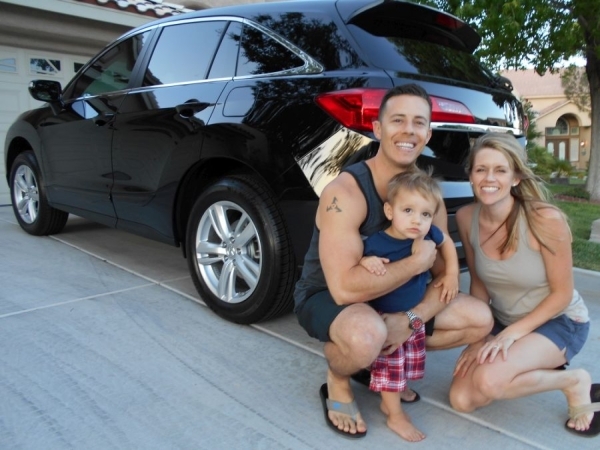 The 2015 Acura RDX V-6 sports a 3.5-liter engine. A sport utility vehicle that has been available at Findlay Acura in the Valley Automall, it also works perfectly for everyone from professionals on the run to soccer moms wanting a safe and dependable vehicle for endless trips to and from youth athletic events or school functions.
Hailed for its safety ratings, not to mention a superior performance package, Acura filled an additional niche in the automobile market.
The RDX is lauded for having ample power, strong fuel economy and outstanding legroom. It's considered a solid choice for a premium small crossover.
A purchase of a Certified 2015 RDX was the ideal choice for Jeff and Sharelle Henle and their young son, Lucas. Better yet, the vehicle available from Findlay Acura in the Valley Automall was a lease return with only 2,600 miles, so the vehicle came with the remainder of a three-year, 36,000-mile warranty.
The vehicle came with leather, backup camera, Bluetooth wireless, heated seats, dual power seats, a moon roof and Sirus XM Satellite.
"It's an awesome vehicle." Jeff Henle said. "Plus, it's multifaceted, too."
Sharelle Henle drives the 2015 RDX the most. She loves the vehicle.
"The RDX is very good quality and a safe car," she said. "We are sure it will keep its value. In addition, the RDX doesn't drive like a big car but instead like a sports car."
The Henles also capitalized on a special Labor Day promotion that provided free registration and license fees along with a two-year maintenance package for a value of about $1,000.
The transaction was handled by Findlay Acura used car manager Matt Nicol, who praises Acura for its complete package.
The purchase included an extra year of a 12-month, 12,000-mile warranty because the vehicle is a Certified Acura complementing the overall coverage.
"Acura is committed to the concierge experience," Nicol said. "Acura vehicles simply don't break, so we can feel comfortable selling them. There is very little maintenance and they simply don't have many problems."
Findlay Acura is part of Findlay Automotive Group, founded in 1961 by the late Pete Findlay. His son, Cliff, now spearheads 28 new and used car dealerships in Nevada, Arizona, Utah, Oregon and Idaho. The dealership is headed by general manager Kevin Hicks.
Further information regarding Findlay Acura can be found by calling the dealership at 702-982-4100 or by visiting www.findlayacura.com.
Information regarding all dealerships in Findlay Automotive Group can be found at www.findlayauto.com.