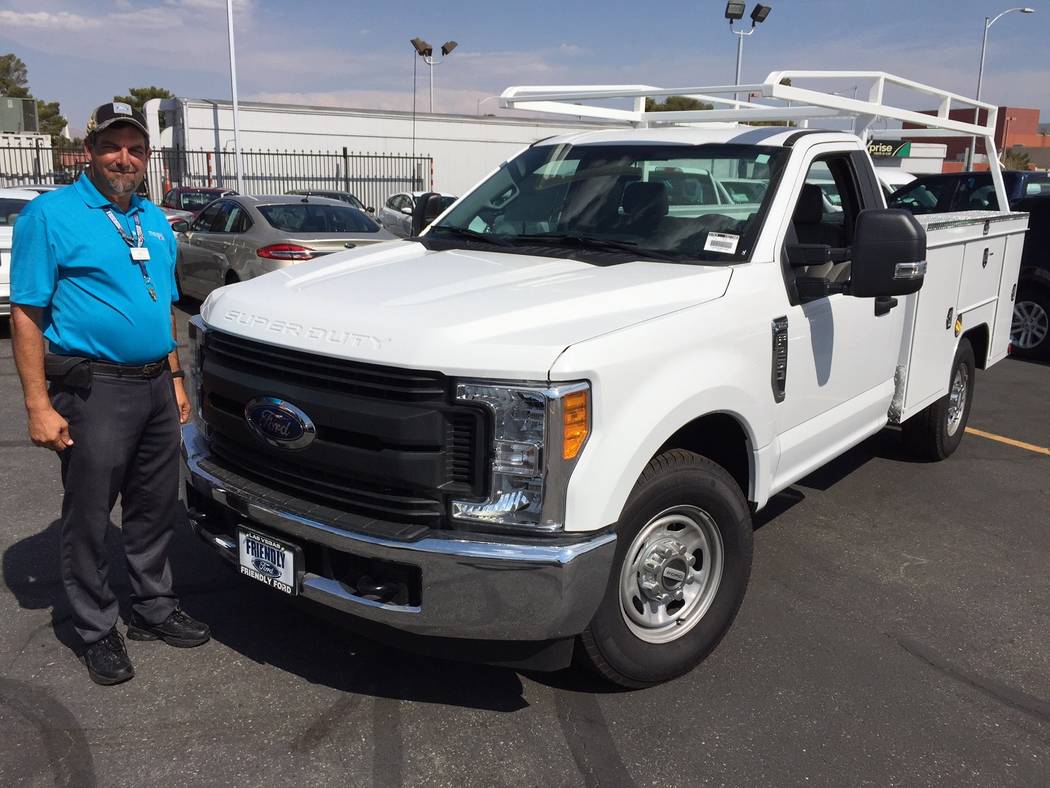 When the economy of Southern Nevada made its rebound from the recession a few years ago, the construction industry followed suit.
Ford commercial trucks at Friendly Ford rode the same path back to a booming activity and vibrant Southern Nevada marketplace.
Especially active now is the sales in the commercial department that include everything from vans to F-750 trucks, according to David Boehle, a Ford master-certified commercial sales specialist.
"I have talked with many construction business owners and they all say they have very strong confidence in the economy now," said Boehle, a 52-year-old military veteran and native of Jacksonville, North Carolina, who has 22 years in the car business. "Commercial truck sales are better now than during the boom that began in 2006."
Among the favorite construction trucks available at Friendly Ford is the F-250, a multifaceted Ford-Tough truck with endless possibilities.
"Friendly Ford sells a significant amount of F-350, F-450 and F-550 trucks," Boehle said. "They're the best-built trucks in the world with six times more high-strength steel on the frame than the previous generation; not to mention the frame is 24 times stiffer than previous generations"
Boehle added that the increased horsepower and torque on both gas and diesel engines is the best in class.
"The diesel and gas-powered trucks are about 50-50 in sales."
Ford trucks include the 6.7-liter diesel with 925 pound-feet torque with 440 horsepower; the 6.2-liter gas engine has 430 pound-feet torque and 385 horsepower.
"The Ford F Series has been the No. 1 selling truck in the world for the past 40 years," he said. "Ford has never let up and is continuously improving on every facet. It makes working in the car business fun."
Boehle said he has sold two or three Ford trucks to the same company on the same day.
"That is not uncommon at all," he said. "People have confidence in the Ford product dating back many years."
Commercial customers are always impressed by the various models of trucks that include flat beds, utility bodies, contractor bodies, KUV (plumber) bodies, dump trucks, box vans and numerous other applications.