Environmentalist is big fan of the 2017 Volt at Findlay Chevrolet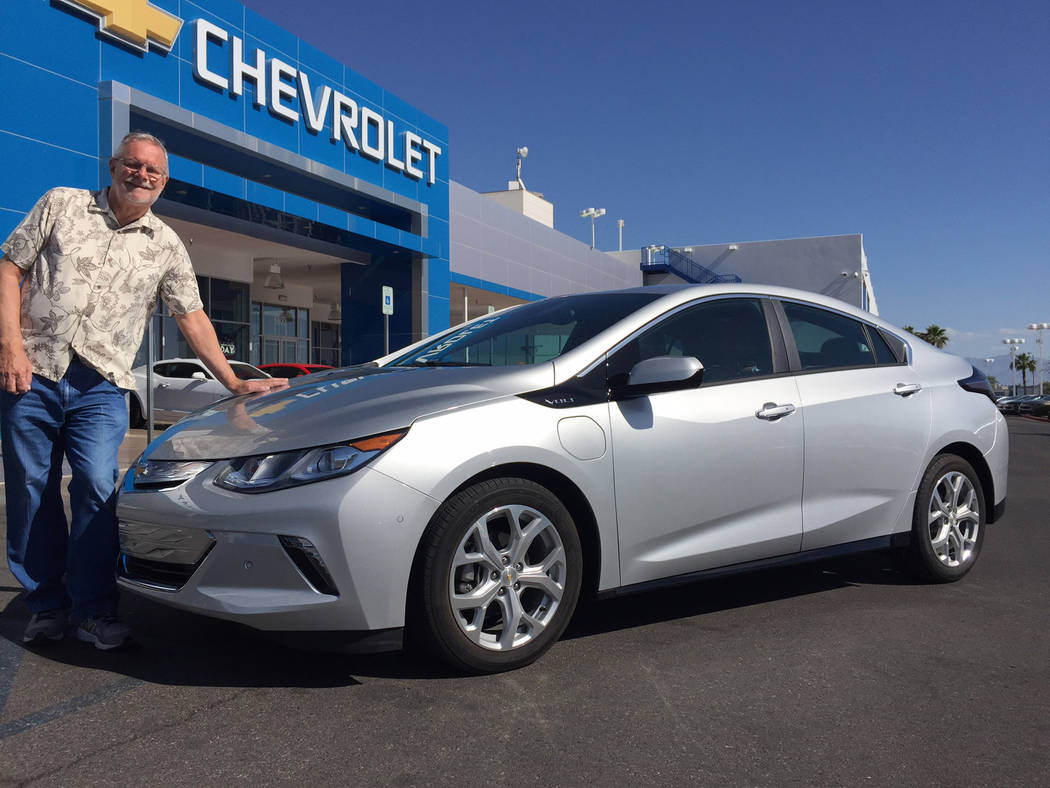 Forty-year Las Vegas resident Steve Rypka is a true environmentalist: His home is powered almost entirely by solar.
The perfect complement to the equation is the 2017 Chevrolet Volt that Rypka leases from Findlay Chevrolet.
"Our family has had three gas-electric hybrids and one full-electric vehicle over the past 17 years," the 64-year-old Rypka said. "The Generation II Volt is unique in that it combines the best features of a fully electric vehicle with the ability to run as a gas-electric hybrid when the electric battery runs down."
"It's great for long trips when you need it, but my wife and I do most of our driving around town," Rypka said. "Ninety-five percent of our driving is purely electric."
The Rypkas leased the 2017 Volt in September 2016 and have used about two-thirds of a tank of gas in almost 6,000 miles. In other words, their Volt has not been to a gas station yet. Electric range anxiety is eliminated by a four-cylinder Range Extender 1.5-liter internal combustion engine.
"We're getting close to 1,000 mostly electric miles to each gallon of gas," Rypka said. "We are driving on sunshine since we have a Level 2 charger in the garage powered by our rooftop solar array. Once parked, it literally takes about three seconds to plug in the charger."
Should Rypka need gasoline, the transition from electric is seamless.
"Most people don't notice at all," he said. "It just happens."
Rypka said General Motors listened to early Volt owners and got the Generation II right. It is an incredible improvement over previous electric-powered vehicles.
"The car is so unique that there is nothing out there that compares," he said. "I couldn't resist purchasing the Volt.
"A Regen on Demand system slows the car even more after pulling your foot off the accelerator," Rypka explained. "There is almost zero wear on the brakes as regenerative braking reverses motor function, sending energy back into the battery while slowing the car.
"It's just awesome. You get maximum value from every kilowatt."
The result is incredible mileage with a conservative rating of 53 miles of range on electric only and up to 420 miles including the 9-gallon gas reserve. The rating is 42 miles per gallon in hybrid mode, according to EPA estimates.
"Electric motors have full torque from zero rpm," Rypka said. "It has very good acceleration and plenty of power for freeway driving. There is no hesitation when accelerating in the Volt, and it's really fast off the line."
More importantly, Rypka points out that their household carbon emissions have decreased about 90 percent, with the Volt playing a key role.
"That's with an energy-efficient home along with a hybrid vehicle," said Rypka, who, as a green living consultant, has helped Southern Nevadans live lighter on the planet.
While the energy-efficiency of the 2017 Volt is impressive, so are the interior components.
"The Bose sound system is phenomenal," said Rypka. "As a former professional audio engineer, I appreciate the quality."
Safety factors include a backup camera and a sensor package for cross traffic in the rear, blind spot alerts in the side mirrors and slow traffic ahead of the vehicle.
"There is a loud warning and a flashing heads-up display that certainly gets your attention," Rypka said. "It will automatically brake the vehicle when necessary."
Other safety factors include 10 airbags, four-wheel disc brakes and daytime LED running lights.
The traction battery in the 2017 Volt is warrantied for eight years or 100,000 miles.
Rypka complimented his Findlay Chevrolet sales consultant, Bryan Drewes.
"His knowledge of the Volt really impressed me," Rypka said. "I appreciated the fact that he could speak in-depth about the unique features of the car. In my experience, he's a one-of-a-kind."
Located at 6800 S. Torrey Pines Drive in the southwest valley, the dealership is headed by general manager Doug Fleming, who also drives a 2017 Chevrolet Volt.
"I could drive any model," Fleming said, "and I love the Volt."
About the dealer
Findlay Chevrolet is part of Findlay Automotive Group founded in 1961 by the late Pete Findlay, whose son, Cliff, now oversees 32 dealerships in Nevada, Utah, Arizona, Oregon and Idaho. Further information regarding the dealership can be found by calling 702-982-4000 or by visiting www.findlaychevrolet.com.