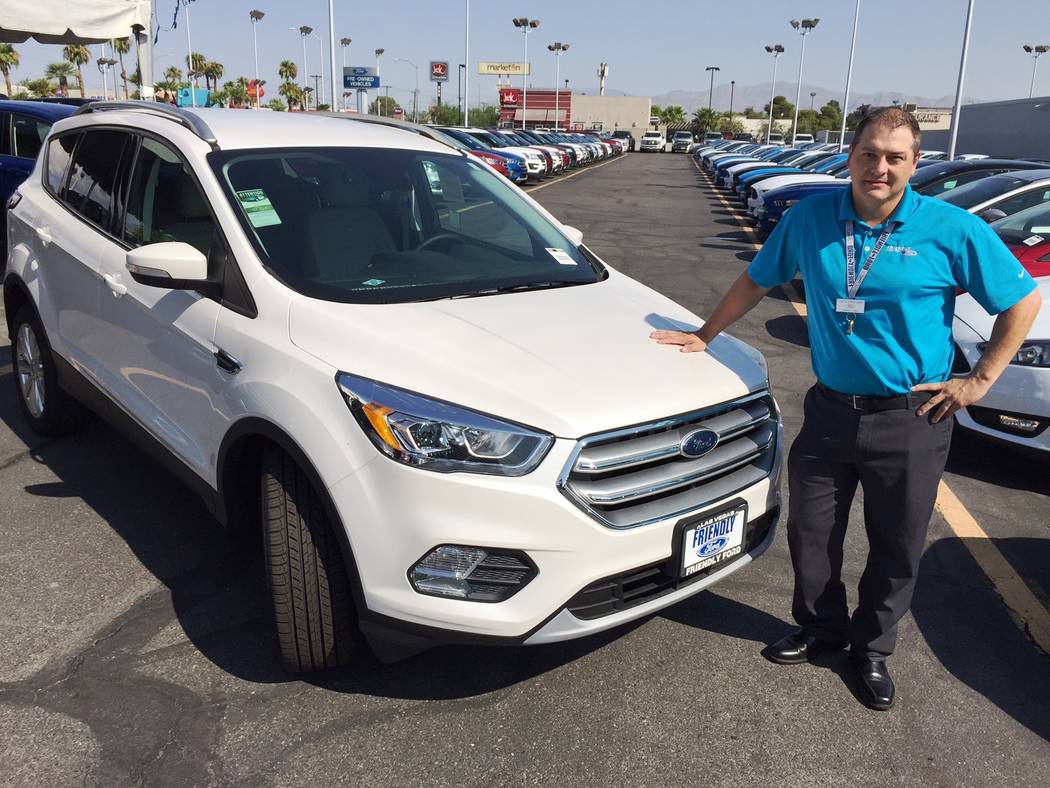 The multifaceted 2017 Ford Escape sport utility vehicle at Friendly Ford appeals to families that are on the go, according to sales consultant Joseph Christensen.
Christensen, a four-year veteran of car sales and a native of Chicago, has sold numerous Escapes at the dealerships since February and has many happy customers.
Among the many attributes of the Escape are the available engines that include a standard 2.5-liter four-cylinder, the 1.5 liter EcoBoost, and the 2.0 Twin Scroll EcoBoost. Horsepower ratings range from 168-245 with torque ranging 170-275.
Fuel mileage ratings range from 21-30 mpg combined city and highway.
The model with seating for five passengers is among the top selling points for the '17 Escape.
"Many customers are unaware of the leg room in the Escape," Christensen said. "There is a great comfort factor with this vehicle."
The interior is also highlighted by Sync 3 hands-free smart vehicle information system.
"On some models, the system has an eight-inch LCD screen, Blue Tooth, voice-activation, voice command for the phone, temperature and navigation; the Pinch-Zoom with navigation just like your phone; Sync Connect, which works directly with a Ford Pass App; Apple Car Play; Android Auto, among others," Christensen said.
The Escape is also available with four-wheel-drive.
"The four-wheel-drive version of the Escape opens up the ability to meet the demands of roads in Utah, Nevada and Arizona, among other states," Christensen said.
The Escape is a good vehicle for any range of income," he continued. "For those who want additional features, the SE with a 1.5 EcoBoost works well, and if you want more bells and whistles on the car, you have the Titanium model."
The Escape is also available with a Cold Weather Package that includes heated seats, heated side-view mirrors, all-weather floor mats front and rear; the leather comfort package; a power lift gate; power Panorama Vista Roof; and a remote start system.
About the dealer
Located at 660 N. Decatur Blvd., Friendly Ford has been at the same location since 1970 and is also an 18-time winner of the prestigious President's Award, Ford's highest single honor for customer satisfaction.Further information can be found by calling 702-870-7221 or by visiting www.friendlyfordlv.com.