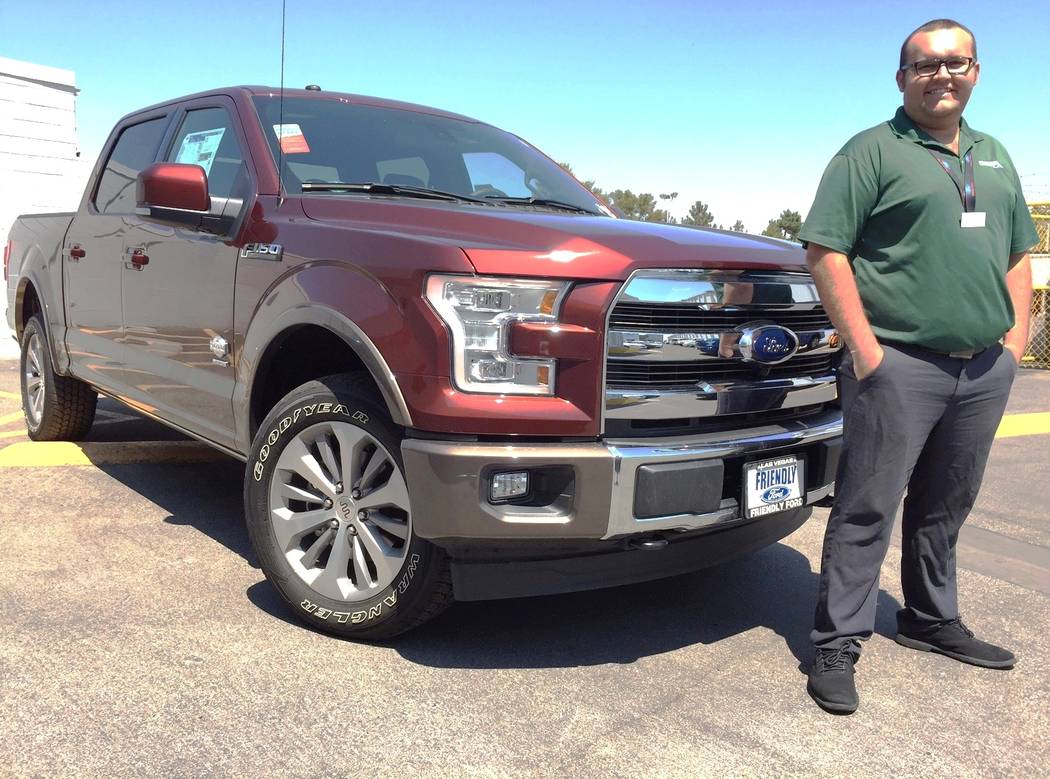 The car business is usually very challenging. But the internet department at Friendly Ford is especially busy because it is available seven days a week 24 hours a day.
Sales consultant Tyler Wade is a member of the department, which entertains inquiries at 3 p.m., 3 a.m. and anytime in between.
Friendly Ford's inventory of F-150 trucks includes award-winning models and features, such as the second-generation, twin-turbocharged, 3.5-liter EcoBoost, the 2017 King Ranch with a new 10-speed transmission and the FX4 off-road package.
"This truck has a 360-degree camera, upgraded King Ranch interior along with a special two-tone paint job," said Wade, a native Las Vegan. "The F-150 is the top-selling truck in the United States. The EcoBoost engine has 375 horsepower and will tow up to 11,500 pounds for conventional towing.
"Because the 2017 King Ranch 150 features heated and cooled seats, thicker upgraded leather, spotlights in side view mirrors and power-deployable running boards, it's a very popular model for those seeking the high-end trucks," he said.
Wade said the ride in the 2017 King Ranch 150 features an excellent experience.
"The 10-speed transmission will skip multiple gears to provide the optimal torque power band," he said. "The twin turbocharged engine will give the driver more power while producing as much as 23 miles to the gallon on the highway, thanks to the small displacement."
Wade added that the suspension includes off-road-tuned shocks, which is part of the FX4 Package available in all trim levels.
Wade said the King Ranch truck features a full panoramic sun roof, an automatic drop lift gate and a tailgate step that stows out of the way of cargo.
The fever of the F-150 King Ranch truck is evidenced by the fact that both Wade and fellow sales consultant David Casillas drive the F-150 truck.
"We feel safer on the road with the F-150," Wade said. "This truck has received a five-star crash rating thanks to the military-grade aluminum alloy body and fully boxed steel frame. The F Series is the only truck to offer the military-grade aluminum body."