Faraday Future hopes to build innovative electric cars in North Las Vegas
December 18, 2015 - 5:14 pm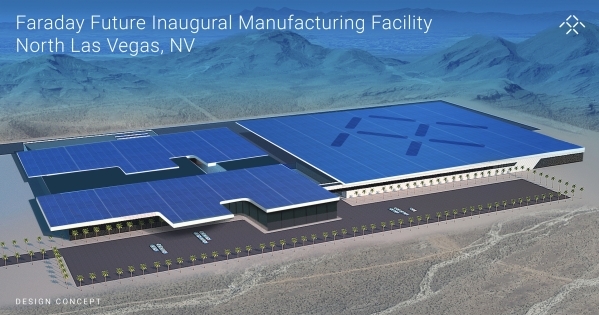 Albert Einstein used to keep a portrait of Michael Faraday in his office as a source of inspiration. Though he lived almost a century before Einstein, Faraday helped shape the science of the 19th century as much as Einstein would the 20th century.
Both men came from humble origins and studied diligently but weren't afraid to challenge conventional wisdom with their original visions of how the world and the universe worked.
For Faraday, it was his fascination with the interaction of electricity, magnetism and light that led to new and innovative experiments. He hoped to prove that all these different forms of energy were somehow related and connected.
Faraday is credited with pioneering the first electromagnetic motor and, as an electro-chemist, he experimented with battery and capacitor technologies. His writings popularized the use of words like ion, anode, cathode and electrode to describe in simple terms how electric circuits could be constructed and harnessed to do new types of work. The "farad," a standard unit of measurement for the capacitance of an electrical storage device, was named in honor of his contributions.
Faraday's studies laid the groundwork for the theoretical unification of electricity, magnetism and light that created new areas of physics and led to an explosion of innovative technologies during the 20th century.
A whole spectrum of energies at different frequencies were found to all be made up of interacting electromagnetic oscillations, including radio waves, microwaves, multicolored light waves, X-rays and gamma rays.
Faraday Future hopes to bring its own unique vision to North Las Vegas during the next two decades. The company will be investing $1 billion into a factory that will encompass 3 million square feet of space at Apex Industrial Park. Employees will build electric cars that combine autonomous robot systems, wireless telematics, sensors, human-machine interfaces and other fertile technologies.
If demand for the company's products can grow over the next 20 years, the Faraday Future factory could directly employ 4,500 Nevadans at wages averaging $22 per hour and indirectly create jobs for another 9,000 people in the local economy, according to the Nevada Governor's Office of Economic Development.
Estimated economic impact to Southern Nevada could be $85 billion over the next 20 years.
In exchange for tax abatements from the state of Nevada, Faraday Future has contracted to invest its own money back into the local community to benefit schools and training facilities. The company has committed to providing $1 million a year for K-12 education for six years, beginning with the 2018-2019 academic year.
The startup company has 400 employees in Gardena, California, and is being directly financed by Chinese billionaire Jia Yueting, who wants to emulate American entrepreneurial companies such as Tesla Motors, Apple, Google and Uber.
Yueting has developed several companies in China that have created competitive technology platforms for Internet video, Internet TV and online entertainment. And he has developed an automotive ride share company similar to Uber and Lyft.
Faraday Future has hired former employees from a cross-section of technology industries who have been engaged in the designs of new electric cars, telecommunications and robotics technologies.
Nick Sampson, vice president of research and development, previously worked on design projects for Jaguar, Lotus and Tesla Motors while Richard Kim, vice president of design, gained experience on the team that created the BMW i3 and i8 electric cars. Other employees have come from innovative aerospace industries such as Space-X.
The company will unveil its first electric concept car Jan. 4 in Las Vegas, just before CES 2016 brings in 170,000 attendees from worldwide consumer technology industries to its annual tradeshow on display at the Las Vegas Convention Center, Sands Convention Center, multiple resort destinations on the Strip and in downtown Las Vegas.
North Las Vegas also is making bold entrepreneurial moves to develop Apex Industrial Park after surviving a devastating recession that almost brought the city's finances to insolvency.
Three ChargePoint electric car charging stations were installed in the parking lot of City Hall in North Las Vegas during 2012, as part of regional infrastructure development efforts led by NV Energy. A Chevrolet Volt from the city's motor pool fleet plugs into one of the stations to refuel its lithium-ion battery pack overnight.
Although criticized as unneeded expenses during the belt-tightening years of the Great Recession, the electric car technology innovations led by city administrators also reflected the forward-looking resilience of the community.
A city that was previously built around casino gaming and local resorts is gambling that it can transform itself into a high-technology center that embraces the future of a Faraday vision.
For these innovators, 2016 will be an exciting new year.