Findlay RV enters busy season with four master certified technicians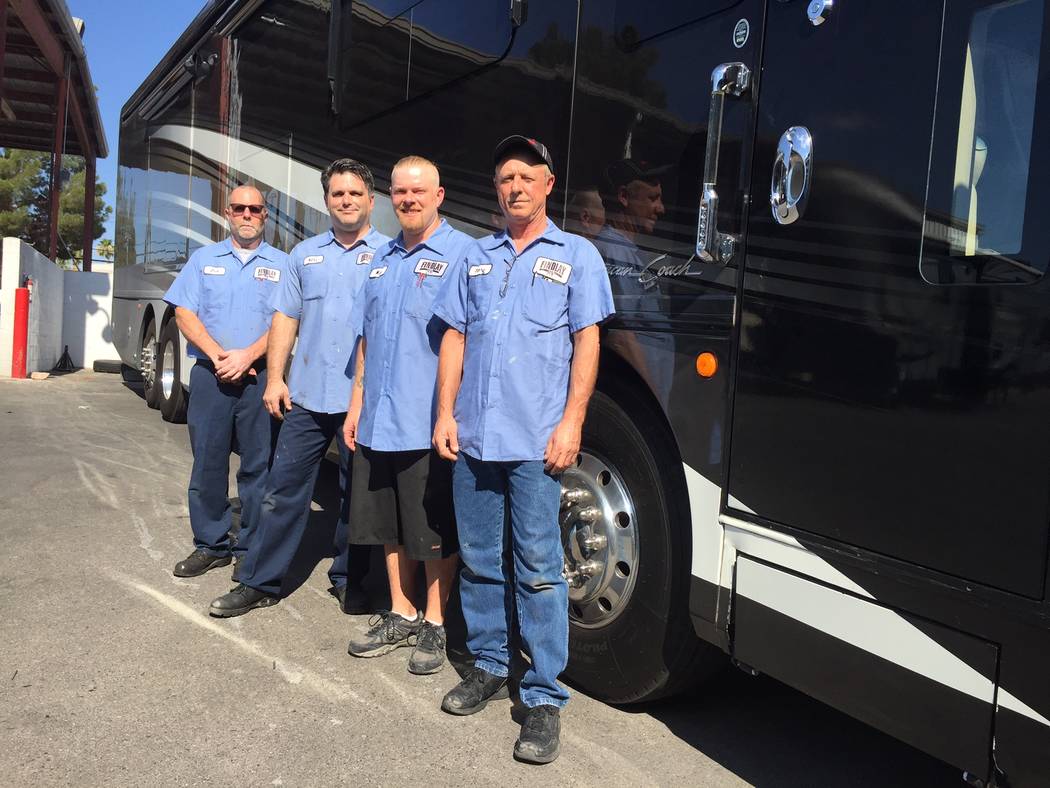 In the motorhome world, technicians need to be multitalented, considering that a motorhome contains all the elements of a vehicle and most of what you'll find in a house. In the case of Findlay RV technicians Neil Kaderly, Jack Hunt, Terry Motley and Mike Polier, the dealership has a team of technicians who are all master-certified.
Findlay RV offers recreational vehicles that can cost as much as $2.3 million. The dealership, situated at 4530 Boulder Highway, caters to a wide variety of customers that include entertainers, athletes and many Nevadans who love the open road.
Kaderly explains how master-certified technicians learn what they know.
"We are usually sent to schools at the locations of some of the manufacturers," explained Kaderly, who has been with Findlay RV for 13 years. "We spend a few days there at a time."
Kaderly said the biggest challenge is the fact that, like a house, RVs include components such as electrical, plumbing and roofing along with the interior that has all the comforts of a traditional home.
"We must constantly get updated," said Kaderly, adding that the four technicians often turn to one another for help. "We're definitely a team, and we often receive letters from customers thanking us for our help."
Motley added that the service side of the RV business gets especially busy this time of year as families call on their RV to lead them to cooler climates during the summer heat, which has been record-breaking this year.
"We're the only RV dealership with four master-certified technicians and two certified technicians," said Motley, who has been with the dealership for 15 years, "and we're all very busy right now. It's interesting working here because you meet people from all over the world. I really enjoy talking with the owners of RVs, and the fact that this dealership is family-owned makes it all the better."
Motley recognizes that the knowledge base is substantial and varied. H said, "In this business, we need to understand electrical, plumbing, carpentry, roofs, generators and satellites."
Native Las Vegan Polier summed up his reasoning for working in the industry.
"I love to fix things," he said, "and I love to help a customer who might not be familiar with a component of an RV. It's not easy learning all the elements of an RV. We receive many calls from our customers needing help, so I lead them through the process on the phone. It's a great feeling knowing that you have made somebody's day."
Polier added that Findlay RV hosts classes at the dealership so that RV owners can learn more about their coach.
"We offer a class four times a year," he said. "People can ask any question, and we're there to help them."
Hunt's expertise is based around the chassis of an RV.
"I do everything ranging from oil changes to brake jobs and engine replacements," said Hunt, who has been with Findlay RV for 14 years. "It's never the same challenge."
With complete lineups from Winnebago to Fleetwood and both gas and diesel RVs, Findlay RV has a wide selection of both new and pre-owned motorhomes — along with a strong variety of towable RVs, toy haulers, fifth wheels and travel trailers.
Each used RV is sold with complete systems and comes with a safety inspection. The dealership has more than $10 million in available inventory.
The fully-staffed Findlay RV service department is an authorized service and warranty center for Workhouse, Ford, Spartan, Fleetwood, Winnebago, Forest River, Monaco, Tiffin, Onan and others. Also included in the department is a body shop collision center with a 50-foot paint booth.
About the dealer
Situated at 4530 Boulder Highway, Findlay RV is part of Findlay Automotive Group that Pete Findlay founded in 1961. With 31 dealerships in Nevada, Utah, Arizona, Idaho and Oregon, the umbrella of dealerships is overseen by his son, Cliff.
Findlay RV is co-owned by Michael Hohl, who has a number of dealerships including an RV store andHarley Davidson franchise along with several automotive dealerships in the Carson City. Further information can be found by calling 702-435-2500 or by visiting www.findlayrv.com.