Findlay sponsors Nevada PEP
October 12, 2018 - 9:35 am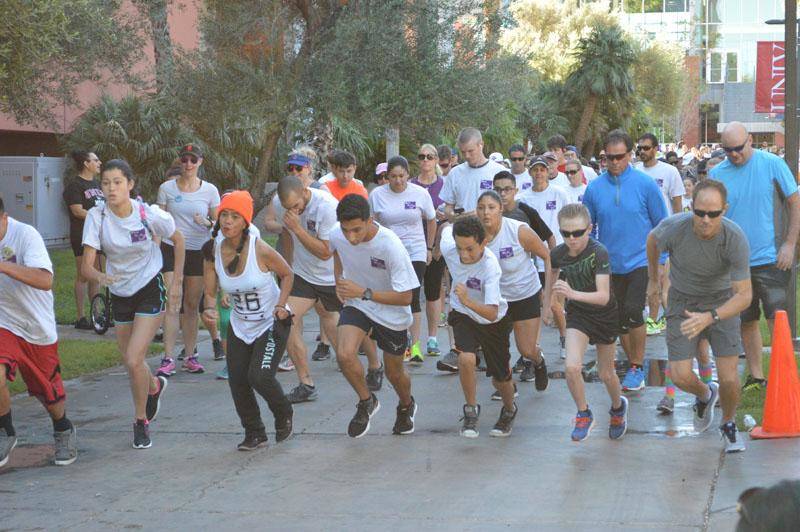 The Findlay Automotive Group-sponsored Nevada PEP Run Walk Roll Against Bullying has been scheduled for Oct. 20 at the Sammy Davis Jr. Festival Plaza in Lorenzi Park.
Scheduled to begin at 9 a.m., the annual event includes a 5K fun run and 1.5-mile fun walk and roll.
Findlay Automotive Group CFO Tyler Corder said the company has supported the event for the past several years.
"It all started with a simple request to sponsor the Clifford O. (Pete) Findlay Middle School," Corder explained. "It grew a little the next year, and we sponsored several schools. This year we're sponsoring 10 schools, and we're also sponsoring buses to transport the students to the event."
Corder said the cause is heartwarming.
"We really believe in Nevada PEP's mission to help children with disabilities," he said. "This is a local Las Vegas charity, and everyone involved with Nevada PEP is really passionate about their mission. The passion demonstrated by the staff makes it easy for the Findlay team to get excited about the cause."
Stephanie Vrsnik, community development director of Nevada PEP, said the event has grown dramatically in the past few years.
"This is the eighth year that we are presenting the event," explained Vrsnik, who has been with Nevada PEP for 17 years. "Nevada PEP is a family-driven nonprofit dedicated to helping parents who have children with special needs. Nevada PEP hires parents who have children with special needs. We walk in those shoes 24/7 and we understand the needs of families who have children with special needs. Many parents are lost and don't know where to turn. When they find PEP, it makes a huge difference because parents don't feel so alone and overwhelmed."
Nevada PEP offers the following services free of charge: information and referral, statewide lending library, conflict resolution support, individual assistance, training workshops in both English and Spanish, volunteer opportunities, family support services, monthly e-newsletters, webinars and system advocacy.
Vrsnik said Findlay Automotive Group joined the cause about five years ago. The event is Nevada PEP's largest fundraiser of the year. This year's Nevada PEP event is being co-sponsored by Las Vegas City Councilwoman Lois Tarkanian and Councilman Cedric Crear.
The event will feature master of ceremonies Chet Buchanan along with champion Pro BMX rider and Las Vegas resident Ricardo Laguna, who will lead the walk on his BMX bike.
"I actually own some real estate in Las Vegas, and one of my tenants had a child with a disability," he said. "Nevada PEP has a department that specializes in families that don't speak English and helps them connect the dots."
Findlay Automotive Group's participation in the fundraiser has been invaluable.
"(Tyler) has done so much for our organization. He always thinks about us and includes us in promotional efforts. We're very grateful for the continued support," Vrsnik said.
"Tyler has always said that what we do is very unique and the services that we provide are valuable to the community."
Nevada PEP's goal is to increase the opportunities for home, community and school success for children with disabilities, including those who are at risk or have serious emotional disturbances, their families and their service providers through education, encouragement and empowerment activities.
Findlay Automotive Group dealerships participating in the event include Findlay Toyota, Findlay Cadillac, Findlay Chevrolet, Findlay Honda Henderson, Findlay Acura, Findlay Honda Northwest, Subaru of Las Vegas, Jaguar Land Rover Las Vegas and Findlay Volkswagen Henderson.
For more information about Nevada PEP call 702-388-8899 or go to www.nvpep.org.
About the dealer
Findlay Automotive Group, which was founded by the late Pete Findlay more than 50 years ago, supports countless charitable causes each year. The group operates 32 automobile dealerships in Nevada, Utah, Idaho, Oregon, Arizona, California and a 33rd dealership, Findlay Mazda, is currently under construction in the Valley Automall. Further information regarding Findlay Automotive Group may be found at www.findlayauto.com.