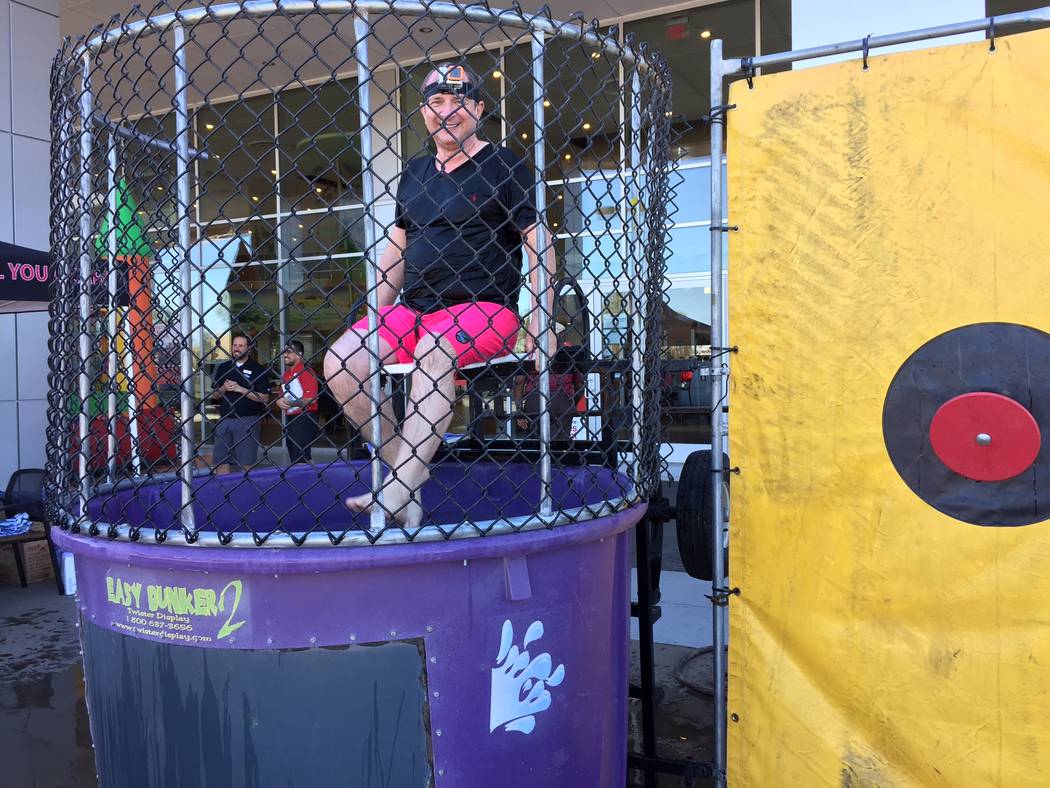 Findlay Toyota general manager John Barr has continued his feverish rush to become the Leukemia and Lymphoma Man of the Year. The award is given to the person who raises the largest sum of money for the Leukemia and Lymphoma Society.
In an effort to enhance fundraising efforts, Barr and other employees agreed to participate in the "Dunk John Barr" event April 23 at the dealership.
With lines of customers and friends wanting to help with the cause while dunking selected employees of Findlay Toyota, Barr proved to be the candidate of the day.
The Leukemia &Lymphoma Society Man and Woman of the Year will be announced at a gala Saturday evening at JW Marriott. All funds raised by the team at Findlay Toyota are being donated to the Leukemia &Lymphoma Society of Southern Nevada. The organization's mission is to cure leukemia, lymphoma, Hodgkin's disease and myeloma and to improve the quality of life of patients and their families.
Among those making donations for the cause are Sudden Impact Auto Body, the Southern Nevada Toyota Dealers Association, the NBA Summer League, Lotus Broadcasting, CBS Radio, Fox 5 television, Adesa LV Auto Auctioning, Waxie, BG Products, Findlay Honda Henderson, Findlay Kia, Findlay Management, the Bar LV, Cox Media, Wells Fargo Finance, Front Line, the Las Vegas Review-Journal, CRB Mechanics Bank, Spinn Auto, the Southern Nevada Sports Hall of Fame, Toyota Financial, Manheim, KLAS TV-8, Swan Advertising, Fox 5, Subaru of Las Vegas, Toyota Denver Region, comedian Terry Fator, Findlay Volkswagen Henderson and Findlay Volkswagen North, Bank of America, Team Velocity, South Point Casino, KTNV TV-13, KSNV TV-3 and the Las Vegas 51s.
About the dealer
Findlay Toyota is situated at 7733 East Gate Road in the Valley Automall in Henderson. The dealership ispart of Findlay Automotive Group founded in 1961 by the late Pete Findlay, whose son, Cliff, now oversees 28 dealerships in Nevada, Arizona, Utah, Oregon and Idaho.