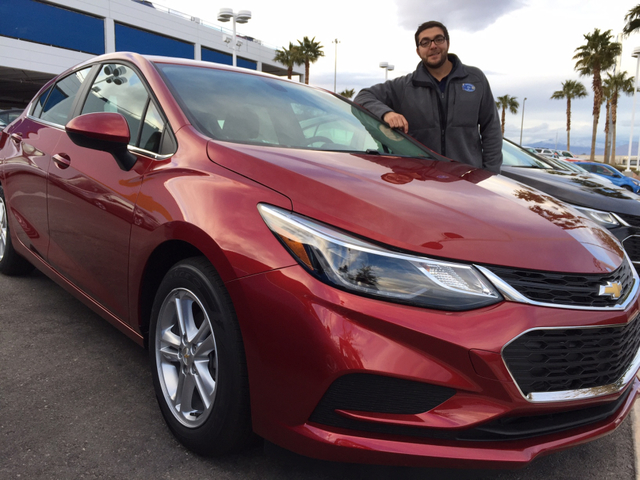 The popular Chevrolet Cruze has mounted strong numbers since entering the automobile market about six years ago. It appeals to a full spectrum of buyers because of its long list of amenities.
The 2017 Cruze hatchback sports an exclusive 1.4-liter turbo that generates 153 horsepower and 177 pound-feet of torque.
The 2017 Cruze hatchback has been at Findlay Chevrolet for less than six months, and it has been a hit with customers since the day it arrived on the lot, according to five-year sales consultant Maxwell Eichbauer.
"The 2017 Cruze is part of the Chevrolet redesign," Eichbauer said. "Our customers took to the car quickly in what has been a continuation of the Cruze success."
The safety elements included in the '17 Cruze include 10 standard air bags, standard rear backup camera along with On-Star, which covers several components such as automatic crash response system, turn-by-turn navigation and stolen vehicle recovery. The safety element Teen Drive Technology allows vehicle owners to pull report cards for the automobile speeds.
Another favorite feature of the Cruze is Chevrolet MyLink touch-screen color and touch-screen display. In addition, General Motors has added a built-in Wi-Fi hot spot for up to seven devices.
"I am very impressed with the standard features of the Chevrolet Cruze," Eichbauer said. "Chevrolet has definitely done its homework with the new Cruze."
Eichbauer has sold several new Cruze models in the past few months.
"The Cruze covers a wide variety of buyers including first-time buyers, young professionals wanting a commuter vehicle or even seniors who also want the technology."
Located between Rainbow and Jones boulevards off the 215 Beltway, Findlay Chevrolet is headed by General Manager Jamaal McCoy.
Further information can be found by calling 702-982-4000 or by visiting www.findlaychevrolet.com.
Findlay Chevrolet is part of Findlay Automotive Group founded more than 50 years ago by the late Pete Findlay, whose son, Cliff, now oversees operations of 28 dealerships in Nevada, Utah, Oregon, Arizona and Idaho.