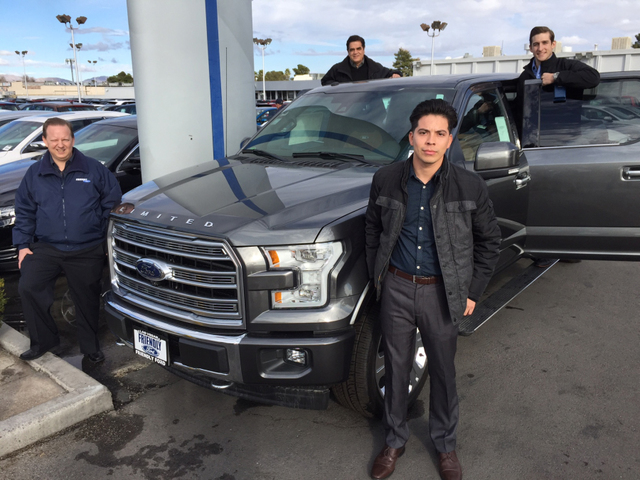 Ford Motor Company's dominance of the truck business has been accentuated once again by the fact that the 2017 F-150 has been named Truck of the Year by the experts of the automobile industry.
In fact, the F-Series trucks built by Ford have been the best-selling trucks in America for 40 consecutive years. Since 1977, F-140 and Super Duty have headed the marketplace for several reasons, including rock-solid durability, up-to-the-nanosecond technology, incredible capability and most any other category in which it is listed.
The F-150 has led the way at Friendly Ford since the dealership opened in 1970. It has been used to pull boats, trailers and anything else that requires power and strength and tenacity.
The F-150 gives confidence to drivers and passengers in areas that offer a range of weather elements, including snow, high wind, dust and desert terrain — whether it's the snow and icy conditions of Duck Creek, Utah, or the heat of the Las Vegas summers, when the pavements can easily reach temperatures of 150 degrees.
Several Friendly Ford employees join up several times a year to explore rugged territory near Goldfield, which was once a boomtown of activity for such fan-friendly events as championship boxing and gold mining. The Friendly Ford crew revisits history to tell old stories while also participating in gold mining — and they all drive Ford F-150s to and from each outing.
Yet another key reason for the F-150's success is its military-grade aluminum construction along with a wide variety of engines, such as the 2.7-liter EcoBoost V-6 with 325 horsepower and 370 pounds of torque with a standard auto-start-stop feature.
Other available engines include the new 3.5-liter Ti-VCT V-6 with 282 horsepower and 253 pounds of torque, along with the 5.0-liter TI-VCT V-8 with 385 horsepower and 387 pounds of torque and the 3.5-liter EcoBoost V-6 with 365 horsepower and 420 pounds of torque.
New additions to the F-150 include an inverted power dome hood; redesigned head lamps, grill and tailgate spoiler; and a body that is 1.5 inches wider.
Four members of the sales staff, Rob Blankenship, Patrick Voncsazy, Yovani Lopez and Alex Gutierrez, said the F-150 is the real deal.
"The Ford Exclusive EcoBoost on the newer models still provides good horsepower and torque while also being more fuel efficient than a V-8 engine," said Blankenship, whose great-grandfather, Bill Koerwitz, built the dealership 47 years ago. "It will take you anywhere and get you home safely."
Voncsazy said Ford's willingness to change has been a key part of the truck's success.
"The improvements over the years have included military-grade aluminum body, the reputation of being No. 1 in quality for many years and it remains affordable," Voncsazy said. "I put over 100,000 miles on an F-150, and it never gave me a problem."
Lopez said the F-150 has many safety features. "For instance, it has brake assist," he said. "You get the maximum usage of your brakes. Also, it has a backup camera and a leveling system, which protects the driver against excessive cross winds.
"It has a luxurious interior with leather seats, and some even come with seat massagers. Then, too, some models even have steering wheel heaters and coolers."
According to Gutierrez, the F-150 is a leader in technology, including the fully boxed frame Sync 3 technology.
"This is the only truck to have outboard shocks," he said. "You get more stability, especially when you're out of town."
Situated at 660 N. Decatur Blvd., Friendly Ford opened in 1970. The dealership is a 17-time winner of the prestigious President's Award, Ford's highest single honor for customer satisfaction.
Further information can be found by calling 702-870-7221 or by visiting www.friendlyfordlv.com.