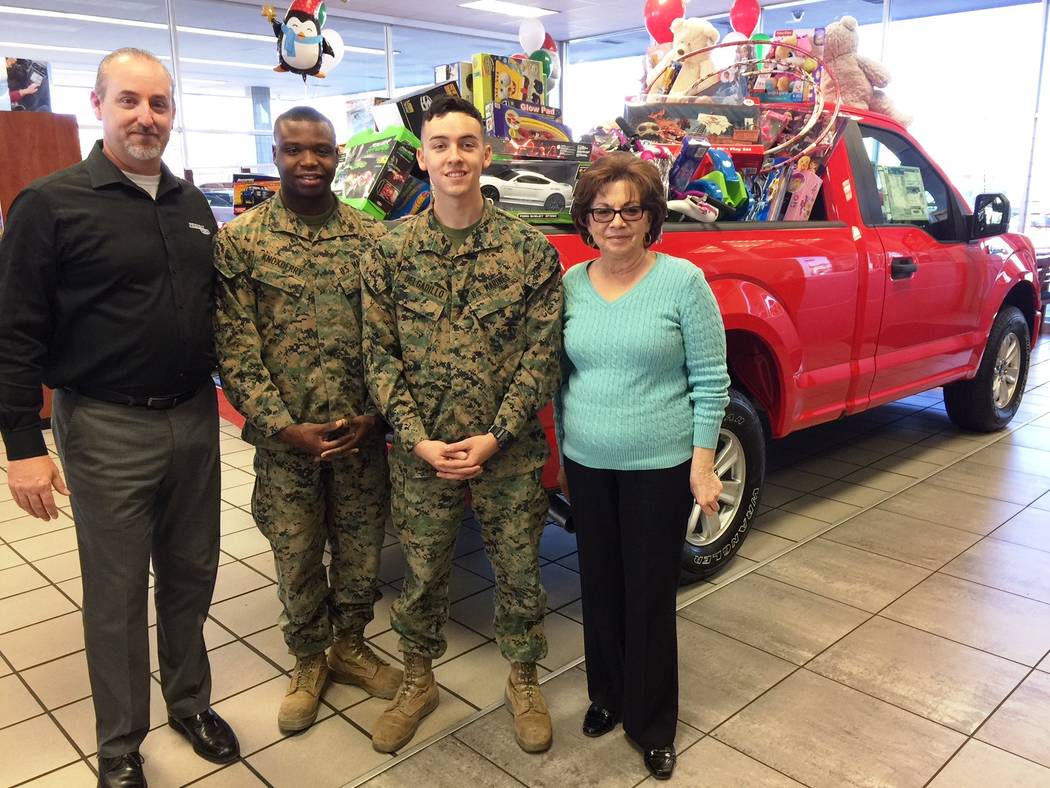 Friendly Ford concluded its annual dedication to Toys for Tots by delivering a big haul of toys to conclude its 15th year of supporting the group. The campaign was again spearheaded by customer care coordinator Geri Bich.
"This is very heartwarming campaign every year," Bich said. "Through Toys for Tots, we are able to help needy children during the holidays."
Friendly Ford delivered a big haul of toys thanks to dealership employees and customers. Each year a new Ford F-150 pickup is packed with an assortment of gifts, including bicycles, dolls, footballs, Hot Wheels, skateboards and soccer balls.
Tom McGrath, chairman of Marines-Las Vegas, Toys for Tots, said the organization can always depend on Bich and her team to fill a truck for its campaign. He said the campaign's motto is "Every Child Deserves a Little Christmas."
The Marine Toys for Tots Foundation celebrated its 11th anniversary as the fundraising and support organization for Toys for Tots. For the first time in 2016, the foundation earned a ranking in the Philanthropy 400.
Toys for Tots was started by a Marine major in Los Angeles in 1947.
The Marine Toys for Tots Foundation is an IRS-recognized nonprofit charity and the authorized fundraising and support organization for the Toys for Tots Program. The foundation staff is headquartered in Cooper Center just outside the main gate of the Marine Corps base in Quantico, Virginia.
Toy drive campaigns are conducted annually in more than 700 communities covering all 50 states, the District of Columbia and Puerto Rico.
Further information can be found by visiting www.toysfortots.org. Over its lifespan, the Marine Toys for Tots program has distributed 491 million toys to more than 230 million less fortunate children.
About the dealer
Located at 660 N. Decatur Blvd., Friendly Ford has been at the same location since 1970. It is an 18-time winner of the prestigious President's Award, Ford's highest single honor for customer satisfaction. Further information can be found by calling 702-870-7221 or by visiting www.friendlyfordlv.com.