Longtime Las Vegan buys 2015 Ford F-150 off showroom floor at Friendly Ford
December 14, 2015 - 5:34 pm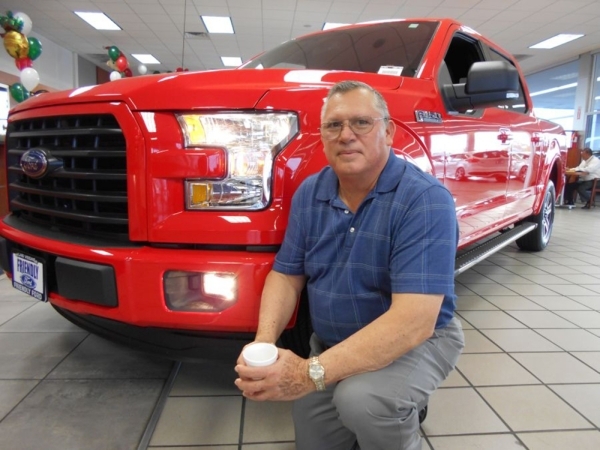 The 2015 Ford F-150 truck has become one of the greatest success stories in the car business. Delivered to the Friendly Ford about a year ago, the F-150 immediately drew attention.
Ford's expertise with power plants resulted in four different choices including the 3.5 liter Ti-VCT V-6; the new 2.7-liter EcoBoost V-6; a 3.5 EcoBoost V-6; and a 5.0-liter Ti-VCT V-8. Engines range 282 to 385 horsepower.
In addition, the 2015 F-150 is roomier, and it is 2 inches wider with increased hip and shoulder room and increased in-cab storage.
Other improvements include a new Vista roof, a twin-panel roof so that front and rear passengers have their own personal skylight that opens in the front and is stationary in the back.
The top-selling truck in the country for the past 38 years, the F-150 is one of Ford's prize vehicles.
The Ford technology available in the F-150 is highlighted by a 360-degree camera with split view display, blind spot information system with cross traffic alert and a lane keeping system that warns the driver about traffic in other lanes.
New optional multicontour front seats have active motion providing excellent comfort to reduce fatigue.
Longtime Las Vegas resident Oscar Nunez has owned three Fords since 1994, including a 1994 Econoline, a 1997 Ford Aerostar van and a 2016 Ford Focus. It was time for another truck, so Nunez recently bought a 2015 Ford F-150 pickup from the dealership.
Nunez purchased the red 4×2 F-150 Supercrew off the showroom floor on a busy Saturday afternoon. The F-150 is equipped with a 2.7-liter V-6 Ecoboost engine.
"Friendly Ford is very good to work with," said Nunez, a 12-year HVAC employee with the Clark County School District. "I wanted a pickup for moving tools or traveling, too. I will take it to Mexico sometime when I have a vacation.
"I like Fords better than any other vehicles. I have always had good luck with the Fords I have purchased over the years."
Nunez said he would also be purchasing another vehicle for one of his sons soon. He praised sales consultant Rafael Sanchez for his work completing the transaction, the second vehicle he has purchased from Sanchez.
"He was very good to work with," Nunez said. "My brother recommended him to me. Rafael gave me a very good price."
Situated at 660 N. Decatur Blvd. for the past 45 years, Friendly Ford is one of the oldest automobile dealerships in Southern Nevada.
For further information regarding Friendly Ford, call 702-870-7221 visit www.friendlyfordlv.com.