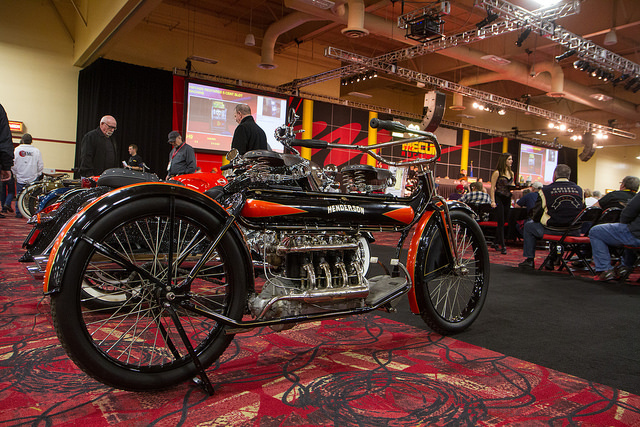 Two major collections from a Gasser-racing legend and a major East Coast collector are expected to turn heads this weekend at the 26th annual Mecum Las Vegas Motorcycle Auction, which kicked off Wednesday at the South Point and will be held through Saturday.
The first of the two collections hails from Jack "The Bear" Coonrod, a Gasser-racing legend, featuring 20 vintage machines from early American makes to later models from across the pond. Among featured consignments from Coonrod's collection are a 1973 Triumph X-75 Hurricane from the model's first and only year of production, a 1912 Indian Board Track Racer assembled by Coonrod himself and a 1915 Harley-Davidson 11F Twin from the first year Harley-Davidson motorcycles featured a three-speed transmission and an engine-driven oil pump.
The second collection features 78 motorcycles from a major East Coast collection, ranging from Harley-Davidsons and Indians to a vast selection of motocross machines of varying vintage. Featured consignments from this collection include two new-in-crate 1992 Harley-Davidson Daytona 50th Anniversary motorcycles, a 1931 Henderson KJ "Streamline" Four from the final year of production and a 1981 Maico 490 Mega 2, a one-year-only model considered by many in the motocross industry to be the best open-class motocross machine ever built.
The vast majority of both collections are set to cross the block Friday and Saturday. To view the full collections and learn more about the bikes on offer, visit Mecum.com.
Bidder registration for Mecum Las Vegas 2017 is $200 at the auction and includes admission for two. General admission tickets are $30. Children younger than 12 receive complimentary admission.
Doors open daily at 8 a.m., with the auction beginning at 9 a.m. Friday and Saturday. Portions of the event will be broadcast on NBC Sports Network from 4-10 p.m. Tuesday. A live stream of the entire auction will be presented at Mecum.com.
Mecum's website is updated daily with the latest consignments, including detailed descriptions and photographs of the motorcycles. To view the list, consign a motorcycle or register as a bidder, visit Mecum Auctions' website or call 262-275-5050.